Puppy by Patricia Furstenberg – Book Review
Puppy by Patricia Furstenberg – Book Review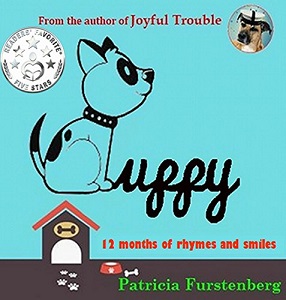 Puppy
12 Months of Rhymes and Smiles
Author – Patricia Furstenberg
Pages – 79
Released – 31st October 2017
Format – ebook
Reviewer – Jodie
I received a free copy of this book
Post contains affiliate links.
A puppy's first year is filled with findings, wiggles and laughter.
Puppies squirm in all the odd places, sniff all the strange objects, lick everything they can and find something to splash into even when we don't want them to!
This book of poems explores the first year of a puppy's life, going through an adventure after the other, one month at a time.
Puppy's first days, puppy's first weeks in a new home, puppy's encounters with snow and the school bag, puppy's duty to protect… What happens when puppy is full of good intentions, yet his actions go wrong?
Read the rhymes and laugh with your little one.
Review
Follow the first 12 months of a puppy's life in this heart-warming poem.
From the day he's born through to turning one, read about what this adorable puppy experiences and how he feels about all the fun new things he comes across. Snow, Christmas, a newspaper through the door, jumping in the sea, and being with his new family are just some of the lovely things he comes learns in his first year.
This fun and sweet poem is set out in months – from the moment the puppy has been born through to his first birthday. We follow the joys he experiences as he comes across things for the first time. We also see the unconditional love he both gives and receives, which is adorable. This is very visible with the relationship he has with the little girl in his new family.
Although written for children, a lot of adults will enjoy the poem. If the reader has, or has previously had dogs in their lives they will laugh along with what this dog gets up to and find themselves thinking 'this is true!' I certainly did!
The illustrations are beautiful and cheery, bright and fun. They really complimented the poem.
This poem doesn't rhyme. But that's no bad thing. It reads more like a story and in this case, I think it works better than a rhyme would.
My daughter loved this book. She enjoyed pointing out what was happening in the illustrations and listening to what the puppy got up to.
This is a great book for adults to share with their young ones time and time again. I certainly will.
Reviewed by Jodie

---
About the Author

Patricia Furstenberg came to writing though reading, her passion for books being something she inherited from her parents. She usually writes at her kitchen table, early morning while the kettle hums or in her car, while she waits for her children to come out from school. "When I write, I write," she usually says. When she's not writing she likes to read, listen to music, dance and bake.
One of the characters portrayed in her children stories is Pete, the yellow toy elephant. Not many know, but Pete exists and lives in Pat's home.
This Romanian born writer is living happily with her husband, children and dogs in sunny South Africa.






---