Eight Princesses and a Magic Mirror by Natasha Farrant – Book Review
Eight Princesses and a Magic Mirror by Natasha Farrant – Book Review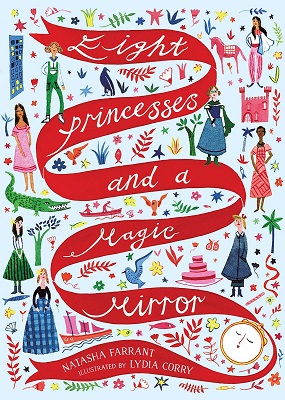 Eight Princesses and a Magic Mirror
Author – Natasha Farrant
Publisher – W. W. Norton & Company
Pages – 224
Released – 21st May 2020
ISBN-13 – 978-1324015567
Format – ebook, paperback, hardcover, audio
Review by – Stacey
Rating – 4 Stars
I received a free copy of this book.
This post contains affiliate links.


"Mirror, mirror on the wall . . . what makes a princess excellent?" When an enchantress flings her magic mirror into our universe, its reflection reveals princesses who refuse to be just pretty, polite, and obedient. These are girls determined to do the rescuing themselves. Princess Leila of the desert protects her people from the king with the black-and-gold banner; Princess Tica takes a crocodile for a pet; Princess Ellen explores the high seas; Princess Abayome puts empathy and kindness above being royal; and in a tower block, Princess saves her community's beloved garden from the hands of urban developers.
Connecting these stories is the magic mirror, which reveals itself when each girl needs it most, illuminating how a princess's power comes not from her title or beauty, but from her own inner strength. These beautifully imagined stories, complemented by vibrant and inviting artwork, offer the pleasure and familiarity of traditional tales with refreshingly modern themes.

An Enchantress becomes Godmother to a Princess. She is unsure how a Princess should behave and how she can help her Goddaughter to be the best she can as she grows. The Enchantress asks a few people who all give her their advice but she turns to a magic mirror in her library for the best answer but the mirror is unsure.
The Enchantress comes up with a plan, she turns the magic mirror into a handy compact mirror and hangs it in a tree in a forest where Princesses pass to be her eyes and ears of the universe and to see how other princesses behave and to report back to her.
Eight Princesses and a Magic Mirror is a fairy-tale-esq novel featuring ten chapters. The first and the last featuring the Enchantress, the eight in between are tales from different princesses. Each Princess's individual story is unique, powerful, and tells a wonderful story that has a lovely lesson within for children to learn from.
The book is filled with beautiful illustrations by artist Lydia Corry that adorn each page and bring the story to life and make the book fun. Each story is connected by the magic mirror and ends with a tale about what happened to the mirror afterwards.
The stories are delightful and this is a book that would empower any young girl and with how beautiful it looks both inside and out it would make a fantastic gift whether the reader is a fan of princesses or not.
Book Reviewer – Stacey
---
Purchase online from:
---
About the Author

Natasha Farrant grew up in the heart of London's French community, and currently combines writing with her career as a Literary Scout. She is the author of two successful novels for adults, Diving Into Light and Some Other Eden, both published by Transworld. She lives in West London with her husband, two daughters and a large tortoiseshell cat.



---
What did you think of Eight Princesses and a Magic Mirror? Share your thoughts in the comment section below!
---
The above links are affiliate links. I receive a very small percentage from each item you purchase via these link, which is at no extra cost to you. If you are thinking about purchasing the book, please think about using one of the links. All money received goes back into the blog and helps to keep it running. Thank you.
Like us on Facebook – Tweet us on Twitter – Pin us on Pinterest