Piggy Sense! Save it for a Rainy Day by Reed Abbitt Moore – Book Review
Piggy Sense! Save it for a Rainy Day by Reed Abbitt Moore – Book Review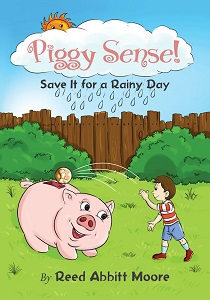 Piggy Sense! Save it for a Rainy Day
Author – Reed Abbitt Moore
Publisher – Reed Abbitt Moore Books
Pages – 34
Release Date – 2nd October 2015
Format – ebook, paperback
Reviewer – Stacey
I received a free copy of this book
Post Contains Affiliate Links

Piggy Sense! …. is a fun educational children's book that will instil in children the basic fundamentals of work ethics, saving money, and spending wisely.
Age Level: 4 – 11 Grade Level: P – 5. Parents will love reading this book to their children – Grandparents will love reading this book to their grandchildren, and school teacher's will love teaching young children about work ethics and sound wisdom for financial success found in this cute children's book.

'Piggy Sense!', is lovely book following a young boy as he tries to save up his money to buy himself a big present.
It teaches children the importance of saving. The story is told in a rhyme and flows naturally. It is fun and engaging, and with beautiful and colourfully illustrations, young children will love this book.
It shows the kids what you can achieve if rather than spending their money as soon as they get it, by putting it away they can eventually afford that 'big' item they have always wanted.
The emphasis was clear all the way through and I believe that the young child reading it will get the urge to save, especially when the author has added a page at the back so that they can write down how much they are saving.
The book is available in Kindle and Paperback formats. I personally believe that young children benefit more from having a physical book and with the page at the back to chart their savings on, I feel that the paper back version would be much better.
The book however is written principally for children in the USA, as it contains Dimes, Quarters etc, though I feel that children from around the world will still understand the concept.
An engaging book that teaches kids that saving their money matters.
Book reviewed by Stacey
Purchase Links