Amongst the Flames by TK. Chapin – Book Review
Amongst the Flames by T.K. Chapin – Book Review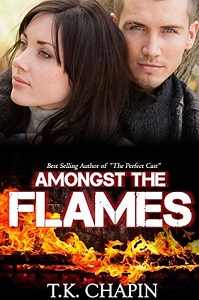 Amongst the Flames
Author – T.K. Chapin
Publisher – CreateSpace
Pages – 278
Release Date – 16th August 2015
Format – ebook, paperback, audio
Reviewer – Libby
I received a free copy of this book
Post Contains Affiliate Links

'A burning building doesn't scare me at all compared to the thought of losing you.'
Firefighter Cole Taylor is the man everyone looks up to at Firehouse 9 in downtown Spokane. He's been at the department for ten years and has no fear when it comes to dangerous situations.
Megan Taylor, Cole's wife, is a stay-at-home mother of their two boys. She was everything Cole ever wanted in a woman and the perfect wife any man could ask for until one day when she decides to leave Cole.
Cole has fought hundreds of fires in his lifetime, but he had never tasted fear until he came to fighting a fire in his own home.

This was a Christian romance about a fire-fighter who had lost his way with his marriage and neglected his wife.
This romance was told from the fire-fighter, Cole's point of view and I have to say, he did annoy me to begin with as I could clearly see him mistreating his wife. He would hang out with his friends and work colleagues instead of spending time with his wife and two young sons.
I was pleased that Megan left him as I think he needed something drastic to occur to make him realise that his behaviour was not great.
The storyline did make me shed a tear because I felt for Megan, and could relate to her (although she did blow hot and cold quite often.) I was so angry with Cole, but I could also feel his bewilderment as to the reason why his marriage deteriorated.
I was aware that this was a Christian Romance when I agreed to review it, and as I am not a Christian my feminist side did become angered at some of the statements made about the 'woman's' role in the marriage.
I had to temper my reaction quite a bit every time Megan thanked Cole for doing something like washing up or looking after their sons. They are also Cole's sons! Cole never thanked Megan for all the work she put taking care of him and their children.
I would recommend Amongst the Flames for lovers of faith romances with a twist as it is from the point of view of the hero, and is also about a couple who have been married for several years, as opposed to a 'new' couple.
My favourite line from the book: Real men cry, Brother.
Book Reviewed by Libby
Purchase Link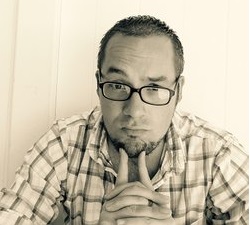 T.K. CHAPIN writes Inspirational Christian Fiction books designed to inspire and tug on your heart strings. He believes that telling authenticate stories of faith, love and family helps build the faith of believers while inviting non-believers into the reality of God. Each story highlights how God can work in the lives of those who follow Him.
Chapin gives all credit for his writing and storytelling abilities to God. The majority of his stories take place in and around his hometown of Spokane Washington. Chapin & his wife reside in Southeast Idaho and have three children. When not writing, he enjoys traveling, swimming and spending time with friends & family.
Author Links