A Room in Blake's Folly by J. Arlene Culiner – Book Review
A Room in Blake's Folly by J. Arlene Culiner – Book Review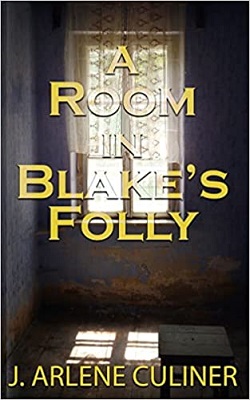 A Room in Blake's Folly
Author – J. Arlene Culiner
Publisher – The Wild Rose Press
Release Date – 16th May 2022
Pages – 275
ISBN 13 – 978-1509242023
Format – ebook, paperback
Star Rating – 4.5
I received a free copy of this book.
This post contains affiliate links.

Synopsis
If only the walls could speak…
In one hundred and fifty years, Blake's Folly, a silver boomtown notorious for its brothels, scarlet ladies, silver barons, speakeasies, and divorce ranches, has become a semi-ghost town. Although the old Mizpah Saloon is still in business, its upper floor is sheathed in dust. But in a room at a long corridor's end, an adventurer, a beautiful dance girl, and a rejected wife were once caught in a love triangle, and their secret has touched three generations.
'A Room in Blake's Folly' is the latest book by New York-born author, J Arlene Culiner. We join the story in 1889 when Blake's Folly is a mining boomtown in Nevada. With a few exceptions, the inhabitants are mainly transient and opportunistic. When the mines are no longer viable, some remain but most drift away leaving boarded up property and broken dreams behind them.
The author drops us off at various points over the past hundred-and-thirty years and allows us to meet some of the inhabitants of Blake's Folly. It is difficult to allow for character depth and development in the short story format but nevertheless, the author does manage to bring several of them to life. Some are honest and hard-working, some are self-serving and devious and some are careworn and embittered but all have a gritty determination which enables them to survive. I found some backstories more engaging than others but always enjoyed the atmospherically descriptive way the author prepared her scenes.
Through a series of romances we witness the fortunes of a town responding to economic and social changes through the years. I found myself being fascinated by Hattie, an outcast pioneer wife who arrived in Blake's Folly with nothing but a few clothes. Her struggle for survival and bleak outlook were transformed by her ability to play the piano and a whole new future opened up for her. I was keen to know what happened to her and others from that cohort and liked the way in which the author weaved references to the past into the plot as time moved on.
Each chapter starts with an epigraph and the individual stories are told in the third person. This town provides a great social history from the mining era onwards with its fluctuating fortunes across the boom and bust years. By the time the story reaches the present day, we have come full circle and all the missing pieces of the family histories have been put into place.
This was a very easy read and it moved along at a slick pace. The structure became a little formulaic but still held my attention. The messages running through this saga are hope and resilience. There is a bit of sexual content but nothing that will greatly offend. I am left with a lasting memory of the smell of cigar smoke lingering in that top floor room at the Mizpah Saloon. I award 4.5 stars.
---
Purchase Online:
J. Arlene Culiner

Born in New York, raised in Toronto, Jill Culiner set out to have a life of adventure and discovery, not one of security and comfort. She has since crossed much of Europe on foot, travelled, by bus, train, car or truck throughout North and Central America, Europe, and the Sahara, has lived in a Hungarian mud house, a Bavarian castle, a Turkish cave-dwelling, on a Dutch canal, a lonely, and a very haunted stone house on the English moors.
Such a lifestyle has meant staying flexible and taking up any sort of work that presents itself: belly dancer, fortune teller, b-girl, translator, fashion model, storyteller, radio broadcaster, actress, social critical artist, photographer, and writer.
She now resides in a 400-year-old former inn in a French village of no interest and protects all creatures, especially spiders and snakes. She particularly loves incorporating into short stories, mysteries, narrative non-fiction, and romances, her experiences in out-of-the-way communities with their strange characters, and very odd conversations.
Author Links:
---
The above links are affiliate links. I receive a very small percentage from each item you purchase via these links, which is at no extra cost to you. If you are thinking about purchasing the book, please think about using one of the links. All money received goes back into the blog and helps to keep it running. Thank you.