Shadow Sands by Robert Bryndza – Book Review
Shadow Sands by Robert Bryndza – Book Review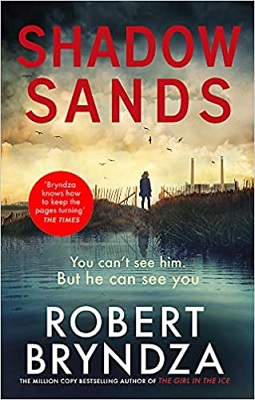 Shadow Sands
Kate Marshall Book Two
Author – Robert Bryndza
Publisher – Sphere
Pages – 384
Released – 3rd November 2020
ISBN-13 – 978-0751572742
Format – ebook, paperback, hardcover, audio
Review by – Stacey
Rating – 5 Stars
I received a free copy of this book.
This post contains affiliate links.


When Kate Marshall finds the bloated body of a young man floating in the Shadow Sands reservoir, the authorities label it a tragic accident.
But the details don't add up: why was the victim there, in the middle of the night? If he was such a strong swimmer, how did he drown?
Kate is certain there is more to this case than meets the eye. As she and her research assistant Tristan Harper dig deeper, they discover a bloody trail that points towards an active serial killer hiding in plain sight. People have been silently disappearing for years, and when another woman is taken, Kate and Tristan have a matter of days to save her from meeting the same fate.

Ex-Police Detective turned University Lecturer and Private Detective Kate Marshall is back in the second instalment of her thriller series.
This time a young man's body has been found by Kate whilst she was diving in the Shadow Sands reservoir with her son Jake. The police rule it as an accidental drowning but the boy's mother is sure there is more to it and asks Kate to investigate.
Her investigation, with her young colleague Tristan, takes them on a frightening path, one that might just put their lives in danger. They are also looking for a missing lecturer from the university whose disappearance may just have something to do with the case they are working on.
I first came across Kate Marshall at the start of the year in Robert Bryndza's book 'Nine Elms'. The book was so dark and terrifying in places and yet I couldn't put it down, so when I heard Kate was back I just had to continue her story.
Whilst this book can be read as a standalone I do personally think that you miss out on Kate's backstory and the hard relationship she has with her parents and her son, who her parents have custody of. You also miss out on a great story.
This time Kate reluctantly helps out the mother of a boy found dead in the reservoir, he was a champion swimmer and there was no way that he just drowned. She is convinced that his friend killed him and wants Kate to help. She feels sorry for the woman and also a little guilty at being the person who found his body. Under pressure from herself she agrees but what started as a simple case turns far more deadly and sinister.
Again I was captivated by the plot which just kept on giving. The main part of the story is Kate and Tristan trying to piece together what is happening in a place called Ashdean, where the Shadow Sands reservoir is. There are also sections from the missing lecturer Magdalena and her capture. You do get to understand that her kidnapping is related to the case Kate is working on and to a local family who owns much of the area but I hadn't worked out who the person was by the time it was revealed, which doesn't happen often.
Shadow Sands had me glued to the pages, I didn't want to put in down once I had begun. In fact, I read it in just two sittings as I needed to know what was going on and who the culprit was. I now can't want to delve back into Kate's world and see what new cases come her way.
Book Reviewer – Stacey
---
Purchase online from:
---
About the Author

Robert Bryndza began his career training at the Guildford School of Acting. He spent six years as an actor, doing all kinds of strange jobs in between, which was the perfect training for being an author. He began to write during a long period of unemployment, first comedy sketches, a show which he took to the Edinburgh Festival, and then four romantic comedy novels which he self-published, and they became Amazon charts bestsellers selling over 250,000 copies.
His debut crime thriller The Girl in the Ice was the first book in his Detective Erika Foster series. It has sold over 1 million copies in the English language, and won the Dead Good Reader Award for best kick-ass female character at the 2016 Harrogate Crime Festival. Erika Foster has gone on to kick-ass in five further books; The Night Stalker, Dark Water, Last Breath, Cold Blood and Deadly Secrets. The series was twice nominated in Goodreads Choice Awards (Mystery and Thriller category) in 2016 for The Girl in the Ice, and in 2017 for Last Breath. Robert's books have sold over 3 million copies in the English language, and have been translated into 29 languages.
Nine Elms, the first book in his new Kate Marshall private detective series was published late in 2019 and was an instant Amazon USA no.1 bestseller, an Amazon UK top 10 bestseller and topped bestselling charts around the world. The second book in the series, Shadow Sands, will be published in November 2020. Robert is British and lives in Slovakia.





---
What did you think of Shadow Sands? Share your thoughts in the comment section below!
---
The above links are affiliate links. I receive a very small percentage from each item you purchase via these link, which is at no extra cost to you. If you are thinking about purchasing the book, please think about using one of the links. All money received goes back into the blog and helps to keep it running. Thank you.
Like us on Facebook – Tweet us on Twitter – Pin us on Pinterest