Hingston's Box by Decima Blake – Book Review
Hingston's Box by Decima Blake – Book Review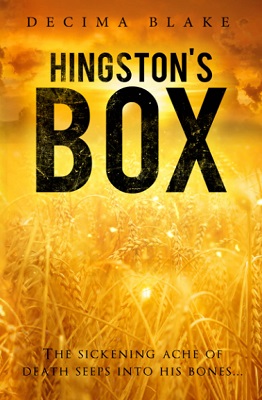 Hingston's Box
Author – Decima Blake
Publisher – Vanguard Press
Pages – 204
Released – 23rd November 2016
ISBN-13 – 978-1784651541
Format – ebook, paperback, audio
Rating – 4.5 Stars
I received a free copy of this book.
This post contains affiliate links.


Synopsis
Since investigating the disappearance of fifteen-year-old twin boys, Hingston – a young, talented Detective Sergeant, has been tormented by night terrors. On waking, he remembers a vast, golden meadow that glows with warmth and carries the sound of rapid footfalls and trouser legs pushing through grasses. A curly haired boy runs tirelessly through the meadow. The promise of adventure is lost when the sickening ache of death seeps into Hingston's bones.
Feeling suffocated and tortured, melodic chimes calm him and his panic subsides. Signed off and leaving the office, a key inexplicably falls from Hingston's investigation file. Intrigued, he takes it with him, escaping London for Dartmouth where his investigative race begins.
Stalked by a challenging elderly woman and hindered by his boss, his determination to solve the case draws him into the supernatural world that connects a murderous past to the present.
Detective Sergeant Jason Hingston has a tough case—the disappearance of the teenage twin Clarke boys—and it's making him barmy. At least that's what the Occupational Health psychiatrist intimated when she ordered him to take indefinite leave. And it's true, the sergeant has been having sleep deprivation, night terrors, and inexplicable visual experiences.
Determined to rest so he can return to duty, Hingston arranges to visit his uncle in Dartmouth, hoping a visit to the West Country will help clear his mind. It's there at Bayard's Cove Fort that he encounters a strange old woman. She talks in riddles, deflects direct questions, and seems to know more than she's telling. Hingston is frustrated, but also convinced that she's giving him clues to the Clarke case, if he can only decipher the true meaning of what she says.
On another occasion, an outing to Totnes, Hingston stops in a bric-a-brac shop, where he finds an elaborate wooden box. Intrigued, he buys it for £40. When he opens it, he discovers it's an antique music box. Inside there's an embroidered handkerchief and a newspaper clipping from 1866. With a little research, he discovers the handkerchief belonged to a family named Embling. The Emblings also had twin boys disappear nearly a century and a half earlier. One of those boys ended up murdered and no one saw the other twin again. The more Hingston digs, the more he finds eerie parallels between the Embling case in 1866 and his own case, the Clarke boys' disappearance.
Hingston's Box is an engaging story but sometimes difficult to follow. The old woman's cryptic words and DS Hingston's visions may help guide his investigation. But the "visions" may also be outright hallucinations. Does the sergeant have a second sight that will lead him to find the Clarke boys? Or is he going stark raving mad? Often the reader can't be sure, which adds a little suspense to the story.
Hingston's character is believable and sympathetic. He has faults, but at heart he's a dedicated copper who works on his case, his superiors and Occupational Health be damned. Most other characters are not developed as fully, but then the book is really Hingston's show.
I enjoyed reading Hingston's Box. It's a good English mystery with a dash of the supernatural. Yet maybe it's not supernatural after all, just Hingston's keenly developed sleuthing instincts. You decide.
Purchase Online From:
---
What did you think of 'Hingston's Box'? Share your thoughts in the comment section below!
---
The above links are affiliate links. I receive a very small percentage from each item you purchase via these links, which is at no extra cost to you. If you are thinking about purchasing the book, please think about using one of the links. All money received goes back into the blog and helps to keep it running. Thank you.
Like us on Facebook – Tweet us on Twitter – Pin us on Pinterest – Join us on Instagram