Blind Dates, Big Love and Six Tinder Weeks by Bena Roberts – Book Review
Blind Dates, Big Love and Six Tinder Weeks by Bena Roberts – Book Review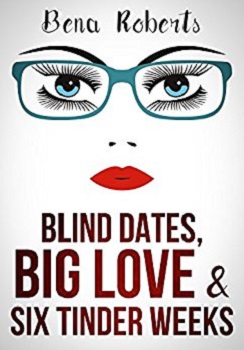 Blind Dates, Big Love and Six Tinder Weeks
Author – Bena Roberts
Pages – 207
Released – 9th December 2017
ISBN-13 – 978-1976771491
Format – ebook, paperback
Reviewer – Stacey
Rating – 5 Stars
I received a free copy of this book
Post contains affiliate links.
Helen's children leave home at eighteen. She sleepwalked through her marriage for twenty years for their sake. But when they go, she leaves her husband. Her house is a mess, as is her image and Helen breaks down. Through her pain, she draws blood and allows the universe to guide her and her decisions.
The unexpected happens, scientist Helen gets thrown into a new life of hedonism, dating, and self-discovery. A charming lawyer steals her heart, but is Helen ready for the fast lane? Will the local village fireman provide the romance of her dreams? Or the military spy CJ, who is convinced that Helen is part of a Romanian smuggling gang. With the help of her sister Portia, Helen starts to transform her life. The universe guides her to finding something in herself.

From the very first page to the last, Blind Dates, Big Love and Six Tinder Weeks, had me laughing out loud. Bena Roberts has written a fantastically funny book about one woman's dating adventures.
Middle-aged Helen was fed up with her life. Her kids had left the family home and she realised she didn't need to put up with her husband Edward anymore, so she consequently threw him out. Now it was her time to reinvent herself, starting with a haircut.
Alex the hairstylist not only gave Helen the best haircut and colour she had ever had, he also gave her some advice. Join the dating site SPKR. A place where she could hook up with lots of different men and have a great time, thus giving her time to find herself again.
Over the course of six weeks, Helen tried to get her mojo back with the help of a few men that she met via the app. Some gorgeous and some very, very strange.
I can't remember the last time I laughed so much at a book. Helen is a refreshing character to read about. She is an older woman who has put up with her ex Edward for 20 years. However, it also meant that she hadn't dated anyone in 20 years either. She was very naïve when it came to dating language too, this gave some of the best funny moments.
Over the course of the book, we also get to hear from the men she dates (each have been given a title), as well as her sister Portia. Mr. Lawyer was the funniest. Italian, still living at home with his mum and he thought he was a real stud, not quite what Helen thought though.
Blind Dates, Big Love and Six Tinder Weeks is totally addictive, really quick to read and light-hearted. Helen is one feisty, determined character, who I adored. It was interesting to see the book mainly set in Germany, rather than US or UK too. I hope we get to see more of Helen in the future.
Reviewed by Stacey
---
Purchase online from:
---
About the Author

Bena Roberts was a journalist and analyst. Now she prefers the title romance adventurist! She graduated in England 1994 and then with a Masters in 1997.
Born in 1973, Bena lived in West London until she was 24. Then she lived and worked in Budapest, Bruges, Prague, Amsterdam, Vienna, Hamburg and Munich. She currently resides in Germany, between Heidelberg and Frankfurt. Although she still refers to London as 'home.'
Bena successfully created a technology blog which gained funding, had lunch with Steve Ballmer and was 'top 50 most influential woman in mobile.' Her blog also won several awards including Metro Best Blog. However, her technology career ended after she was diagnosed with a rare type of cancer in 2009. Since 2012, Bena has taught English in Germany and managed a small relocation business.
Bena has two children, loves small dogs and always writes books with a cup of Earl Grey.
Six Tinder Weeks, now Blind Dates, Big Love and Six Tinder Weeks is her debut novel. Other books include The Forever Night Stand, with Tammy & Lisa: Mum Detectives at the Village School available in 2018.


---