Adorable Fat Girl and the Mysterious Invitation by Bernice Bloom – Book Review
Adorable Fat Girl and the Mysterious Invitation by Bernice Bloom – Book Review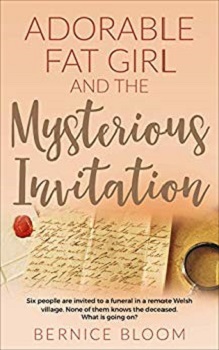 Adorable Fat Girl and the Mysterious Invitation
Author – Bernice Bloom
Publisher – Gold Medals Media
Pages – 175
Released – 12th November 2018
Format – ebook
Reviewer – Stacey
Rating – 5 Stars
I received a free copy of this book
Post contains affiliate links.
Mary Brown receives an invitation to a funeral. But she has absolutely no idea who the deceased is. She's told that he invited her on his deathbed, and he's very keen for her to attend, so she heads off to a dilapidated old farm house in a remote part of Wales. When she gets there she discovers that only five other people have been invited to the funeral. None of them knows who he is either.
NO ONE GOING TO THIS FUNERAL HAS EVER HEARD OF THE DECEASED. WHAT IS GOING ON??
Then they are told that they have 20 hours to work out why they have been invited in order to inherit a million pounds. Who is this guy and why are they there? And what of the ghostly goings on in the ancient old building?
Featuring Mary Brown, star of the Adorable Fat Girl series of books, in her greatest adventure yet. This is BOOK NINE in the series, but can be enjoyed as a stand-alone book or as part of the series.

Mary Brown is back in a new instalment of 'The Adorable Fat Girl'. This time she has been invited to the funeral of Reginald Charters. However, Mary doesn't have a clue who this Reginald is. Things get more suspicious when it turns out she is one of six people invited and none of them knew the deceased.
Reginald had paid for all the guest to stay overnight at Gower Farm in Wales and they have all been given clues. It's up to them to work out how they knew the deceased, find the answer and there is a million pounds on offer. Although there is also a catch too – sneaky!
I've read a few books featuring lovable Mary and I can honestly say they have all been great fun. I love a good mystery book so I was eager to read this one and see how the plot would unfold and who Reginald was and how he was related to the six invitees.
Mary, as usual, is her normal fun self, making jokes about everything and also eating everything in sight. She is eager to find out the answer to the clues but with no-one in her family had ever heard of the deceased, nor a connection with Bristol, where the deceased was from she is really struggling.
Throughout the book, we also get to find out who Reginald really was starting back in the 1940s during the Second World War with his father. His story is told right up to the 1970s when it is revealed how the party all knew him and why he wanted to leave them some money each.
You could really tell the difference in mood between the past and the present. The past was quite serious and heartfelt whereas the now felt more fun and exciting. It was actually a lovely combination to have and really worked well.
I have to say Adorable Fat Girl and the Mysterious Invitation is the best book featuring Mary that I have read. I now can't wait for the next instalment as the saga continues into that one too.
Reviewed by Stacey
---
Purchase online from:
---
About the Author
My name is Bernice Bloom and I write funny novels about a crazy lady called Mary Brown in my 'Adorable Fat Girl' series.
Mary is funny, gorgeous and bonkers. She's also about six stone overweight. When she realises she can't cross her legs and has trouble bending over to tie her shoelaces without wheezing like an elderly chain-smoker it's time to take action. But what action? She's tried every diet under the sun.
This series is the hysterical story of what happens when Mary joins 'Fat Club' where she meets a cast of funny characters and one particular man who catches her eye. The series follows Mary as she goes on safari, on a cruise, to a weekend yoga retreat and on an incredible adventure when she receives a mysterious invitation to a funeral.
The stories are laugh-out-loud funny and will resonate with anyone who has dieted, tried to keep up with any sort of exercise programme or spent 10 minutes in a changing room trying to extricate herself from a way too-small garment that she ambitiously tried on and is now completely stuck in. xx




---