Trying New Hats by Sofia Ellis – Book Review
Trying New Hats by Sophia Ellis – Book Review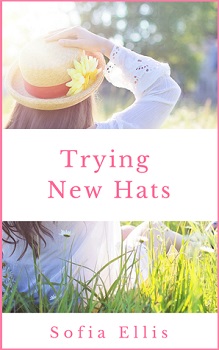 Trying New Hats
Author – Sofia Ellis
Pages – 365
Released – 11th July 2018
Format – ebook
Reviewer – Marcia
Rating – 3.5 Stars
I received a free copy of this book
Boston born and bred Poppy Parker gets thrown for a loop when the promotion she has been promised for two years is given to someone else. Meanwhile, her fiancé accepts a job offer in Hong Kong without consulting her and postpones their wedding. So when she finds a postcard from Paris with a message written by an aunt she didn't know existed, she can't think of a reason to not book a seat on the next flight to France.
Poppy has worn the dutiful daughter and supportive sister hat for as long as she can remember, the loyal employee hat for her entire professional career, and the patient fiancée hat since she started dating the man she is supposed to marry, a man who is already married to his job. It's time for her to try some new hats on for size. In the process, she uncovers long-buried family secrets and a chance at true love if she is brave enough to take it.
Trying New Hats tells the story of Thirty-Five-year-old Poppy Parker and her family which consists of, two sisters who are both married. Her mum, dad, and fiancé, Daniel. Poppy always does the right thing and is extremely loyal. She is very career orientated, so is her partner. For this reason, Poppy believes they are well suited to one another.
When a promotion comes up for grabs at her workplace, Belle Cosmetics, Poppy thinks that she is the one to get it. Unfortunately, the job is given to someone else. Angry at being sidelined and then discovering that Daniel has been given a promotion at his company and must travel to Hong Kong for six months, Poppy takes some time out and travels to Paris, France where she discovers an aunt she never knew about, Selma.
The story ticked along at a nice pace and was certainly an easy read. I found myself laughing at some of the things Poppy's boyfriend did and said. His character felt very realistic and I could picture him perfectly in my head. Along with Poppy, who I feel was searching for herself.
Aunt Selma was another fascinating character and she really brought the book to life and gave me a good giggle at times.
I would award this book three-and-a-half-star because although it was an easy read and dealt with family relationships in a light accessible way, I wanted the plot to be a bit more unique and different.
Reviewed by Marcia
---
About the Author

Sofia Ellis loves sunny summer days, books and movies that end with the promise of happily ever after, and, above all, spending time with her family. She also enjoys drinking coffee while writing. Without the invigorating powers of caffeine, she wouldn't get much done.

---
Blog posts straight to email via Bloglovin – Like us on Facebook – Follow us on Twitter