Little Fires Everywhere by Celeste NG – Book Review
Little Fires Everywhere by Celeste NG – Book Review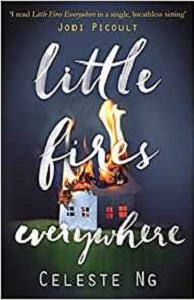 Little Fires Everywhere
Author – Celeste NG
Publisher – Little, Brown
Pages – 352
Released – 12th September 2017
ISBN-13 – 978-1408709719
Format – ebook, paperback, hardcover, audio
Reviewer – Stacey
I received a free copy of this book
This post contains affiliate links
Everyone in Shaker Heights was talking about it that summer: how Isabelle, the last of the Richardson children, had finally gone around the bend and burned the house down.
In Shaker Heights, a placid, progressive suburb of Cleveland, everything is meticulously planned – from the layout of the winding roads, to the colours of the houses, to the successful lives its residents will go on to lead. And no one embodies this spirit more than Elena Richardson, whose guiding principal is playing by the rules.
Enter Mia Warren – an enigmatic artist and single mother- who arrives in this idyllic bubble with her teenage daughter Pearl, and rents a house from the Richardsons. Soon Mia and Pearl become more than just tenants: all four Richardson children are drawn to the mother-daughter pair. But Mia carries with her a mysterious past, and a disregard for the rules that threatens to upend this carefully ordered community.
When old family friends attempt to adopt a Chinese-American baby, a custody battle erupts that dramatically divides the town – and puts Mia and Elena on opposing sides. Suspicious of Mia and her motives, Elena is determined to uncover the secrets in Mia's past. But her obsession will come at an unexpected and devastating cost…
Review
Shaker Heights is a strange little town. Everyone must abide by lots of rules. The place is picture-perfect and not one thing must be out of place, from their refuse collection, to how high the front lawns are allowed to grow. It reminded me of a film (title I can't remember), where there was a little town in the USA in which everything and everyone ran like clockwork, and everything was immaculate all the time, including the people.
The upper-class Richardson family, including their four children Lexie, Trip, Moody and Izzy are very much at the heart of Shaker Heights. Mrs Richardson wants to be seen as doing her bit for those less fortunate than herself, so she offers out her rented accommodation at much cheaper rates than it is worth to those in need, such as Mia Warren and her daughter Pearl.
Mia is an artist who has moved from place to place but has decided to try and settle down for her daughter. Mia and Pearl are not like the town folk of Shaker Heights. They are not used to rules and regulations over every minor thing, thus meaning that the Richardson children are drawn to them, as they realise that there is more to life than what they have been taught.
Little Fires Everywhere is exquisitely written and touches your heart. It is one of those books that makes you stop and think, not only about your own life, but of those around you too. It opens with the ending, so you have this unusual knowledge of knowing where the story is taking you, you just don't know how it is going to get you there.
Celeste NG has a beautiful writing style, one that swept me into the story and held me captivated until the very end. I will admit to struggling a little at the start though. The book opens with the burning down of the Richardson's home and the youngest Richardson daughter, Izzy, being blamed. It then jumps back a few months in time. It was those first couple of chapters when Celeste took us back that I had to persevere with, and I'm certainly glad that I did.
The book has quite a few secondary plots weaving themselves in and out of the main one. So much is happening all the time that you are kept on your toes. I loved the family dynamics, and the friendships that the children formed with one another. Rich, poor, it didn't matter as much to the children as it did to the adults.
Little Fires Everywhere is one of those books that long after you have read the final word, and all the puzzles have been solved, it still stays with you. It is one that I will treasure, and look forward to reading again in the future.
Reviewed by Stacey

---
About the Author

Celeste grew up in Pittsburgh, Pennsylvania, and Shaker Heights, Ohio. She graduated from Harvard University and earned an MFA from the University of Michigan (now the Helen Zell Writers' Program at the University of Michigan), where she won the Hopwood Award.
Her fiction and essays have appeared in the New York Times, One Story, The Guardian, TriQuarterly, and elsewhere, and she is a recipient of the Pushcart Prize, the Massachusetts Book Award, the American Library Association's Alex Award, and a fellowship from the National Endowment for the Arts.






---