Drummer's Call by Nigel Seed – Book Review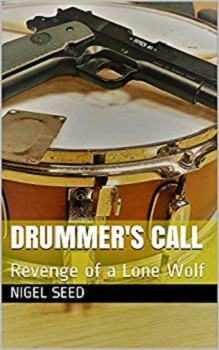 Drummer's Call
Revenge of a Lone Wolf
Author – Nigel Seed
Pages – 351
Released – 6th March 2019
ISBN-13 – 978-1798901069
Format – ebook, paperback
Review by – Clive
Rating – 5 Stars
I received a free copy of this book.
This post contains affiliate links.
America is under attack and this time the military, despite their power and courage, are helpless. Simon Drummer is on loan to a bio-warfare protection unit in the USA when the terror they fear becomes real.
A brilliant Arabic bio-chemist is driven to bring an end to the suffering of his countrymen. He believes that the regime that oppresses them could not exist without the support of the US government and the weapons they furnish. He needs to bring the truth to the American people in a way that will grab their attention.
So begins his journey to bring brutal death and understanding to the USA. And now Simon must help to find him and stop him.

The synopsis says that Ibrahim was trying to grab the attention of the American people. Well this book certainly grabbed my attention and maintained it throughout. Nigel Seed has created a good story which he has written in a simple but very punchy style.
Seed has structured the book in short two to three page chapters following the activities of Ibrahim in the first person and Simon, Heather and others in the third person. Each chapter is headed accordingly. That small chapter feature is carried through to the sentences which are rarely in excess of two lines long, a smallish font and narrow text which was probably to ensure adequate margins for the Amazon print-to-order process. In all we have a package that just draws us in and carries us along.
Of course, we can never condone Ibrahim's intentions but viewing his life through his own eyes the reader can go some way to understanding his twisted motivations. Whatever you think of him, Ibrahim is the strong character of this book. By comparison Drummer, Heather and others are generally predictable thriller participants. Indeed, the relationship between Simon and Heather is rather cheesy at times. The reader will also find some familiarity in the character of the un-named US President.
But at the end of the day the task of Drummers Call, Revenge of a Lone Wolf is neither to provide flowing prose nor to tell of a loving romance. No, its role is to give us a little more insight into current middle-east tensions and to entertain us for a few hours, which it does in great style. The only disappointment could be that you will finish the book in a couple of days but any sadness can be compensated by trying one of Nigel Seed's other books in this series.
For such excellent entertainment Revenge of a Lone Wolf has to have a full five stars.
Book Reviewer – Clive
---
Purchase online from:
---
About the Author
A veteran of many years in the British Army working with the Army's helicopters. He then joined the Civil Service before taking early retirement and moving to a villa in Spain. He writes his books when he can tear himself away from the view across the orange groves to the Mediterranean. Married with two children. He is slowly learning Spanish.
Having completed and published his seven book action thriller series, he is presently writing a historical fiction trilogy.
As light relief he is also writing a book of bedtime stories for young children, based on the adventures of a small dog who lives in Spain.


---
What did you think of Drummer's Call? Share your thoughts in the comment section below!
---
The above links are affiliate links. I receive a very small percentage from each item you purchase via these link, which is at no extra cost to you. If you are thinking about purchasing the book, please think about using one of the links. All money received goes back into the blog and helps to keep it running. Thank you.