Loving Vengeance by Georgia Rose – Book Review
Loving Vengeance by Georgia Rose – Book Review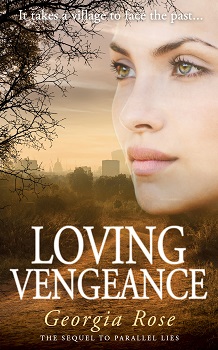 Loving Vengeance
The Ross Duology Book Two
Author – Georgia Rose
Publisher – Three Shires Publishing
Pages – 336
Released – 10th October 2019
ISBN-13 – 978-1916466920
Format – ebook, paperback
Review by – Julie
Rating – 4.5 Stars
I received a free copy of this book.
This post contains affiliate links.
A woman with a troubled past. A new love hanging in the balance. Will an unexpected visitor strengthen her resolve or destroy the life she's trying to build?
Madeleine's world, once so organised, is a mess. Suffering the fallout from the mistakes she made with Tag, she has no idea where she stands with Daniel. Are they only friends or is there still a chance for something more?
Enter James – cool, calm and calculated. A stranger, she thinks. But he knows her, and he comes with an opportunity she can't refuse, involving an enemy she'd tried to forget. At first keen to return to her past, Madeleine soon realises it's not only the gang that's changed, and battles her own demons as well as an unpredictable villain.
Can Daniel step up when he's needed? Or will it be James who rides in to the rescue? Because when things go badly for Madeleine, and all hope seems lost, there is only one who can save the day. And only one who can bring more to the task than merely himself.
Loving Vengeance is the second book in this fast-paced duology. If you like strong heroines, character-driven action and powerful emotions, then you'll love Georgia Rose's exciting novel.

'Loving Vengeance' is the latest release from British-based author, Georgia Rose. We reconnect with the main character, Madeleine, and pick up the action from where her previous adventure, 'Parallel Lies', ends; it is therefore important to read them in the correct order, as this book is very much a follow up. The tale is written in the first person and the present tense, with the occasional section written by Dan, Madeleine's love interest, in the second person.
The early chapters gently re-introduce us to the small rural town of Crowthorne. A rather unprofessional police officer, who seems to have no issues with blurring his professional and personal life, then makes his entrance with an unappealing proposition. Meanwhile, Madeleine's friends and neighbours know nothing of her past life or her recent troubles. It soon becomes apparent that her actions have unanticipated repercussions and she finds herself morally obliged to try to repair the damage she has inadvertently caused to people she cares about. Hereafter, the two threads of our story are in place and the plot moves forward.
Madeleine now not only has to contemplate a return to London and become Scarlett again but has two men vying for her affection.
The second half of the book certainly comes to life as the action intensifies and Madeleine realises that the peace and sanctuary she believes she's found in Crowthorne, hang in the balance. This nicely written book has some nice twists as the author brings the story to a satisfying conclusion.
As usual with a Georgia Rose book, the characters are well-defined and there are some humorous touches along the way. I'm not a huge fan of romance but am happy if its place in a plot is secondary to a good story, so Georgia Rose gets an extra half star from me for satisfying this criteria. There is a comforting cosy feel about the author's style which will, without doubt, satisfy her fans. I'm not sure this book quite matches Madeleine's first outing but nonetheless, I finished it in three days and award four and a half stars.
Book Reviewer – Julie
---
Purchase online from:
---
About the Author

Georgia Rose is a writer and the author of the romantic and suspenseful Grayson Trilogy books: A Single Step, Before the Dawn and Thicker than Water. Following completion of the trilogy she was asked for more and so wrote a short story, The Joker, which is based on a favourite character from the series and the eBook is available to download for free at the retailer of your choice.
Her fourth novel, Parallel Lies, encompasses crime along with Georgia's usual blending of genre and its sequel, Loving Vengeance, has now completed The Ross Duology.
Georgia's background in countryside living, riding, instructing and working with horses has provided the knowledge needed for some of her storylines; the others are a product of her passion for people watching and her overactive imagination.
Following a long stint working in the law Georgia Rose set up her own business providing administration services for other companies which she does to this day managing to entwine that work along with her writing.
Her busy life is set in a tranquil part of rural Cambridgeshire in the UK where she lives with her much neglected husband and dog.




---
What did you think of Loving Vengeance? Share your thoughts in the comment section below!
---
The above links are affiliate links. I receive a very small percentage from each item you purchase via these link, which is at no extra cost to you. If you are thinking about purchasing the book, please think about using one of the links. All money received goes back into the blog and helps to keep it running. Thank you.