On the Up by Alice O'Keeffe – Book Review
On the Up by Alice O'Keeffe – Book Review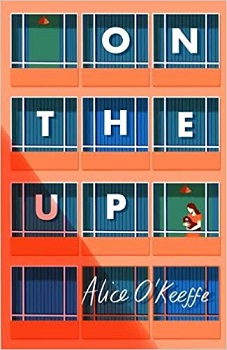 On the Up
Author – Alice O'Keeffe
Publisher – Coronet
Pages – 336
Released – 14th November 2019
ISBN-13 – 978-1529303353
Format – ebook, paperback, hardcover, audio
Review by – Stacey
Rating – 4 Stars
I received a free copy of this book.
This post contains affiliate links.
By reading Style magazine, I was training myself not to want things. It was going quite well. I had already found that I did not want a pair of Yves Saint Laurent mules, a chandelier made from plastic antlers, or a diamond-encrusted necklace in the shape of a pineapple. I was still working on not wanting a fitted farmhouse kitchen in warm wood.
Sylvia lives in a flat on a council estate with her not-quite-husband Obe and their two young children. She dreams of buying a house on a leafy street like the one she grew up in. If she closes her eyes, she can see it all so clearly: the stripped floorboards, the wisteria growing around the door…
It's not ideal that she's about to be made redundant, or that Obe, a playworker, is never going to earn more than the minimum wage. As sleep deprivation sets in, and the RnB downstairs gets ever louder, Sylvia's life starts to unravel.
But when the estate is earmarked for redevelopment, the threat to her community gives Sylvia a renewed sense of purpose. With a bit of help from her activist sister, and her film-maker friend Frankie, she's ready to take a stand for what she believes in.
Warm, witty and brilliantly observed, On the Up is about relationships and community, finding a way through the tough times, and figuring out what's really worth fighting for.

Sylvia lives in a flat in London with her two little sons and her partner, Obe. She grew up in the leafy suburbs and that's where her friends live, but with Obe not wanting to further his prospects, preferring to be a spoken poet, and having two little children to look after they can't afford a house on a leafy street with a garden, so the tiny flat is home, for now!
Sylvia's home life at the flats hasn't been easy though and for the last three years, she has been keeping an incident diary of all the anti-social behaviour, especially from her downstairs neighbour who likes her men and the booze. The Anti Social Behaviour Officer, Bill, keeps on putting off dealing with the issues telling Sylvia it's still at the 'evidence gathering stage', although he is the man she turns to for all her problems and he helps her out with his good advice.
However, when her home and the home of those residents who live in the flats are threatened due to a planned redevelopment Sylvia realises that it might not be the best place in the world but it is her home and she is going to fight the developers all the way.
On the Up is an eye-opening read. The book had a nice energy to it and I found myself being taken in by the story as if I was sucked into the book and placed within Sylvia's life. I felt sorry for her at the beginning as she came across as a woman at the end of her tether. Hardly sleeping, music blasting, and strange smells from downstairs at all hours. She also had a young baby and a toddler to look after.
Obe had lots of wisdom about him and would blurt out a poem on random occasions. He was a thinker rather than a doer and was happy to just watch the world go by – To be perfectly honest with you he really got on my nerves at times and yet I still adored him.
The book is very poignant and gives you a sense of community and lets you see how a part of society lives and what they will fight and come together for. It was touching and very interesting and I was surprised how much I enjoyed the plot, which was quite slow, not something I normally find easy to read, but this book lets you saviour what was happening and all the emotions that came with each page.
It is an amazing book. It is touching, warm, and humorous and you will find yourself routing for Sylvia the whole way through.
Book Reviewer – Stacey
---
Purchase online from:
---
About the Author
Alice O'Keeffe is a writer, critic and copywriter. Her debut novel, On the Up, is published by Coronet.
She has been deputy editor of the Guardian's Saturday Review section, arts editor of the New Statesman, and arts correspondent for the Observer. She writes book reviews, opinion, interviews and features for publications including the Guardian, Observer and New Statesman.
She wrote a weekly family column, Squeezed Middle, for the New Statesman, and has reported from all over the world, from China to Latin America. In 2009, she won an Amnesty International Media Award for founding and editing No Place for Children, the New Statesman's campaign against the detention of children for immigration reasons.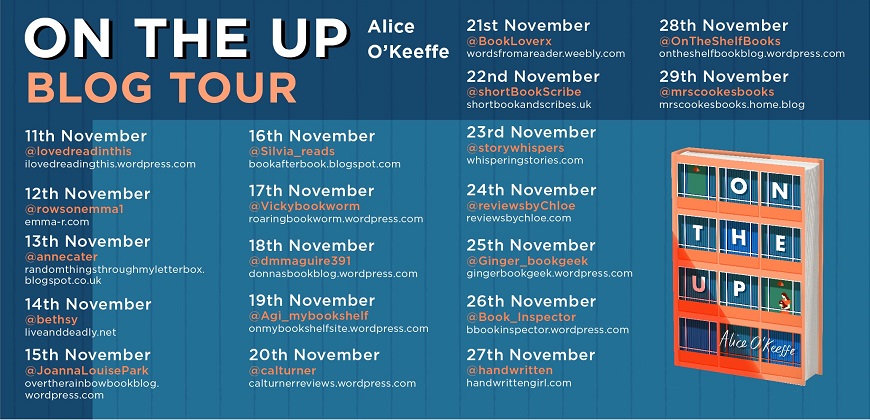 ---
What did you think of On the Up? Share your thoughts in the comment section below!
---
The above links are affiliate links. I receive a very small percentage from each item you purchase via these link, which is at no extra cost to you. If you are thinking about purchasing the book, please think about using one of the links. All money received goes back into the blog and helps to keep it running. Thank you.