The Professor by Charlotte Brontë – Book Review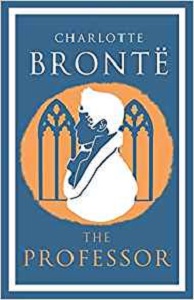 The Professor
Author – Charlotte Brontë
Publisher – Alma Books
Pages – 288
Released – 22nd February 2018 (originally published in 1857)
ISBN-13 – 978-1847497178
Format – ebook, paperback, hardcover, audio
Review by – Nia
Rating – 3 Stars
I received a free copy of this book.
This post contains affiliate links.
When the orphaned William refuses his uncles' proposal to become a clergyman and angrily leaves his job in the counting-house of his brother's mill, he decides to accept a position as an English teacher at a boys' school in Brussels.
When his career leads him to take up an additional post at a girls' school nearby, William becomes emotionally involved with the manipulative headmistress of the establishment, Mademoiselle Reuter. The tensions rise until one of his pupils and fellow teachers – for whom he has tender feelings – is suddenly dismissed and is nowhere to be found.
Based on Charlotte Brontë's own autobiographical experience in Brussels as a teacher and only published posthumously, The Professor was Charlotte Brontë's first attempt at full-length fiction and bears all the hallmarks of her future work, with touches of genius and an unparalleled sharpness of style.

This title was a lot harder going than I was expecting, being a lifelong fan of Jane Eyre. This is a fine example of an author honing their craft, knowing the masterpiece that Bronte would write later in her life.
The story follows William Crimsworth from his humble beginnings, to his career as a teacher and eventual marriage to the woman he loves.
Though intended to be a sympathetic hero, Crimsworth is very judgemental and xenophobic (he doesn't think highly of women or anyone who isn't English) character and goes on at some length about how superior he is to absolutely everyone. Knowing that this story is the main basis for Charlotte Bronte's other book, Vilette, which is told from the perspective of a female main character – I can safely say that I prefer this plot as narrated by a character who isn't a prat.
While The Professor did lack the underlying passion and angst that Bronte became so brilliant at writing later on, I did find some of the dialogue quite entertaining and more direct than I necessarily expect from a Victorian novel.
On a practical note, I would mention that the font size in this particular edition (9781847497178) is smaller than a standard book. For me, this was a bit of an issue as I struggle with eye strain though it may not be an issue for most other people.
Book Reviewer – Nia
---
Purchase online from:
---
About the Author
Charlotte Brontë (1816-55) was the eldest of the three celebrated Brontë sisters. Under the care of her father, Charlotte was educated and encouraged to take an interest in natural history. This freedom inspired Charlotte to argue strongly for the intellectual worth of women through her novels, and her success and the respect she won paved the way for future female authors.
---
What did you think of the book? Share your thoughts in the comment section below!
---
The above links are affiliate links. I receive a very small percentage from each item you purchase via these link, which is at no extra cost to you. If you are thinking about purchasing the book, please think about using one of the links. All money received goes back into the blog and helps to keep it running. Thank you.