A Confederacy of Dunces by John Kennedy Toole – Book Review
A Confederacy of Dunces by John Kennedy Toole – Book Review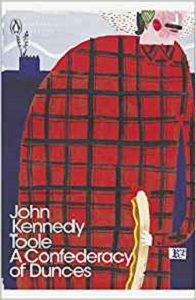 A Confederacy of Dunces
Author – John Kennedy Toole
Publisher – Penguin Books
Pages – 338
Released – 30th March 2000 (First Ed 1980)
ISBN-13 – 978-0141182865
Format – ebook, paperback, hardcover, audio
Reviewer – Clive
Rating – 4 Stars
I received a free copy of this book.
This post contains affiliate links.
A monument to sloth, rant and contempt, a behemoth of fat, flatulence and furious suspicion of anything modern – this is Ignatius J. Reilly of New Orleans, noble crusader against a world of dunces.
The ordinary folk of New Orleans seem to think he is unhinged. Ignatius ignores them, heaving his vast bulk through the city's fleshpots in a noble crusade against vice, modernity and ignorance. But his momma has a nasty surprise in store for him: Ignatius must get a job. Undaunted, he uses his new-found employment to further his mission – and now he has a pirate costume and a hot-dog cart to do it with…
Never published during his lifetime, John Kennedy Toole's hilarious satire, A Confederacy of Dunces is a Don Quixote for the modern age, and this Penguin Modern Classics edition includes a foreword by Walker Percy.

There are two stories here, one in the book and one about the book. In his foreword, Walker Percy explains how the book came to be published some twelve years after the author's suicide following depression at his inability to get the book published. In case you are interested, the title was derived from a quote by Jonathan Swift: "When a true genius appears in the world, you may know him by this sign, that the dunces are all in confederacy against him."
I must confess that I found the early chapters challenging. It was impossible to have any sympathy with the extremely vulgar central character, Ignatius Reilly who has no respect for anyone or anything, including social niceties, his long suffering mother and himself. The other challenge was the tiny font used in the paperback for extracts from Reilly's own jottings.
But somehow, sufficiently intrigued and as the story progressed, I found myself tuning in to John Kennedy Toole's humour and attitude towards the world as viewed through Reilly's eyes. One reason for continuing was the various side stories which included more pleasant and believable people. There were Mrs Reilly's group of friends, intense Myrna the classic 1960's revolutionary student and the excellent Jones, the struggling black club janitor. Some of his asides are hilarious.
Indeed, as you read the book pay close attention to all the people you meet as most reappear in the dénouement which strung them all together. That ending also suggests further adventures for Reilly which sadly will never be recorded.
I understand that A Confederacy of Dunces has achieved cult status from time to time and I can see why. I cannot recall anything quite like this book which is one that you will either love or hate. There will be no indifference.
However, it does deserve a health warning. Toole wrote the book in the early 1960's when life was not as politically correct as it is today. There are words and attitudes in this book which would not be acceptable if written now.
As with most books, I was driven to the Internet for further research. For A Confederacy of Dunces it was Boethius's The Consolation of Philosophy and the stringent Vagrancy Laws that existed at that time in most US states.
A Confederacy of Dunces is a book that I would urge anyone to at least attempt to read. It will not always be comfortable or easy but you will not forget it. For reasons given above I winced a few times and subsequently, have reduced my award from five to four stars.
Book Reviewer – Clive
---
Purchase online from:
---
About the Author
John Kennedy Toole was an American novelist from New Orleans, Louisiana, whose posthumously published novel A Confederacy of Dunces won the Pulitzer Prize for Fiction. He also wrote The Neon Bible. Although several people in the literary world felt his writing skills were praiseworthy, Toole's novels were rejected during his lifetime. After suffering from paranoia and depression due in part to these failures, he committed suicide at the age of 31.
---
What did you think of the book? Share your thoughts in the comment section below!
---
The above links are affiliate links. I receive a very small percentage from each item you purchase via these link, which is at no extra cost to you. If you are thinking about purchasing the book, please think about using one of the links. All money received goes back into the blog and helps to keep it running. Thank you.