Where Have You Been? by Amit Siovitz – Book Review
Where Have You Been? by Amit Siovitz – Book Review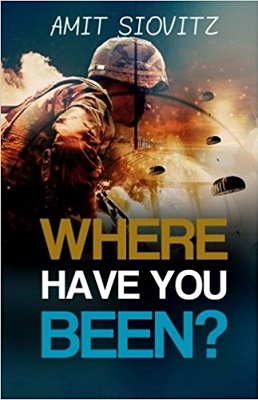 Where Have You Been?
Author – Amit Siovitz
Publisher – Editions Dedicaces
Pages – 250
Released – 17th September 2016
ISBN-13 – 978-1770766068
Format – ebook, paperback
Reviewer – Abby
I received a free copy of this book
Post contains affiliate links
Johnny is just a regular guy discharged after Iraq. He wants what every guy wants; a pretty girl, a nicer car, some money, and enough Heroin to stave that itch in the back of his head. That last thing may not be what EVERY guy wants, but it's all the same, isn't it? You just try to get through a day in his shoes.
A day that starts with aggravated assault, goes on fixing some guy's toilet, to murder. "Milaowic, John, Corporal, serial number… ahhh… Not sure if I have one." Johnny's head has just not been the same since coming back home; things are blurry. Nothing seems to be going right; his girlfriend, Jenny, is about to leave him, his friends become his enemies, or they decide to quit using Heroin and abandon him. Just trying to squeeze a normal day out of this life becomes his biggest challenge, and being a murder suspect isn't helping either.
Ask not what your country can do for you, guys, as what the hell you're going to do when your country is done with you.
Review
"John? Where have you been?"
John – or Johnny as he's known to his friends and acquaintances (more on them later) – is the central character in Amit Siovitz's debut novel, Where Have You Been?
An American soldier recently discharged from Iraq, Johnny is back home, trying to re-establish his place in his friendship circle and find a sense of normality.
When we meet Johnny, he's got a "kind of girlfriend", Jenny. He's got a car. He's also got a job – sort of – helping his friend with odd jobs. All pretty normal.
However, we also meet Johnny in a midst of fuzzy, blurry smoke, as he and his circle of friends are enjoying an evening of drug taking. This is very normal to Johnny and co. We quickly learn that drink and drugs are Johnny's fuel of choice. They are the foundations of many of his relationships, his coping mechanism for life after the war and sometimes, just something for him to do when he's bored. Later, dealing drugs also becomes his source of income.
What about his friends? The names of his friends rather significantly all begin with "J". There's Jenny – his girlfriend, James and Joanna – his best friend and his girlfriend, Jeff – who he works with, Jake – an old school friend who hires him as his drug dealer later in the novel, Jimmy – a fellow war veteran… the list goes on. They're all partial to drug taking too; although some are trying to remove themselves from the scene in the hopes of finding a better life.
What does this suggest? Well, in a novel where identity becomes extremely important to Johnny, it creates a sense of interchangeability. They all share common interests and identify themselves as "junkies" – their favourite J. They all heavily rely on – or used to, at least – "junk" to escape their problems. For Johnny, it becomes increasingly apparent that the problem is PTSD – post-traumatic stress after Iraq.
In Iraq, Johnny – Corporal John Milaowic – witnessed unspeakable things. He witnessed death, pain. He formed close bonds with those around him. He was there, present in the action. Back home, he's numb, depressed and has no sense of purpose. Drugs and Jenny become his purpose. In fact, Jenny becomes his obsession. When they break up, he uses drugs to numb the pain he begins to feel. Once timid and vulnerable, the "Old Jenny" becomes the "New Jenny" – confident, selling drugs, living alone – not needing Johnny, which causes Johnny to feel even more displaced from normality.
The novel began quite slowly, but the pace definitely upped after Jenny's friend is killed…
The more crimes that are committed, the more Johnny experiences immersive flashbacks to Iraq – one time remembering when "Corporal Washington, rifleman, killed an Al Qaeda operative with a rock when we were ambushed".
Siovitz uses symbolism and mirroring throughout to explore the inner workings of Johnny's mind; the thoughts behind his actions, the loneliness he feels as he loses those around him. Although I find it difficult to relate or sympathise with Johnny, I at least can begin to understand why he does the things he does. Some of his actions, however, are incomprehensible – although they are assuredly drug induced.
It's also apparent that Johnny is, at the core, an intelligent and articulate man, much misunderstood by those around him, most likely because his identity is stuck in Iraq. As a way of sharing the feelings he is unable to verbally describe, he takes to writing poetry – something that he began doing in Iraq. Similarly, Jenny uses art to externalise her thoughts while high on drugs. At the end of the novel, for example, Johnny writes:
"Oh how I miss the days of crystalline death
When all trouble was far and I in my own mind was safe
For no thought, nor image, nor Memory's wraith
Can through this smoke penetrate my depth"
The off-rhyme is indicative of the pain and confliction he's feeling, and how unsure he is of healing. It's reflective of reality that the novel doesn't necessarily resolve all of Johnny's issues. He can begin to come to terms with the events of the novel, his own actions, but it's not clear-cut, unlike the pop culture references to Breaking Bad and Pulp Fiction.
Overall, Where Have You Been? is an insight into the feelings of displacement and struggles to find a sense of normality after witnessing trauma. Siovitz's descriptions of crime, drug taking and depression are raw, realistic and graphic. Although I felt I couldn't relate to Johnny or his friends, I thought the more symbolic (and less crude) elements of the novel worked well at building tension and portraying Johnny's conflicted identity.
Reviewed by Abby

---
About the Author

Amit Siovitz started out his writing career as a soldier, cowering from the cold in a shed and writing poetry. Never in those first moments has he thought that he would end up publishing a book.
After his military service Amit moved to Germany for his academic studies where he studied English at the Alberts-Ludwigs-Universität Freiburg.
During his studies, Amit has let his love of literature blossom and he helped manage a book club, two creative writing groups, and helped found a bilingual literary magazine.
Today, Amit is working on his next book and struggling to maintain that demanding task with keeping a normal job as a book dealer.



---