All I Want for Christmas by Joanna Bolouri – Book Review
All I Want for Christmas by Joanna Bolouri – Book Review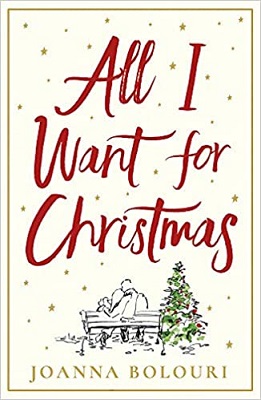 All I Want for Christmas
Author – Joanna Bolouri
Publisher – Quercus
Pages – 386
Released – 29th October 2020
ISBN-13 – 978-1529406900
Format – ebook, paperback, audio
Review by – Stacey
Rating – 5 Stars
I received a free copy of this book.
This post contains affiliate links.


When Nick loses his job and is dumped by his glamorous but demanding girlfriend, he is forced to grudgingly accept work as a Santa at a local Christmas grotto. As his friends are getting married or promoted, Nick spends his days being terrorised by unfriendly elves and cried on by snotty, spoiled children.
Then he meets 4-year-old Alfie. All Alfie wants for Christmas is for his mum, Sarah, to be happy again. Moved by the boy's selfless wish, Nick arranges a date between Sarah and his best friend, Matt. But as Sarah and Alfie become part of all their lives, Nick realises that happiness for Sarah and Matt might mean heartbreak for himself.

Thirty-year-old corporate lawyer Nick has been sacked after not one but two, (okay three but he didn't get caught the third time) incidents at work. He takes his sacking badly and resorts to getting drunk most nights, and day and eating take-out food for breakfast, lunch, and dinner. He shares a flat with his best friend Matt who has tried to give him a kick up the butt but nothing is working.
Nick has applied for numerous jobs but no-one seems to want to hire him, that is until an offer comes in for him to play Santa at the local shopping centre. He doesn't want to do, doesn't even like children but he needs the money after nearly depleting his savings. When his reality star girl-friend finds out that he is Santa she dumps him.
One afternoon just after closing and a day from hell a little boy, four-year-old Alfie is desperate to see Santa. Nick eventually obliges and asks Alfie what he would like for Christmas, his response stuns Nick. He wants his mum to be happy again as she has been sad since his dad died. In a panic Nick tells Alfie that he will grant his Christmas wish, now all he has to do is make it come true, and what a better way than fixing Alfie's mum Sarah up with his friend Matt.
As the two become close Nick soon realises that he is falling for Sarah and has become attached to Alfie. As if his life wasn't complicated enough!!
In this festive rom-com, you can expect heart-warming moments, lots of laughter, and fabulous characters. In the beginning, Nick came across as a bit of an arse but as the book progressed his personality changed and I came to respect him and feel sorry for the situation he had become involved in. The adults in the story are wonderful but it is little Alfie who steals my heart, gosh that child is so adorable and lovely.
The book is set in the present day and filled with thirty-somethings and is true to the way a lot of people talk, so expect some bad language in there, for me, this made the book more realistic. Plus it is told from a male perspective so we're talking lots of swearing at times.
I'm not normally a fan of love triangles but I was completely hooked on this book, though it is more like a love square with Alfie! The writing is spot-on, the situations plausible, and the whole story gave me that feel-good vibe.
I'm just glad that my first festive read of the year was an absolute belter. It is so good I could see this being made into a Hallmark Christmas movie (even if the storyline takes place over the year), the scenes certainly played out in my head whilst reading and I rush through the book not wanting to put it down. For me, this is a must-read if you love festive rom-coms.
Book Reviewer – Stacey
---
Purchase online from:
---
About the Author

Joanna Bolouri worked in sales before she began writing professionally at the age of thirty. Winning a BBC comedy script competition allowed her to work and write with stand-up comedians, comedy scriptwriters and actors from across the UK. She's had articles and reviews published in The Scotsman, The Skinny, The Scottish Sun, Huffington Post and HecklerSpray.
She lives in Glasgow with her daughter.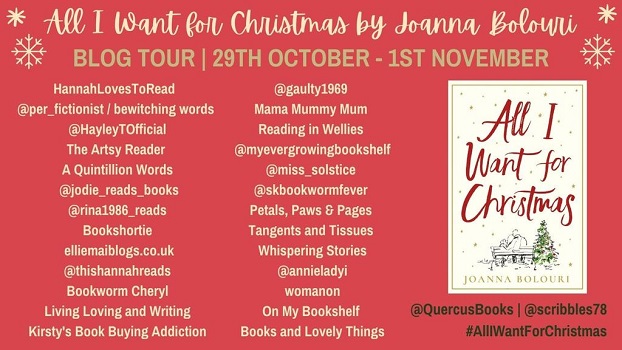 ---
What did you think of All I Want for Christmas? Share your thoughts in the comment section below!
---
The above links are affiliate links. I receive a very small percentage from each item you purchase via these link, which is at no extra cost to you. If you are thinking about purchasing the book, please think about using one of the links. All money received goes back into the blog and helps to keep it running. Thank you.
Like us on Facebook – Tweet us on Twitter – Pin us on Pinterest