The Reckless Afterlife of Harriet Stoker by Lauren James – Book Review
The Reckless Afterlife of Harriet Stoker by Lauren James – Book Review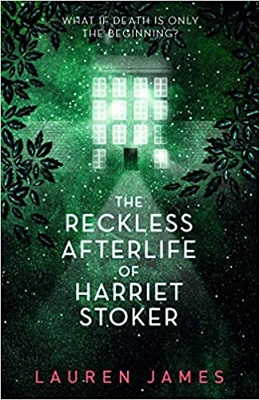 The Reckless Afterlife of Harriet Stoker
Author – Lauren James
Publisher – Walker Books
Pages – 432
Released – 3rd September 2020
ISBN-13 – 978-1406391121
Format – ebook, paperback
Review by – stacey
Rating – 4 Stars
I received a free copy of this book.
This post contains affiliate links.


What if death is only the beginning?
When Harriet Stoker dies after falling from a balcony in a long-abandoned building, she discovers a world of ghosts with magical powers – shape-shifting, hypnosis, even the ability to possess the living. Felix, Kasper, Rima and Leah welcome her into their world, eager to make friends with the new arrival.
Yet Harriet is more interested in unleashing her own power, even if it means destroying everyone around her. But when all of eternity is at stake, the afterlife can be a dangerous place to make an enemy.

Teenager Harriet Stoker enters the abandoned building of Mulcture Hall to take some photos for her university project. She has heard rumours that the place is haunted after numerous students died there a few years ago but it will take more than a few ghosts to stop her from getting the perfect shot.
Unfortunately for Harriet whilst leaning from the upstairs balcony she falls and dies on impact and re-awakens to a world of ghosts and realises she has become one.
She wants to get home to her Grandmother who she lives with and takes care of since her parents died, but she soon finds out that she can't leave the grounds of Mulcture Hall as the ghosts have to stay where they died or they disintegrate and no-one knows what that means, or where they go when that happens.
She finds herself surrounded by lots of other ghosts including teenagers Kasper, Felix, Rima, and Leah. She is also informed that when you die you each are given special magical powers. Harriet isn't going to play by the rules though. But just how far is she willing to go to get what she wants and who is she willing to hurt in the process?
The Reckless Afterlife of Harriet Stoker is an intriguing take on the afterlife. Author Lauren James has done a fabulous job of making the afterlife sounds so sinister, I mean dying is bad enough but then once your energy runs out you kind of look like you are in a ghost coma and you have to wait for someone else to die to then reawaken you again as you take part of their energy.
The book is told from multiple POV which isn't my favourite kind of read but the sections from the characters other than Harriet were only quite short in comparison to hers, plus you always knew who was talking. As well as the characters we also have a narrator – possibly death, who had seen Harriet die many years before she did and knew that she was a force to be reckoned with.
The book is filled with supernatural elements, a good vs evil feel, and at times horror. Harriet by no means is a likeable character, she is selfish, self-centred, and bitter but she has been dealt a very cruel life and you can kind of understand where she is coming from. This would make a great read for these early dark nights and for Halloween too. It's engaging and will give you a lot to think about.
Book Reviewer – Stacey
---
Purchase online from:
---
About the Author

Lauren James was born in 1992 and is the British Young Adult author of The Next Together series, The Loneliest Girl in the Universe and The Quiet at the End of the World. She graduated in 2014 from the University of Nottingham, UK, where she studied Chemistry and Physics.
She started writing during secondary school English classes, because she couldn't stop thinking about a couple who kept falling in love throughout history. She sold the rights to the novel when she was 21, whilst she was still at university.
Her books have sold over fifty thousand copies in the UK alone, and been translated into five languages worldwide. She has been described as 'Gripping romantic sci-fi' by the Wall Street Journal and 'A strange, witty, compulsively unpredictable read which blows most of its new YA-suspense brethren out of the water' by Entertainment Weekly.
Her other novels include The Last Beginning, the epic conclusion to The Next Together which was named one of the best LGBT-inclusive works for kids and young adults by the Independent.





---
What did you think of The Reckless Afterlife of Harriet Stoker? Share your thoughts in the comment section below!
---
The above links are affiliate links. I receive a very small percentage from each item you purchase via these link, which is at no extra cost to you. If you are thinking about purchasing the book, please think about using one of the links. All money received goes back into the blog and helps to keep it running. Thank you.
Like us on Facebook – Tweet us on Twitter – Pin us on Pinterest