Contempt by Michael Cordell – Book Review
Contempt by Michael Cordell – Book Review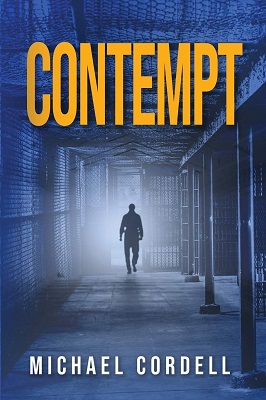 Contempt
Author – Michael Cordell
Publisher – TCK Publishing
Pages – 211
Released – 27th July 2020
ISBN-13 – 978-1631610806
Format – ebook, paperback
Review by – Stacey
Rating – 5 Stars
I received a free copy of this book.
This post contains affiliate links.


Playing by the rules landed him on death row. Now he'll have to break all the rules to survive.
After spending five years in jail for a murder he didn't commit, lawyer Thane Banning agrees to take on a case defending a former inmate against the same DA who put Thane behind bars.
Thane is besieged by death threats from the alleged victim's father and a tidal wave of public outrage following his release, not to mention the corrupt DA who has a grudge to settle. But he doesn't have much time to think about his personal problems because the case is turning into a nasty fight.
Luckily, prison taught Thane a thing or two about survival in a world full of criminals. The last time he played by the rules in court, he landed on death row. This time he'll have to break more than a few rules to come out of this battle unscathed.
With help from an ex-inmate and an ambitious law student, Thane will do everything in his power to make sure another innocent man isn't locked up. But will they be able to uncover the truth in time and convince the jury before the gavel drops for the last time?

Real Estate Lawyer Thane Banning has spent the last five years in prison, partly on death row, for the murder of Assistant District Attorney Lauren McCoy, who oversaw corruption cases. He has always protested his innocence and after successfully managing to get the only witness testimony thrown out, he is released.
Life on the outside isn't any easier though as the victim's father is after Thane paying for his daughter's murder and the public outrage at his release on a technicality rather than him being cleared of murder means he has to face people either being fearful of him or wanting to make his life hell.
When he gets a call from an ex-inmate, Skunk, with who he became friendly whilst in prison he didn't envisage taking on another murder case, especially one that is close to him but he knows in his heart that his friend isn't a murderer. Retired Detective Ted Gruber has been killed at his home. He just happens to be the same detective who arrested Thane on the night of the murder.
Thane has always believed he was set up for Lauren's murder and he knows that the DA on the case, DA Stone, is corrupt and coming up for re-election. Trouble is Stone not only wants to make sure that Skunk goes down for murder, he also is after Thane being humiliated, just like he feels at him being released.
Contempt is a fast-paced legal thriller set in the USA. Thane Banning is a Real Estate Lawyer who was set up for murder five years ago. After reading and studying criminal law he managed to find a loop-hole that meant the eye-witness statement could be thrown out and with no other witnesses there wasn't enough evidence to keep him in prison and he is released.
The DA is under scrutiny from the public who voted for him on the back of Thane's conviction and now he is up for re-election, with Thanes release it looks like he might not be voted in again. When the detective who arrested Thane is murdered the DA sees this as his opportunity to win the publics' vote again, however, he didn't see Thane becoming the defence lawyer and he is out to wipe the floor with him.
The plot is perfectly executed and it felt very gritty and raw. The hatred between the DA and Thane came across strong. Alongside the murder trial, we also get to see Thane trying to adapt to life outside of prison and his relationship with his wife who he hadn't see for the last three years due to wanting her to move on with her life if he was going to spend his life behind bars.
You can tell from the way the book reads that author Michael Cordell is a screenwriter as it was easy for the scenes to play out in my head and visualise perfectly. This would make a great movie or TV series. I was hooked right from the beginning and read it in one sitting as I couldn't find the right moment to take a break from it as there was so much happening all the time, you could say I was engrossed.
If you enjoy exciting legal thrillers that have you on the edge of your seat and feature characters you can really rally behind then this is a book for you. It is breath-taking at times and most definitely pure enjoyment the whole way through.
Book Reviewer – Stacey
---
Purchase online from:
---
About the Author

Michael Cordell is a novelist, playwright and produced screenwriter. He has sold three screenplays to Hollywood, including Beeper, an action-thriller starring Harvey Keitel and Joey Lauren Adams.
Michael currently lives in Charlottesville, Virginia, where he has taught screenwriting at the University of Virginia and at Writer House.


---
What did you think of Contempt? Share your thoughts in the comment section below!
---
The above links are affiliate links. I receive a very small percentage from each item you purchase via these link, which is at no extra cost to you. If you are thinking about purchasing the book, please think about using one of the links. All money received goes back into the blog and helps to keep it running. Thank you.
Like us on Facebook – Tweet us on Twitter – Pin us on Pinterest