Clues to You by Claire Huston – Book Review
Clues to You by Claire Huston – Book Review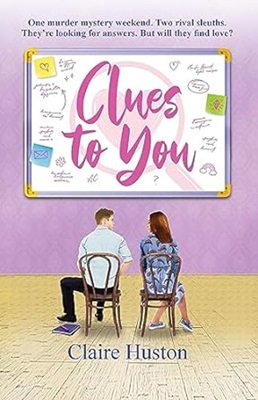 Clues to You
Author – Claire Huston
Publisher – Goldcrest Books
Release Date – 14th September 2023
Pages – 339
ISBN 13 – 978-1913719906
Format – ebook, paperback
Star Rating – 5
I received a free copy of this book.
This post contains affiliate links.

Synopsis
One murder mystery weekend. Two rival sleuths.
They're looking for answers. But will they find love?
Kate Brannon is delighted to be attending her first murder mystery weekend in a movie-worthy Victorian manor house. Still getting over being dumped, cracking the case would be a welcome boost to her flagging confidence. And the prize money wouldn't hurt either.
But Kate's dreams of victory become a nightmare with the arrival of Max Ravenscroft. Smart, enigmatic and annoyingly handsome, Max is Kate's sleuthing nemesis.
When she and Max are forced to work together, Kate despairs. But, as the investigation brings them closer, she finds being his partner in solving crime isn't all bad.
With growing suspicions that the game is rigged against them, can Kate and Max beat the odds to find the killer? And, as their partnership deepens, can they find romance too?
We meet Kate Brannon, a murder mystery enthusiast. She is excited to be attending the Merryman's Murder Mystery weekend at a manor house as she gets to do what she loves best, solving mysteries. Plus, the idea of a £50,000 prize for the winner goes down nicely too.
Kate is joined by her best friend Bella and her fiancé Ethan. They soon spot the arrival of Max Ravenscroft, whom Kate loathes with a vengeance and hates the way he tried to put her down at a previous amateur-friendly Murder Club group meeting.
Kate certainly doesn't have time for him, but when they are thrown together due to Bella and Ethan having numerous rows over their wedding plans they are left to try and solve the crime together.
Kate and Max find themselves relaxing in each other's company and it seems they work well together. Even the arrival of Kate's ex-boyfriend Paul who is trying to win her back doesn't deter the couple.
Will Kate and Max finally let their guards down and act on the chemistry between them or is it all for show and after winning the prize money?
Clues to You is a great story that keeps the reader focused throughout, especially with the 1930s theme running through the murder mystery weekend.
I did wonder if I would get a little bored with the focus being mainly on the Murder Mystery aspect but I was wrong, I loved it and fell in love with Kate and Bella right from the off.
There is enough to keep the reader interested and turning those pages eager to find out what happens next, not only with the murder but with the undeniable tension between Kate and Max.
Claire Huston has a way of surprising us and there were times when I didn't know what was coming, despite trying to guess. I look forward to reading more from Claire Huston in the future.
---
Purchase Online:
Claire Huston

I write uplifting modern love stories about characters who are meant for each other but sometimes need a little help to realise it.
I live in the Midlands, UK, with my husband and two children. I work as a translator and when I'm not struggling to write, I try to read, bake, and generally keep chaos at bay.
I'm a member of the Romantic Novelists' Association New Writers' Scheme.
Author Links:
---
The above links are affiliate links. I receive a very small percentage from each item you purchase via these links, which is at no extra cost to you. If you are thinking about purchasing the book, please think about using one of the links. All money received goes back into the blog and helps to keep it running. Thank you.