She Walks in Moonlight by Jennifer Silverwood – Book Review
She Walks in Moonlight by Jennifer Silverwood – Book Review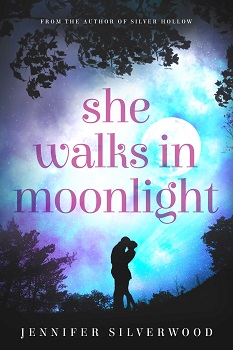 She Walks in Moonlight
Author – Jennifer Silverwood
Publisher – SilverWoodSketches
Pages – 210
Released – 28th October 2017
Format – ebook
Reviewer – Theophila
Rating – 5 Stars
I received a free copy of this book
Post contains affiliate links
Globetrotter, Danica Pavlova spends her days scouring old folktales and her nights trying to forget her life is anything but a fairy tale. Ten years ago, she ran away from her best friend the night after causing his crippling accident, convinced Adam King was better off not loving her.
When her brother is diagnosed with leukemia, she resolves to come home to care for the family she abandoned and face the love she never forgot.
Will she find forgiveness for the mistakes of her past, or can there be a second chance for a woman who walks in moonlight?

Ten years ago, Zvezda Danica Pavlova made a difficult decision that helps to decide her destiny. She ran away, abandoning her family, her friends and even the love of her life, and went travelling around the world.
Upon receiving a phone call, she is forced to return home as her brother has a terminal illness and he and his children need help. It does mean that she would have to face all those she ran away from. How would she cope? Would she be able to go back to her former life and face the love she ran away from for so many years?
She Walks in Moonlight, was exceptionally interesting and very fast paced. Ms. Silverwood has written beautiful characters that fitted into their different roles perfectly. My favourite character was Anya, a little girl that was so sweet and lovely.
The book is quite emotional as it shows how families struggled to cope when one of them has a terminal illness. However, She Walks in Moonlight is also a wonderfully funny and romantic book that I thoroughly enjoyed reading.
Reviewed by Theophila
---
Purchase online from:
---
About the Author

Jennifer Silverwood was raised deep in the heart of Texas and has been spinning yarns a mile high since childhood. In her spare time she reads and writes and tries to sustain her wanderlust, whether it's the Carpathian Mountains in Transylvania, the highlands of Ecuador or a road trip to the next town.
After attending three different universities without managing to square a degree, she decided to the next logical thing; become a writer. Always on the lookout for her next adventure, in print or reality, she dreams of one day proving to the masses that everything really is better in Texas.





---