The Undercover Mother by Emma Robinson – Book Review
The Undercover Mother by Emma Robinson – Book Review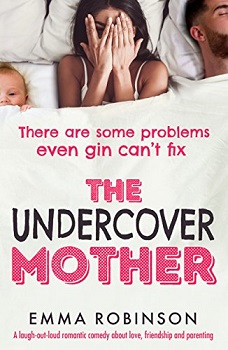 The Undercover Mother
Author – Emma Robinson
Publisher – Bookouture
Pages – 280
Released – 20th March 2018
ISBN-13 – 978-1786813596
Format – ebook, paperback
Reviewer – Stacey
Rating – 5 Stars
I received a free copy of this book
Post contains affiliate links
I used to imagine our new family life as a romantic film montage… the three of us rolling around on the rug together, laughing, or pushing a buggy around the park with my perfect hair flowing in the wind.
Spoiler alert: it is not like this. For a start, we never lie on the rug together because it's covered in crumbs from the slice of toast I have been trying to eat since breakfast…
Jenny has too much on her plate: literally – she's only expecting one child but she's eating for at least three. Not to mention trying to juggle her nightmare boss, a know-it-all sister, and an infuriatingly laid-back husband.
She used to be known for her 'Single Girl About Town' column. But when her boss gives her job to a younger colleague, Jenny panics and proposes she blogs instead about being a clueless new mum. Surely people will find her new friendship group fascinating? (Even if the only thing they seem to have in common is that they all had sex around the same time 9 months ago…)
And if her readers aren't quite hooked yet, maybe Jenny will just have to be more liberal with the truth. After all, none of the other mums will read it… will they?

Jenny had worked on a weekly magazine article 'Girl About Town', for many years. The article was about a single girl, but Jenny hadn't been single for the last two years, and now she was expecting a baby her boss, Eva, decided to pass the reins over to young and single, Lucy, leaving Jenny without a column.
That's when she has this fabulous idea for a new column, 'The Undercover Mother', documenting the funny side of motherhood. Her boss wasn't so sure, so to convince her she offered to write a blog so that she can prove how much of a hit it would be. How hard could writing a blog about motherhood be?
The Undercover Mother is a hilarious, laugh-out-loud book about 30-something Jenny as she discovers just how hard having your first child is. Jenny's convinced that having a child is a walk in the park, until she actually gives birth, then the dawn of realisation sets in.
Having had three children, my first nearly twenty-two years ago, lots of memories were brought back to life. Especially the bit about trying to put a sleepy baby down as if you were trying to not detonate a bomb, or can you grab a bath/shower before the child wakes up?
Jenny's first assignment was before she gave birth on antenatal classes (I've never been to one). It was here that she met four women, all from very different backgrounds and attitudes to motherhood. These women played an important role in Jenny's blog.
This book is an honest look at motherhood, wrapped in an amazing story. The five women were all unique and all had their own 'version' of motherhood. I did laugh at the advice given by one of the women to take make-up to the hospital with you so that you can look amazing in the 'new mum' photographs – I'll hold my hands up and state I did this with my second son. I even got moaned at for painting my nails in my hospital room.
The Undercover Mother is a truly amazing book that I read in two sittings. I just didn't want to put it down. The writing flowed, the characters were all a delight and the plot was so passionate, and truthful. If you are a mum, this book will have you nodding along in agreement and reliving those early memories of having a child.
Reviewed by Stacey
---
Purchase online from:
---
About the Author
Emma Robinson thinks of herself as one of the 'Bridget Jones generation' – who are now grown up and having children – and writes novels for women who feel the same.
She also has a blog, Motherhood for Slackers, which takes a humorous look at parenthood, and includes poems such as 'Dear Teacher' about her son starting school which has been shared around the world. Emma is an English teacher and lives in Essex with a patient husband and two children who are an endless source of material.





---