Christmas Gift Guide 2023 – Books
Christmas Gift Guide 2023 – Books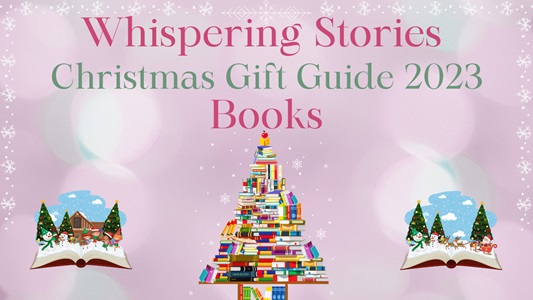 AD – Whispering Stories Christmas Gift Guide 2023 Books – contains gifted copies.
For all you bookworms out there we have a fabulous gift guide just for you filled with amazing books. Check them out below.
Christmas Gift Guide 2023 – Books

Zoe Antoniades
Cally and Jimmy Series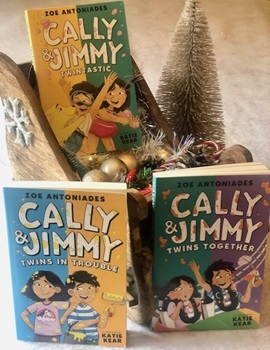 Twins in Trouble – Join Cally and Jimmy in four hilarious stories, perfect for newly confident readers. They get into scrapes together, bake some poisonous cakes, almost ruin their school assembly and finally have a twintastic birthday party.
Twins Together – Four fantastic new stories about everyone's favourite twins. There's always double trouble when these two are about, so get ready for more mayhem as they look after the school hamster for half term, have a competition to build the best snowman, raise money with a yard sale, and have a rollercoaster of a time at the local theme park!
Twintastic – Cally has a twin brother Jimmy, and he is always getting into some kind of mischief – which usually means double trouble! Thankfully their Greek granny is usually on hand to help – or add to the mayhem! In these four fab stories, the twins make a splash on their beach holiday, run into trouble on sports day, get spooked while trick or treating, and uncover a thief at school.
🎁Purchase from:
– Amazon.co.uk
– Hive
– For signed copies email – Zoe at [email protected] for details as to how to order a personally signed copy directly from her @£7 including P&P.
Invincible Voices: Winter Shorts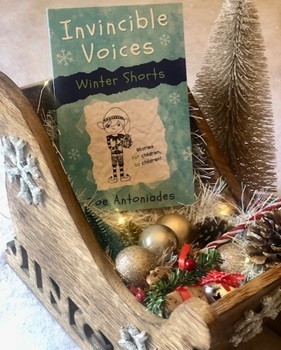 The spirit and originality of a child's imagination – the polish and flair of an experienced writer. Short stories include first-hand concepts that children want to read as children have initiated them. Children are inspired to come up with their own ideas which are then developed by the author. Ideal for children 7-9 years.
Meet a snowman in a sulk, a pesky pixie and a group of grimsome goblins. Journey through an action-fuelled, time-travelling adventure, featuring funny penguins with serious environmental issues. Allow the crystal compass to guide you to the Never-Melting-Icicle. Trek across snowy mountains with intrepid explorers, bolt down the black slopes with skilful skiers then soar across the sky in Santa's sleigh.
These are just some of the ideas that our children have storified for you, in their most invinciblest of voices. These stories are for children by children. We know this is the stuff that children want to read because children have chosen to write it.
🎁Purchase from:
– Email Zoe at [email protected] for details as to how to order a personally signed copy directly from her @£7 including P&P.
---
Genevieve Aspinall
Percy the Post Penguin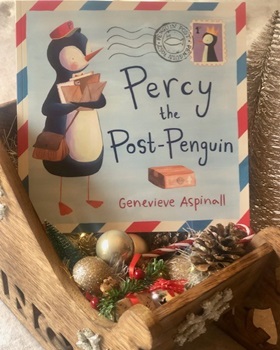 In the chilly South Pole, a hardworking little penguin named Percy lives next to his post office. But not many residents of the South Pole seem to know it is there.
With determination and confidence Percy sets off on a mission to make himself known… Will he be able to make his dream come true and create a successful business?
32 pages
🎁Purchase from:
– Amazon.co.uk
– Waterstones
– www.uclanpublishing.com
---
Shirin Amani Azari
Once Upon a Time in Uppsala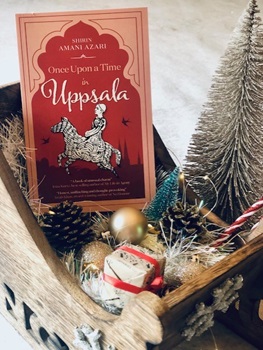 Shirin has just arrived from war-stricken Iran to Sweden – her new home. Her and her family must learn to acclimatise to the weather, culture and socialisation of Sweden whilst still staying in touch with their Iranian heritage.
Along with her response to such things as a traditional Swedish Christmas lunch, the dating rituals of European teenagers or the social dynamics of an unfamiliar and not always friendly classroom are fascinating glimpses into the lives of a varied community of refugees, eccentrics and drop-outs. These are interspersed with traditional Persian fairy tales and nostalgic memories of her beloved grandmother, which sustain her in her new life.
Once Upon A Time in Uppsala is a remarkable, candid and moving account of a sensitive child on the verge of adolescence transplanted from her beloved but suffering homeland into a country which, although politically safe, offers unexpected challenges of its own.
🎁Purchase from:
– Amazon.co.uk
– The Book Guild Publishing
---
Decima Blake
Hingston Series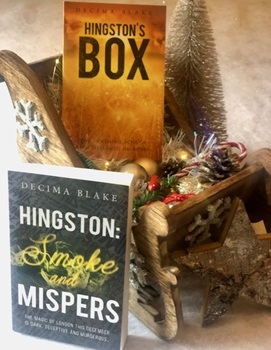 Hingston's Box – Since investigating the disappearance of fifteen-year-old twin boys, Hingston – a young, talented Detective Sergeant, has been tormented by night terrors. On waking, he remembers a vast, golden meadow that glows with warmth and carries the sound of rapid footfalls and trouser legs pushing through grasses. A curly haired boy runs tirelessly through the meadow. The promise of adventure is lost when the sickening ache of death seeps into Hingston's bones. Feeling suffocated and tortured, melodic chimes calm him and his panic subsides.
Signed off and leaving the office, a key inexplicably falls from Hingston's investigation file. Intrigued, he takes it with him, escaping London for Dartmouth where his investigative race begins. Stalked by a challenging elderly woman and hindered by his boss, his determination to solve the case draws him into the supernatural world that connects a murderous past to the present.
Hingston: Smoke and Mispers – As the first door on the Advent calendar is opened, DS Hingston attempts to save the life of a teenager in a crowded London café, but ultimately fails. Seventeen-year-old Leanna Snow chokes to death.
Days later, a girl from Leanna Snow's school is missing and another misper is found dead: his body hanging within the iconic Egyptian Avenue at Highgate Cemetery.
Working under the bombastic DCI Smythe and alongside Remi, his ex-girlfriend whom he still holds a torch for, Hingston discovers the magic of London this December is dark, deceptive and murderous.
Hingston and the Murder Squad are put to the test with this complex investigation that proves to be as mystifying as being asked by a magician to pick a card, any card, not knowing where you will be taken.
🎁Purchase from:
Detective Dachshund and the Fluffy Thief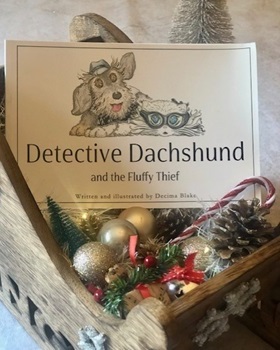 Detective Dachshund of Battersea Police wears a smart blue hat and a matching fleece.
He has boundless energy for fighting crime, but his detective skills, sadly, are far from sublime.
Now, Detective Dachshund one night was told, to catch a fluffy thief who was sneaky and bold.
The thief went by the name of Clawdius Cat… and should our detective trust Reece the Rat?
Wanted posters showed the cat's cheeky face, blowing raspberries from lamp posts all over the place!
Officers had already scoured the city… how could Detective Dachshund find this bad kitty?
🎁Purchase from:
---
Sabina Gabrielli Carrara
The Last Witch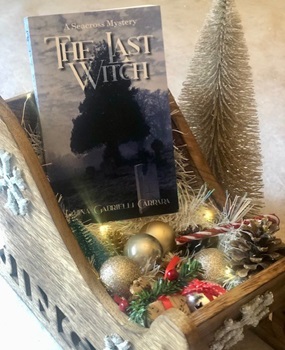 Back in 1974, the dormant Irish village of Seacross is shocked by the gruesome circumstances of young Margaret Morehouse's death. Forty-five years later history seems to repeat itself and the quiet life of the coastal Irish village is suddenly shaken by a series of ritualistic murders.
Someone had broken the pact of secrecy to obtain justice, but if the truth comes out nobody will be spared, from the future Taoiseach to the local men of power. Inspector Billy McCabe is called to investigate but what hides behind those deaths is more obscure than he thinks. Not only will the inspector have to face his demons and test his beliefs but he will also have to watch over his shoulder because nobody can be trusted, not even the ones closest to him.
In the end, McCabe will find his way out of the net of lies and old secrets, but at what price?
🎁Purchase from:
Black Souls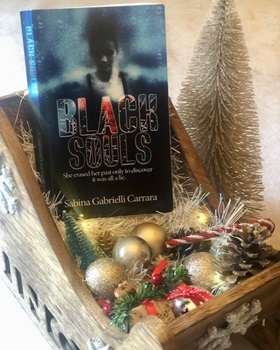 Lola never met her father, and her mother took her own life when she was still a toddler. Raised by her aunt Mara, a callous woman who never showed any affection towards her niece. As soon she turns 18, Lola moves to Malta where she meets her future husband, Fergus. The two of them will ultimately build their dream life in Ireland.
Lola's past seems forever forgotten, until the day her aunt Mara dies under suspicious circumstances and her cousin Giulia vehemently discourages her from being involved. Uncertain about what to do, in the end, Lola flies over to Ponte Alto with her husband. The old town had not changed much, and neither had the twisted dynamics inside the Kopfler family.
Lola is transported back twenty years, and the ancient feeling of being an outsider is back. But that is not all: her presence is a threat to someone; someone who doesn't hesitate to leave a trail of blood behind to keep their secrets safe. The events unfold a spiderweb of evil acts, lies, and a truth that is far crueller than anyone can imagine, and soon Lola and Fergus find themselves at the centre of a killer hunt. What they cannot imagine is that the search for the truth will bring them back to Dublin. The vicious attack of their neighbour and friend, in fact, is some way connected to the savage murders in Ponte Alto, but how?
Inspector Furio Zamparelli and Detective Enda McCarthey will have to join forces and start a race against the clock to stop the killings. The deception of the powerful Kopfler family had started. There is no coming back: Will Lola be spared?
🎁Purchase from:
---
Essie Fox
The Fascination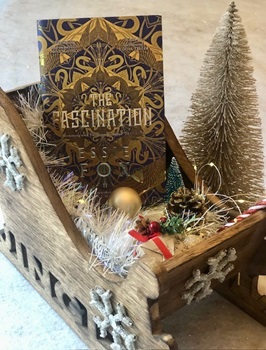 The estranged grandson of a wealthy collector of human curiosities becomes fascinated with teenaged twin sisters, leading them into a web of dark obsessions. A dazzlingly dark gothic novel from the bestselling author of The Somnambulist.
Victorian England. A world of rural fairgrounds and glamorous London theatres. A world of dark secrets and deadly obsessions…
Twin sisters Keziah and Tilly Lovell are identical in every way, except that Tilly hasn't grown a single inch since she was five. Coerced into promoting their father's quack elixir as they tour the country fairgrounds, at the age of fifteen the girls are sold to a mysterious Italian known as 'Captain'.
Theo is an orphan, raised by his grandfather, Lord Seabrook, a man who has a dark interest in anatomical freaks and other curiosities … particularly the human kind. Resenting his grandson for his mother's death in childbirth, when Seabrook remarries and a new heir is produced, Theo is forced to leave home without a penny to his name.
Theo finds employment in Dr Summerwell's Museum of Anatomy in London, and here he meets Captain and his theatrical 'family' of performers, freaks and outcasts.
But it is Theo's fascination with Tilly and Keziah that will lead all of them into a web of deceits, exposing the darkest secrets and threatening everything they know…
Exploring universal themes of love and loss, the power of redemption and what it means to be unique, The Fascination is an evocative, glittering and bewitching gothic novel that brings alive Victorian London – and darkness and deception that lies beneath…
🎁Purchase from:
---
Louise Forshaw
The Grim Falls Academy Trilogy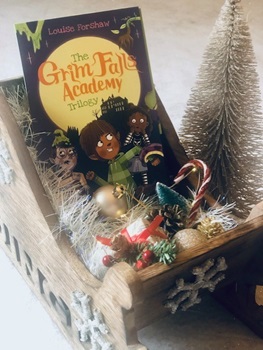 Join Seb, Victor and Tabby on their spooky adventures at Grim Falls Academy: a school for monsters!
The boxset contains three spooky stories, including:
Don't Eat the Soup! – Something weird is happening at Grim Falls Academy… and that's saying something for a school for supernatural kids! The teachers are growing tentacles, the headmaster has locked himself in his office and there's a new human student attending too. But with the school inspector's visit looming, can Seb and Victor discover the root of the problem before it gets totally out of control?
Don't Open the Box! – Something weird is happening at Grim Falls Academy… and that's saying something for a school for supernatural kids! Seb has unearthed a mysterious box, a pesky troll is wreaking havoc and the school has been turned into one massive forest! But when Seb makes a wish he can't take back, will he, Victor and Tabby manage to get everything back to normal and discover the truth?
Don't Feed the Glob! – Something weird is happening at Grim Falls Academy… and that's saying something for a school for supernatural kids! The Mad Science teacher is looking slimy, strange globs are eating everything and Tabby keeps turning into goo! But when everyone in school goes missing, can Seb, Victor and Tabby solve the mystery and stop the slime?
🎁Purchase from:
---
Alan Gorevan
The Book Club Murders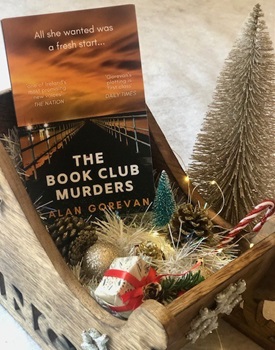 When Izzy O'Brien flees the city centre apartment she shared with her controlling partner, she relocates to the seaside town of Dun Laoghaire, and the house she inherited from her aunt.
Isolated and insecure, Izzy is relieved to be embraced by a tightknit group of female neighbours, who invite her to join their book club.
However, the town is not as sleepy as she thinks. And her ex-boyfriend is not ready to let her go.
A gripping mystery thriller set in Ireland, The Book Club Murders is perfect for fans of Shari Lapena, Harlan Coben and Linwood Barclay.
🎁Purchase from:
– Amazon.co.uk
– Mybook
---
Johana Gustawsson
The Bleeding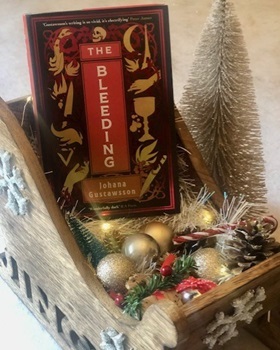 1899, Belle Époque Paris. Lucienne's two daughters are believed dead when her mansion burns to the ground, but she is certain that her girls are still alive and embarks on a journey into the depths of the spiritualist community to find them.
1949, Post-War Québec. Teenager Lina's father has died in the French Resistance, and as she struggles to fit in at school, her mother introduces her to an elderly woman at the asylum where she works, changing Lina's life in the darkest way imaginable.
2002, Quebec. A former schoolteacher is accused of brutally stabbing her husband—a famous university professor—to death. Detective Maxine Grant, who has recently lost her own husband and is parenting a teenager and a new baby single-handedly, takes on the investigation.
Under enormous personal pressure, Maxine makes a series of macabre discoveries that link directly to historical cases involving black magic and murder, secret societies and spiritism…and women at breaking point, who will stop at nothing to protect the ones they love….
🎁Purchase from:
Yule Island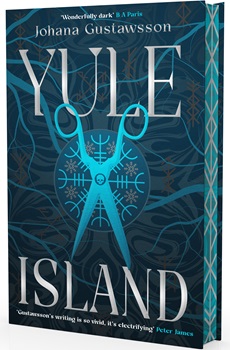 An art expert joins a detective to investigate a horrific murder on a Swedish island, leading them to a mystery rooted in Viking rites and Scandinavia's deepest, darkest winter. The Queen of French Noir returns with a chilling, utterly captivating gothic thriller, based on a true story. FIRST in a new series.
Art expert Emma Lindahl is anxious when she's asked to appraise the antiques and artefacts in the infamous manor house of one of Sweden's wealthiest families, on the island of Storholmen, where a young woman was murdered nine years earlier, her killer never found.
Emma must work alone, and the Gussman family apparently avoiding her, she sees virtually no one in the house. Do they have something to hide?
As she goes about her painstaking work and one shocking discovery yields clues that lead to another, Emma becomes determined to uncover the secrets of the house and its occupants.
When the lifeless body of another young woman is found in the icy waters surrounding the island, Detective Karl Rosén arrives to investigate, and memories his failure to solve the first case come rushing back. Could this young woman's tragic death somehow hold the key?
Battling her own demons, Emma joins forces with Karl to embark upon a chilling investigation, plunging them into horrifying secrets from the past – Viking rites and tainted love – and Scandinavia's deepest, darkest winter…
🎁Purchase from:
---
Faith Hogan
The Guest House by the Sea
People come to the guest house for fresh air and views across the Atlantic. But if they're lucky, they might just leave with the second chance they didn't know they needed…
Esme has run the guest house for as long as anyone in Ballycove can remember. But in her declining years, her sight is failing, and when she has a fall on the eve of the summer season, she is forced to take a back seat for the first time in her life.
From her chair in the entry hall, not much passes Esme by. There's Cora, the wife visiting indefinitely… without her husband; Niamh, the city professional with a life-changing decision to make; and Phyllie, the grandmother whose family is slipping away from her.
Esme's guests provide the colour that helps her keep her grip on the world. All of them have something they want to escape – or to hold on to. But can Esme help them find their way before the summer is over?
From bestselling Irish writer Faith Hogan comes a new, uplifting story about discovering love, friendship and the healing power of the Irish sea air. It will charm fans of Sheila O'Flanagan, Heidi Swain and Susanne O'Leary.
🎁Purchase from:
---
Katrín Júlíusdóttir
Dead Sweet – Released 7th December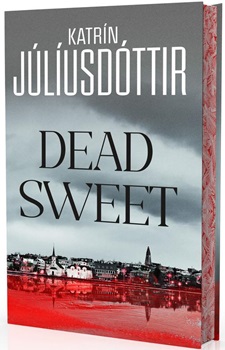 A murder is just the beginning…
When Óttar Karlsson, a wealthy and respected government official and businessman, is found murdered, after failing to turn up at his own surprise birthday party, the police are at a loss. It isn't until young police officer Sigurdís finds a well-hidden safe in his impersonal luxury apartment that clues start emerging.
As Óttar's shady business dealings become clear, a second, unexpected line of enquiry emerges, when Sigurdís finds a US phone number in the safe, along with papers showing regular money transfers to an American account. Following the trail to Minnesota, trauma rooted in Sigurdís's own childhood threatens to resurface and the investigation strikes chillingly close to home…
Atmospheric, deeply unsettling and full of breakneck twists and turns, Dead Sweet is a startling debut thriller that uncovers a terrifying world of financial crime, sinister cults and disturbing secret lives, and kicks off an addictive, mind-blowing new series.
🎁Purchase from:
---
Rob Keeley
The Spirits Series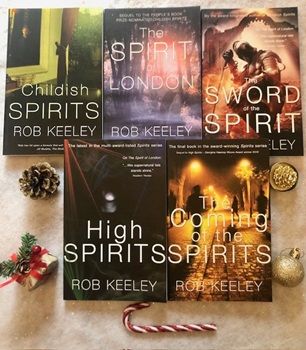 The Spirits series consists of five books:-
– Childish Spirits
– The Spirit of London
– The Sword of the Spirit
– High Spirits
– The Coming of the Spirits
When Ellie and her family move into Inchwood Manor, Ellie quickly discovers strange things are happening. Who is the mysterious boy at the window? What secrets lie within the abandoned nursery? Who is the woman who haunts Ellie's dreams and why has she returned to the Manor, after more than a century?
Ellie finds herself entangled in a Victorian mystery of ghosts and tunnels and secret documents and discovers that life all those years ago isn't so different from the world she knows today…
Each book continues the story of Ellie and the mysterious boy, Edward as they try to solve mysteries as sinister forces are at play.
🎁Purchase from:
– Amazon.co.uk
– Troubador
– www.robkeeley.co.uk
---
Rob Keeley
The Treasure in the Tower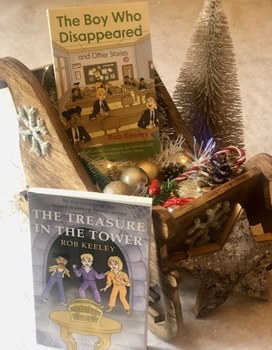 A school trip to historic Deanchester becomes more exciting when Jess and her friends discover the city hides a secret treasure. Local historian Dr Joseph Pyrite left a series of clues scattered around Deanchester's landmarks, which Jess, Mason and Kessie are determined to solve. But they only have three days. And they have competition. A series of increasingly cunning tricks awaits Jess and her party as they try to beat Perdita and Thomas to the treasure.
🎁Purchase from:
– Amazon.co.uk
– Troubador
– www.robkeeley.co.uk
The Boy Who Disappeared and Other Stories
Ellis is annoying Isla… but suddenly he isn't there…
Oscar's written what he thinks about everyone… and left the paper in a library book…
Fletcher becomes a hero to Suzie… Tessa takes action when her school bans hugging…
Holly Class wind up Pine Class on Transition Day…
Paul really doesn't want to go to big school…
Myra hates her new school… until she meets Shane…
And more…
🎁Purchase from:
– Amazon.co.uk
– Troubador
– www.robkeeley.co.uk
Carrots Don't Grow On Trees!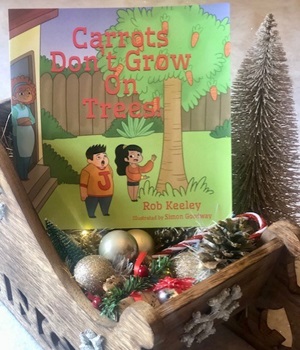 Lily loves eating fruit and vegetables – but is tricked by Jordan, who tells her that carrots grow on trees.
With the help of her Mum, some healthy eating and a box of elastic bands, Lily sets out to teach Jordan a lesson…
Carrots Don't Grow On Trees! is a bright, colourful and funny story, told entirely in dialogue and pictures, and takes a fun and compassionate approach to dealing with teasing at school, as well as promoting healthy eating.
🎁Purchase from:
– Amazon.co.uk
– Troubador
– www.robkeeley.co.uk
---
Awais Khan
Someone Like Her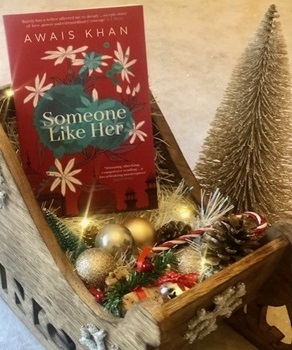 Multan, Pakistan. A conservative city where an unmarried woman over the age of twenty-five is considered a curse by her family.
Ayesha is twenty-seven. Independent and happily single, she has evaded an arranged marriage because of her family's reduced circumstances. When she catches the eye of powerful, wealthy Raza, it seems like the answer to her parents' prayers. But Ayesha is in love with someone else, and when she refuses to give up on him, Raza resorts to unthinkable revenge…
Ayesha travels to London to rebuild her life and there she meets Kamil, an emotionally damaged man who has demons of his own. They embark on a friendship that could mean salvation for both of them, but danger stalks Ayesha in London, too. With her life thrown into turmoil, she is forced to make a decision that could change her and everyone she loves forever.
Exquisitely written, populated by unforgettable characters and rich with poignant, powerful themes, Someone Like Her is a story of love and family, of corruption and calamity, of courage and hope … and one woman's determination to thwart convention and find peace, at whatever cost…
🎁Purchase from:
---
Heleen Kist
Killer Bodies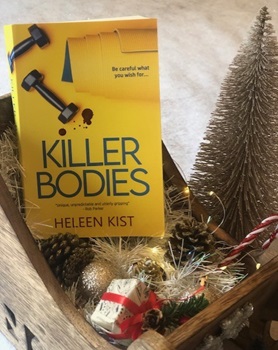 BE CAREFUL WHAT YOU WISH FOR
In a prestigious Edinburgh apartment building, gym receptionist Evie whiles away long hours doodling the deaths of residents who've annoyed her.
On her birthday of all days, a man slumps off the exercise bike — dead. She tries to get help, but someone has locked the doors and the phones are out of reach.
When another resident collapses inexplicably, Evie realises the deaths resemble those she drew … and her sketchbook is missing.
Was she framed…
… or is she next?
KILLER BODIES: Old-school 'impossible crimes' scattered over suspenseful, darkly humorous and visually surprising pages in this modern locked room thriller that will leave you wondering not just WHO killed all these people and WHY, but also HOW.
🎁Purchase from:
– Amazon.co.uk
– www.heleenkist.com – For signed & dedicated books – £10 (including postage UK). Plus, the more you buy the more you save. So 1 for £10, 2 for £15, 3 for £20.
---
Jenny Lund Madsen
Thirty Days of Darkness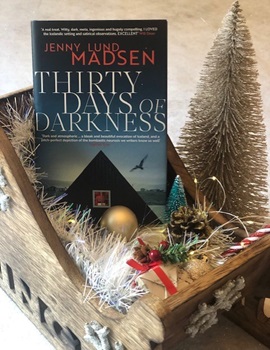 Copenhagen author Hannah is the darling of the literary community and her novels have achieved massive critical acclaim. But nobody actually reads them, and frustrated by writer's block, Hannah has the feeling that she's doing something wrong.
When she expresses her contempt for genre fiction, Hanna is publicly challenged to write a crime novel in 30 days. Scared that she will lose face, she accepts, and her editor sends her to Húsafjöður; a quiet, tight-knit village in Iceland, filled with colourful local characters – for inspiration.
But two days after her arrival, the body of a fisherman's young son is pulled from the water…and what begins as a search for plot material quickly turns into a messy and dangerous investigation that threatens to uncover secrets that put everything at risk…including Hannah.
🎁Purchase from:
---
Jayne May
Hola Madrid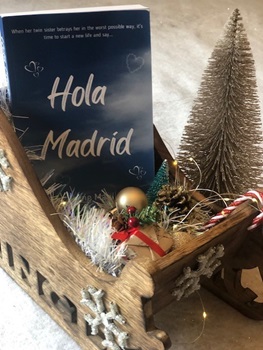 Imagine finding out your twin sister has betrayed you in the worst possible way…would you stick around for the aftermath, or would you run away and start the new life you always dreamt of?
A shocking confession from Nicole's sister Annie threatens to tear the sisters apart as Nicole runs away to Madrid.
Meeting local policeman, Jesé is a welcome distraction but she soon discovers he's hiding a secret – his girlfriend.
Say 'Hola Madrid' as Nicole throws herself into speaking Spanish, salsa dancing and begins her journey of self-discovery. Can her new life heal her past heart break? Will the irresistible Jesé make her learn to trust again?
🎁Purchase from:
---
Gloria McBreen
Secrets in the Babby House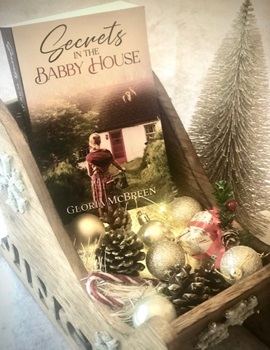 Flossie Lynch is heartbroken when her only love, Frank Connolly, marries another. So when John O'Malley—the well-off catch of the parish—proposes to her, she resigns herself to a marriage of convenience, hoping to learn to love him.
For John, Flossie is mostly a respectable wife and caring mother to their son—and the perfect façade for his dark secret. But bloody Frank Connolly and his blackmailing wife are making things difficult for him.
Another victim of his jealous wife's abusive behaviour, Frank stays in his loveless marriage for the sake of his two wee girls. He turns his childhood fort into a babby house to give them a refuge from their cruel mother. But for Frank, there is no refuge.
When Flossie rekindles her friendship with Frank, she tries desperately to save him from a life of misery and promises to always look out for his daughters. As the two star-crossed lovers near a second chance, tragedy strikes, forcing Flossie to make good on her promise—while attempting to protect her husband and son.
But as long as there's a Connolly with a score to settle, there is no escape from the past and no promises for the future.
Set in a gossipy small town in Ireland at a time when marriage is for keeps and sexuality is repressed, Secrets in the Babby House is a family saga over three decades that starts in 1956. It is a story of love, deception, and stolen diaries filled with sins and secrets.
🎁Purchase from:
– Amazon.co.uk
– www.buythebook.ie – Signed copies
---
Mark Pettinger
Paper Soldiers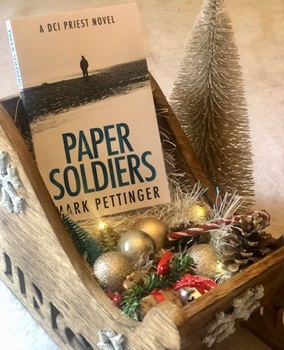 The streets of Greater Manchester are awash with drugs and weapons, and the gangs that control this multi-million pound business will stop at nothing to protect and grow their business. The Dolsen family are one such gang. When the head of a rival Yardie gang is found brutally murdered, revenge attacks were always likely to follow, and gang members were unlikely to be the only ones hurt.
DCI Priest teams up with the Serious Organised Crime Agency (SOCA); but they soon admit to conflicting objectives which may unravel their alliance, and prove to it be more of a hindrance than a help. Was DCI Priest was about to undertake his most challenging investigation to date?
🎁Purchase from:
Where Darkness Lies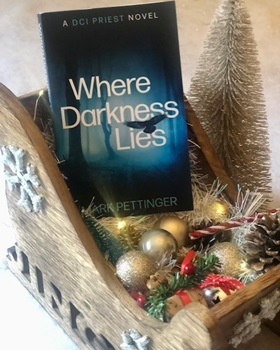 Three young girls go missing in 2012 in separate and unconnected circumstances. Their disappearances are investigated, but the girls are never found.
Ten years later, DCI Priest receives a confession to their murders from a prisoner already serving time in HMP Manchester. The prisoner is willing to lead DCI Priest to their bodies, but he wants something in return.
After a pivotal milestone, and despite the confession, the evidence starts to unravel.
DCI Priest initially assumed this was an open and shut case. He could not have been more wrong.
🎁Purchase from:
---
Katharine Quarmby
The Low Road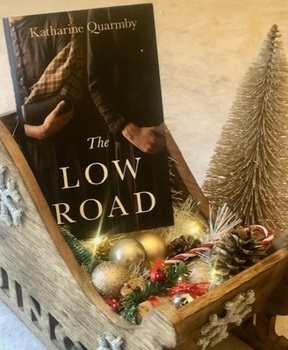 Norfolk, 1813. In the quiet Waveney Valley, the body of a woman – Mary Tyrell – is staked through the heart after her death by suicide. She had been under arrest for the suspected murder of her newborn child. Mary leaves behind a young daughter, Hannah, who is later sent away to the Refuge for the Destitute in London, where she will be trained for a life of domestic service.
It is at the Refuge that Hannah meets Annie Simpkins, a fellow resident, and together they forge a friendship that deepens into passionate love. But the strength of this bond is put to the test when the girls are caught stealing from the Refuge's laundry, and they are sentenced to transportation to Botany Bay, setting them on separate paths that may never cross again.
Drawing on real events, The Low Road is a gripping, atmospheric tale that brings to life the forgotten voices of the past – convicts, servants, the rural poor – as well as a moving evocation of love that blossomed in the face of prejudice and ill fortune.
🎁Purchase from:
– Amazon.co.uk
– Unbound Books
– www.katharinequarmby.com –For Signed Copies (Info on front page under 'About Katharine Quarmby')

I hope that you found some amazing books to purchase for loved ones, friends, or even yourself. If you are still looking for gifts why not check out our other gift guides for more inspiration.
Let us know if any of these gifts from our Christmas Gift Guide 2023 catch your eye.