The Fortunes of Olivia Richmond by Louise Davidson – Book Review
The Fortunes of Olivia Richmond by Louise Davidson – Book Review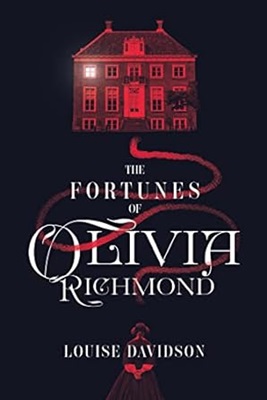 The Fortunes of Olivia Richmond
Author – Louise Davidson
Publisher – Moonflower Publishing
Release Date – 26th October 2023
Pages – 415
ISBN 13 – 978-1919618784
Format – ebook, hardcover, audio
Star Rating – 5
I received a free copy of this book.
This post contains affiliate links.

Synopsis
After a terrible tragedy, governess Julia Pearlie finds herself with no job, home, or references. When she's offered a position as companion to Miss Olivia Richmond, her luck appears to be turning. But Mistcoate House is full of secrets.
Olivia has a sinister reputation. The locals call her the Mistcoate Witch, thanks to her tarot readings, and her insistence that she can speak to the dead. Her father, Dr Richmond, believes this to be girlish fantasy and is looking to Julia to put a stop to it.
Determined to prove herself and shake off her own murky history, Julia sets to work trying to help Olivia become a proper young lady. However, as she becomes a fixture at Mistcoate, it is soon clear that there may be more to Olivia's stories than Dr Richmond would have Julia believe – not least because somehow, Olivia seems to know something of the darkness that Julia desperately hoped she had left behind.
As the danger grows, and the winter chill wraps around the dark woods surrounding Mistcoate, Julia will have to fight to uncover the truth, escape her past – and save herself.
The Fortunes of Olivia Richmond is a glorious Gothic novel from debut author Louise Davidson set in the 1890s.
The plot centres around two women. Governess Julia Pearlie and the young woman she has been assigned to coach for a move to London, Olivia Richmond. On arrival at the local village she soon learns that people are afraid of Olivia and many stories are shared about her between the villagers, from her looks to calling her a witch.
It isn't long before Julia discovers some things about the young woman, including her ability to read Tarot Cards, her trances, and her talking to the dead but things might be more sinister than anyone understands or knows, especially Julia.
The Fortunes of Olivia Richmond is a book I adored from beginning to end. I felt connected to both Olivia and Julia and could feel the eerie presence on each page.
I loved that each chapter was titled after a Tarot Card which worked perfectly with the plot and that Tarot played a major part in the story.
This is a book that will give you a chill and have your hair standing on end at times. You know something is amiss but never quite what. It is a tremendous read. It's original, engaging, and had me hooked from the first page.
---
Purchase Online:
Louise Davidson
Louise Davidson was born in Belfast and has always worked in the creative arts in some capacity – from assistant to theatre directors to teaching scriptwriting classes in prisons to teaching English and drama to A-Level students. Growing up in Northern Ireland backgrounded by the Troubles led to a fascination with history, and this combined with her love of all things gothic inspired her to write her first book, a dark Victorian thriller set in a neglected and isolated mansion.
Louise lives in London with her husband and step-son, and in her spare time is working on fulfilling her ambition to visit every museum in the city. The Fortunes of Olivia Richmond is her debut novel.
Author Links:
---
The above links are affiliate links. I receive a very small percentage from each item you purchase via these links, which is at no extra cost to you. If you are thinking about purchasing the book, please think about using one of the links. All money received goes back into the blog and helps to keep it running. Thank you.