Girl on the Run by Carolyn Arnold – Book Review
Girl on the Run by Carolyn Arnold – Book Review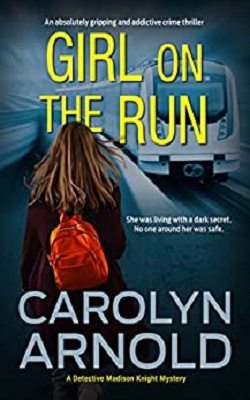 Girl on the Run
Detective Madison Knight Book Eleven
Author – Carolyn Arnold
Publisher – Hibbert & Stiles
Release Date – 6th April 2022
Pages – 320
ISBN 13 – 978-1989706763
Format – ebook, paperback, hardcover
Star Rating – 4
I received a free copy of this book.
This post contains affiliate links.

Synopsis
College student Courtney Middleton disappeared fifteen years ago. Everyone presumed she was dead…
Detective Madison Knight shows up at the local train station in the aftermath of a fatal shooting, and finds two women killed on scene. One was expecting her first child. The other was a wife and mother of two children and has Madison seeing a ghost from her past. She's convinced the woman is her missing college friend, but why would she change her identity? And where has she been all this time?
There's no lead on the gunman, but eyewitnesses tell of a mysterious young woman who may have triggered him. There's no sign of her either—or another man who is said to watch over her all the time.
As the investigation continues, a drug-trafficking ring is exposed with connections to the Russian Mafia. The girl is one of their runners, and the man shadowing her is one of their handlers. When he's found murdered in his apartment, shot with bullets of the same caliber used in the train station shooting, Madison knows the Russians will retaliate. She also realizes the women weren't killed in some random incident.
As Madison works to figure out that piece of the puzzle, she'll need to stay one step ahead of the mob to beat them to the elusive gunman and the girl. But when saving them puts her life and that of a loved one in danger, Madison finds out too late that the cost for justice comes at too high a price.
Detective Madison Knight and her partner have been called to a shooting at a train station in which two women have died and another has been taken to hospital in critical condition.
Madison believes that the Mob is in on the shooting given the circumstances. She is also in for a shock when one of the victims looks just like a friend of hers who vanished fifteen years ago and is presumed dead.
Can Madison put all the pieces together and find out what really happened and keep herself safe at the same time?
Girl on the Run is an intriguing police procedural novel with a feisty and often hot-headed female detective lead. The book moves at a fast pace and intertwines the shooting, a possible drugs/human trafficking ring, and the circumstances as to whether Madison has just located her old friend and discovering what happened in the missing fifteen years.
I was intrigued from the off, especially when the beginning has a young woman being followed and caught and then jumps back in time.
My slight negative was that Madison really annoyed me at times. She was too quick to judge, had a few too many ghosts from her past, and a real attitude problem. After a while, her issues and behaviour started to grate on me, but then all detective books seem to have characters like this these days.
Overall, the book was a quick and captivating read which kept me entertained and following the clues all the way through.
---
Purchase Online:
Carolyn Arnold

CAROLYN ARNOLD is an international bestselling and award-winning author, as well as a speaker, teacher, and inspirational mentor. She has several continuing fiction series and has nearly thirty published books. Her genre diversity offers her readers everything from cozy to hard-boiled mysteries, and thrillers to action adventures. Her crime fiction series have been praised by those in law enforcement as being accurate and entertaining. This led to her adopting the trademark: POLICE PROCEDURALS RESPECTED BY LAW ENFORCEMENT™.
Carolyn was born in a small town and enjoys spending time outdoors, but she also loves the lights of a big city. Grounded by her roots and lifted by her dreams, her overactive imagination insists that she tell her stories. Her intention is to touch the hearts of millions with her books, to entertain, inspire, and empower.
She currently lives near London, Ontario, Canada with her husband and two beagles.
Author Links:
---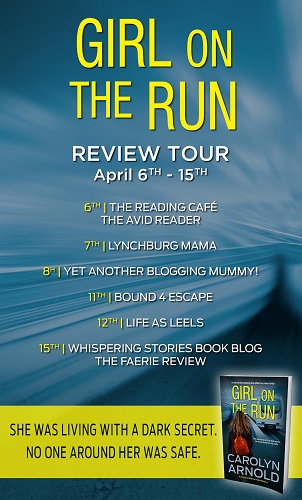 ---
The above links are affiliate links. I receive a very small percentage from each item you purchase via these links, which is at no extra cost to you. If you are thinking about purchasing the book, please think about using one of the links. All money received goes back into the blog and helps to keep it running. Thank you.