The Week Junior Book Awards Winners Announced
The Week Junior Book Awards Winners Announced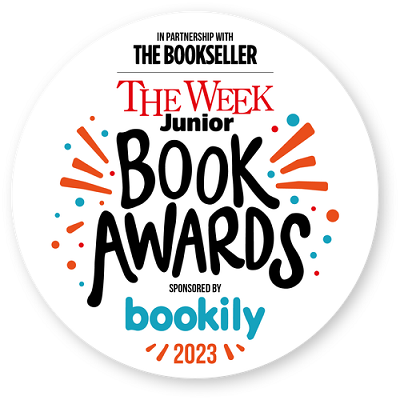 Post contains affiliate links – The winners of The Week Junior Book Awards have been announced.
On the evening of 2nd October, The Week Junior Book Awards 2023, sponsored by Bookily from National Book Tokens and in partnership with The Bookseller and World Book Day, were celebrated at a ceremony at London's County Hall.
The nine winners of its first children's book awards are:-
Children's Audiobook of the Year
– Audio Adventures: Natural Wonders of the World by Sidra Ansari and narrated by Ben Bailey-Smith (Ladybird)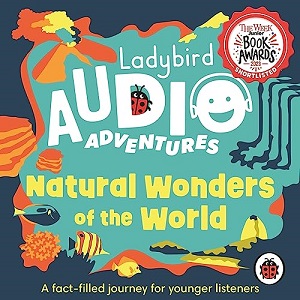 Fearless explorer Otto (voiced by actor Ben Bailey-Smith) and Missy, the smartest raven in the universe, take readers on a journey of discovery across the globe to learn about the seven wonders of the world, and how we can all protect them.
Sidra Ansari is a teacher, author and freelance author, who has always dreamt of being a children's author. Ansara has written six titles for LadyBird Education and is currently editing her women's fiction novel after The Novelry awarded her a bursary to study on The Big Edit Course. Her non-fiction book for adults, Finding Peace Through Prayer and Love (Beacon Books) was published in early 2021 and won the Golden Door Bronze Award for Truth and Integrity of the Written Word.
---
Children's Book of the Year: Breakthrough, supported by World Book Day
– The Lizzie and Belle Mysteries: Drama and Danger by J. T. Williams and illustrated by Simone Douglas (Farshore)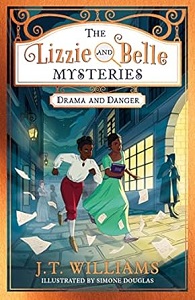 Set in 18th century London, Lizzie Sancho and her friend Dido Belle try to work out the mystery of who is threatening to murder Lizzie's father, Ignatius, before his debut performance on the West End stage.
J. T. Williams studied English Literature at University of Cambridge, before becoming a primary school teacher. Since leaving teaching, she's been a programme manager at the Royal African Society, leading creative writing school workshops for the literature festival, Africa Writes. The Lizzie and Belle Mysteries is her debut children's series.
---
Children's Book Cover of the Year
– Peanut Jones and The Twelve Portals written and illustrated by Rob Biddulph (Macmillan Children's Books)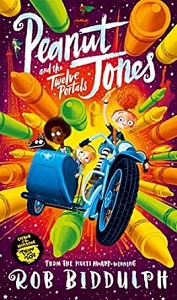 Some legends are born, some are drawn . . . Famous works of art are disappearing from all over the world. One moment they are there, the next, they have crumbled to dust. Peanut Jones and her friends suspect it might have something to do with the magical world of Chroma and the wicked Mr White's plot to wipe out colour, art and creativity. It's time to head back to the Illustrated City and help the resistance fight back.
This title, by the uber-creative creator of the #DrawWithRob draw-along video series active during the COVID-19 pandemic, fizzes with magic, danger, friendship and art. Rob Biddulph is a bestselling and multi award-winning author/illustrator. He is the author of many highly, acclaimed, award-winning picture books, including Blown Away, GRRRRR!, Odd Dog Out, Sunk, Kevin, Show and Tell, Dog Gone and the Dinosaur Juniors series. Before he became a full-time author/illustrator Rob was the art director of the Observer Magazine, NME, Uncut, SKY and Just Seventeen. He lives in London with his wife and three daughters.
---
Children's Illustrated Book of the Year
– Frankie's World written and illustrated by Aoife Dooley (Scholastic)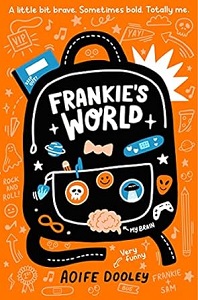 Frankie believes she is an alien; she is the smallest person in her class – and she is accused of talking too much. But really, all she is is different – neurodivergent, though it is not until nearly the end of the book that Frankie gets an insight into why she views things differently.
Aoife Dooley is an award-winning illustrator, author and comedian from Ireland, who is best known for her series Your One Nikita, which came to screens for RTE Player animated in 2019. In 2018, she was diagnosed as autistic at the age of 27. Frankie's World is a graphic novel based on Aoife's real-life experiences of having undiagnosed autism as a child, and the emotions she felt for always feeling different from her peers.
---
Children's Book of the Year: Older Fiction (9-12 year-olds)
– Tyger by SF Said and illustrated by Dave McKean (David Fickling Books)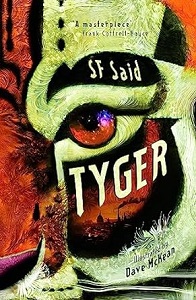 This is a dark and magical story about two children who find a mythical creature – a Tyger – in a rubbish dump in London – set in the near future of the 21st Century. An altered, dark London, where the Tyger is in danger and our protagonists Adam and Zadie are driven to save the Tyger, and in the process save London too.
SF Said is a British Muslim author, born in Beirut and raised in London. After graduating from the University of Cambridge, he worked as press attaché and speech writer for the Crown Prince of Jordan. Tyger is SF Said's fourth children's book.
---
Children's Book of the Year: Older Non-Fiction (9-12 year-olds)
– Real Life Dragons and Their Stories of Survival by Anita Ganeri and illustrated by Jianan Liu (Wayland)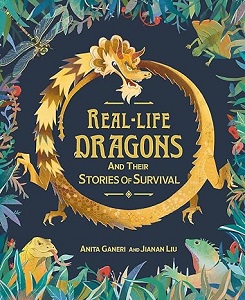 For centuries, dragons have captured our imaginations, guarding troves of treasure and breathing out fire. But how many children realise that dragons still exist today? While there is no such thing as a fire-breathing dragon, this book brings together the stories often real-life dragons, from Komodo dragons to dragon snakes.
Anita Ganeri is a critically acclaimed British Indian author, best-known for her Horrible Geography series, which led her to become Fellow of the Royal Geographical Society. She graduated from University of Cambridge and worked in publishing before becoming a writer. She has written over 600 non-fiction books.
---
Children's Book of the Year: STEM, in association with The Week Junior Science + Nature
– 24 Hours in Space by Rob Lloyd Jones and illustrated by Laurent King (Usborne)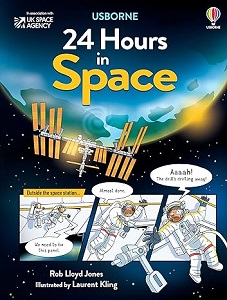 Join an astronaut for a day as she goes on her first ever spacewalk, and new crewmembers arrive.
How do you eat and drink at zero gravity? How do space toilets work? What are space suits designed for?
Rob Lloyd Jones is an American British writer and is the author of more than thirty books. His debut Wild Boy was nominated for the Carnegie Award and named one of the five best debut novels in the Branford Boase Award.
---
Children's Book of the Year: Younger Fiction (6-9 year-olds)
– Anisha, Accidental Detective: Holiday Adventure by Serena Patel and illustrated by Emma McCann (Usborne)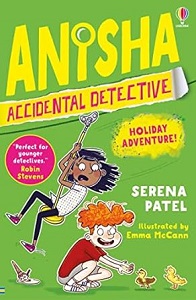 The Mistrys are off on holiday – but there's never any time to relax for Anisha, Accidental Detective. When the holiday park's mascot, Delilah the duck, is destroyed and Anisha's new friend, Cleo, is the number one suspect, Anisha must do whatever it takes to prove her innocence.
Serena Patel is a children's author, best known for her multi-award winning series, Anisha, Accidental Detective, first published in 2020. Awards include the Sainsbury's Children's Book Award for Fiction 2020 and The CrimeFest Award for Children's Crime Fiction 2020.
---
Children's Book of the Year: Younger Non-Fiction (6-9 year-olds)
– The Extraordinary Book That Makes You Feel Happy by Poppy O'Neill and illustrated by Caribay M. Benavides (Weldon Owen Children's Books)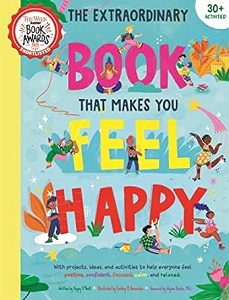 The Extraordinary Book that Makes You Feel Happy is for every child, with a host of projects, ideas and activities to help them to feel positive, confident, focused, calm, relaxed, inclusive and included. The activities help young children to build resilience to big, overwhelming feelings and to feel connected to themselves and to others.
Poppy O'Neill is an author specializing in children and parental mental health and emotions. She lives in Sussex with her wife, children and pets. Her previous books include, Mother Power, To Help Your Anxious Child and I Like Being Me: A Child's Guide to Self-Worth.
---
Whispering Stories would like to say a big congratulations to all the winners.
---
About The Week Junior
The Week Junior is a multi award-winning magazine packed full of engaging articles, eye-catching images and big ideas that get eight to 14-year-olds reading, thinking and talking. It features everything from current affairs, to sport, science, cooking and craft. With 32 fact-packed pages, The Week Junior feeds children's natural curiosity, encourages critical thinking and promotes reading for pleasure with a dedicated books section and annual Summer of Reading challenge.
About The Bookseller
The Bookseller has been the business magazine of the book industry since 1858; incorporating the even earlier Bent's Literary Advertiser, established in 1802. It is one of the UK's longest-standing magazines. Online, thebookseller.com is the book trade's most visited UK site. With the largest book trade-focused editorial team in the UK, the website is the place to go for the latest, breaking news, in-depth features and more. On Twitter, @thebookseller has more than 200,000 followers. The business is based in London and owned by The Stage Media Company Ltd.
About Future
Future is a global platform business for specialist media with diversified revenue streams. Its content reaches 1 in 3 adults in both the UK and the US. The Media division is high-growth with three complementary revenue streams: eCommerce, events and digital advertising including advertising within newsletters. It operates in a number of sectors including technology, games, music, home interest, and B2B and its brands include Truly, TechRadar, PC Gamer, Tom's Guide, Android Central, Homebuilding & Renovating Show, GamesRadar+, The Photography Show, Top Ten Reviews, Live Science, Guitar World, Music Radar, Space.com and Tom's Hardware.
The Magazine division focuses on publishing specialist content, with a combined global circulation of over 3 million delivered through more than 220 publications. The portfolio spans technology, games, TV and entertainment, women's lifestyle, current affairs, real life, music, creative and photography, sports, home interest and B2B. Its titles include The Week, The Week Junior, Country Life, Wallpaper*, Classic Rock, Guitar Player, FourFourTwo, Homebuilding & Renovating, Digital Camera, Guitarist, How It Works, woman & home, Total Film, What Hi-Fi? and Music Week.
About Bookily
Bookily is a monthly gift card from National Book Tokens, so you cangive the gift of choosing a new book every month. Just choose howmuch you want to give and for how long and sit back! Each month your payment will be taken and added to the recipient's Bookily gift card ready for them to spend in their favourite bookshop. Just like other National Book Tokens, Bookily gift cards can be spent in hundreds of bookshops across the UK, from Waterstones and WHSmith to the best local independents, as well as online.
About World Book Day
World Book Day changes lives through a love of books and shared reading. Our mission is to promote reading for pleasure, offering every child and young person the opportunity to have a book of their own. Reading for pleasure is the single biggest indicator of a child's future success – more than their family circumstances, their parents' educational background or their income. We want to see more children, particularly those from disadvantaged backgrounds, with a life-long habit of reading for pleasure and the improved life chances this brings them. Designated by UNESCO as a worldwide celebration of books and reading, World Book Day is marked in over 100 countries around the globe.
---
The above links are affiliate links. I receive a very small percentage from each item you purchase via these link, which is at no extra cost to you. If you are thinking about purchasing the book, please think about using one of the links. All money received goes back into the blog and helps to keep it running. Thank you.