Mermaid Moon by Susann Cokal – Book Review
Mermaid Moon by Susann Cokal – Book Review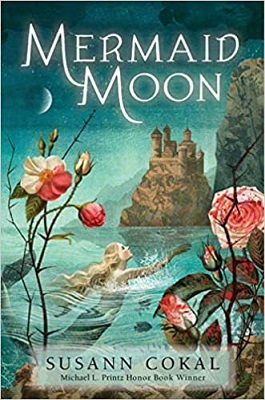 Mermaid Moon
Author – Susann Cokal
Publisher – Candlewick Press
Pages – 496
Released – 5th March 2020
ISBN-13 – 978-1536209594
Format – ebook, hardcover, audio
Review by – Stacey
Rating – 3.5 Stars
I received a free copy of this book.
This post contains affiliate links.


From the author of the Michael L. Printz Honor Book The Kingdom of Little Wounds comes an original fairy tale of belonging, sacrifice, choice, hope, magic and mortality.
This is just a children's tale; would you wreck your ship for it? Would you drown for a mere mother's story?
Sanna is a mermaid – except her mother was landish, not seavish. The undersea witch who delivered her cast a spell that made her people, and her mother, forget her birth. Sanna longs to find her mother so much that she apprentices herself to the witch, learns the magic of making and unmaking, and fashions herself a pair of legs to go ashore on the Thirty-Seven Dark Islands, the nearest anyone can remember to where they left her mother. There, Sanna stumbles into a wall of white roses and a community desperate for a miracle – and into a baroness who would do anything to live for ever.

Mermaid Moon is a similar story to that of The Little Mermaid, though more sinister. However, the difference within the plot is that Sanna, the mermaid, gets her legs to try to find her mother who was a human and had a spell put on her on the night of the birth of her daughter so that she would forget about her.
The book opens with Sanna's birth and then we move forward to the day Sanna is old enough and has learned enough to walk the land to go in search of her family on the Thirty-Seven Dark Islands. She believes she will know her mother by smell, even if her mother won't know her.
Along her journey, Sanna meets Baroness Thyrla who is willing to go to great lengths to find immortality, especially as she seems to think that Sanna is a saint and comes up with a cunning plan to marry her off to her son and kill their children and use their bones to keep her youth.
The plot is filled with danger, darkness, fantasy, magic, good, and evil. The writing style is beautiful, but for me, the storyline felt overly long and dragged in places. There were times when I put the book down not wanting to continue or sure if I would return. Sanna also was a bit of a letdown. She spent so long fighting to train to get her legs but then bows down and lets others walk all over her. The two parts of her personality just didn't seem to fit together.
If you love fantasy novels and want something different and you love mermaids too then this could be the book for you. For me, I lost my way more than once and that led me to not enjoy it as much as I possibly could have.
Book Reviewer – Stacey
---
Purchase online from:
---
About the Author

Susann Cokal is the author of two books for young adults and two for regular adults. Mermaid Moon just came out and is recommended for ages 14 and up. Her previous novel, The Kingdom of Little Wounds, won several national awards, including a Michael L. Printz Honor from the American Library Association.



---
What did you think of Mermaid Moon? Share your thoughts in the comment section below!
---
The above links are affiliate links. I receive a very small percentage from each item you purchase via these link, which is at no extra cost to you. If you are thinking about purchasing the book, please think about using one of the links. All money received goes back into the blog and helps to keep it running. Thank you.
Like us on Facebook – Tweet us on Twitter – Pin us on Pinterest