Divergent by Veronia Roth – Book Review
Divergent by Veronia Roth – Book Review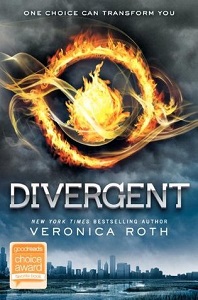 Divergent
Author – Veronia Roth
Publisher – HarperCollinsChildren's
Pages – 496
Release Date – 21st November 2013
ISBN – 978-0007536726
Format – ebook, paperback, hardcover, audio
Reviewer – Stacey
Rating – 5 Stars
Contains Affiliate Links

She turns to the future in a world that's falling apart.
For sixteen-year-old Tris, the world changes in a heartbeat when she is forced to make a terrible choice. Turning her back on her family, Tris ventures out, alone, determined to find out where she truly belongs.
Shocked by the brutality of her new life, Tris can trust no one. And yet she is drawn to a boy who seems to both threaten and protect her. The hardest choices may yet lie ahead….

Set in a futuristic city, once Chicago, the population has been segregated into factions so that the residents may live in harmony and all contribute to society using their best attributes.
The children of the city live in their parents' chosen faction until they turn sixteen, then they have to choose their own. They must undergo numerous tests to help them decide which faction they fit in to.
Erudite – Clever
Candor – Honest
Dauntless – Brave
Abnegation – Selfless
Amity – Peaceful
During her testing, Beatrice, who has been brought up in Abnegation, finds out some worrying information. She is something called 'Divergent', meaning that she doesn't fit in just one faction, however this information will most certainly get her killed if it is ever discovered.
She is advised by the assessor never to tell another soul. Now she has a tough decision to make – which faction is best for her, and will hide the fact that she is a 'Divergent'.
Beatrice chooses Dauntless, though it's not that simple to join Dauntless Faction, all the new members must pass Dauntless's physical and psychological initiation tests. Fail and they will be cast out to become Faction-less, a society that lives in squalor.
During her first trial, Beatrice now known as Tris, is introduced to one of the instructors, Four. Over the course of the next few weeks a forbidden chemistry builds between them.
Tris discovers a secret that puts her old faction, Abnegation in danger. Can she help keep her old faction safe, without people finding out what she truly is?
'Divergent' is the first in a trilogy of dystopian, YA novels by Veronica Roth. The book is written from Beatrice Prior's (Tris), point of view and is written in short chapters making it easy to put down and pick up again.
The story is fast paced with full on action throughout. It contains elements of humour and romance, alongside some seriously brutal scenes, especially during Tris's initiation into Dauntless. There is also quite a few though provoking moments.
This was one of the first YA novels that I read and I found myself hooked right through to the very last word.
The scenes are described in detail giving you a clear picture and making it easy to visualise the on goings in your head.
The vocabulary and interactions between the main two characters, Tris and Four, Creates an insight in to their lives, as individuals and as a couple, who are clearly in love from the first moment they see each other.
Tris can be a little moody at times and doubts herself too much, but this only adds to her good nature, fun, determined and strong personality which we see blossom throughout.
Four is portrayed as this tough, serious, young man, but underneath his exterior there is a man with a good heart. He is carrying secrets about himself and his past around with him everyday, which he has to keep well hidden from his Dauntless comrades, proving that not everyone is who they seem on the surface.
The ending wasn't what I expected, thus my need to get the second book, 'Insurgent', straight away. I Needed to know what happened next.
I surprisingly found myself enjoying Divergent much more than I first thought I would, and thus my love of YA novels began.
Divergent was made into a movie back in 2014. If you have seen the film but not read the book then you are missing out on vital aspects of the plot and characters, that didn't appear in the film. I enjoyed the film, just not as much as the book.
**Since writing this review in 2015, there have been two more films made 'Insurgent' and 'Allegiant Part One'**
Book reviewed by Stacey
Purchase Links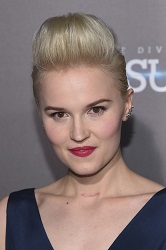 I'm Veronica. I write books for young adults. Specifically, I wrote the books Divergent, Insurgent, Allegiant, and Four: A Divergent Collection.
I like things. Some of those things are (in no particular order): Harry Potter, rain, YA, books, puns, cute animals, tea, sitcoms, grammar, writing, Chicago, Doc Martens, trains, flat stretches of prairie land, cold weather months, and so on.
Author Links