Strand: The Silver Radio by Justin Attas – Book Review
Strand: The Silver Radio by Justin Attas – Book Review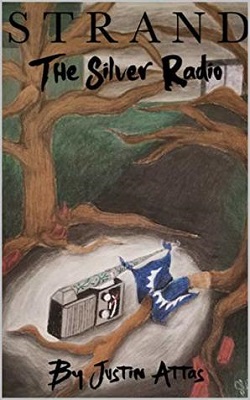 Strand: The Silver Radio
Author – Justin Attas
Publisher –
Pages – 230
Released – 14th February 2019
Format – ebook
Review by – Tina
Rating – 3.5 Stars
I received a free copy of this book.
This post contains affiliate links.


The world outside is a myth. All that remains is Strand's great Tower. An entire world's worth of ecosystems and infrastructures crammed inside one segregated pillar.
Strand's rules are simple. The more you can contribute to what's left of humanity, the higher you climb. Everyone must contribute. This is a problem for Quincy Famino.
Deemed "unfit" from a young age, Quincy is devoid of biological Augments, essential enhancements in Strand's workforce. Everyone in his life has a chip in their brain or self-repairing tissue. Anything to make them better. To make them worthy of Strand's resources and time. Everyone but Quincy.
An artist by passion, he shows no necessary skills to keep Strand's system running . Nearing the end of his time in the Academy, Quincy faces two paths. He can tow the Strand line and "find his fate", along with an Augment, to stay in the suburban Terra Layer where he was born. Should he fail, he faces downshipping to the Nether Layer- the rugged, lawless bottom level of the Tower.
It is this that drops Quincy on the precarious fence between redemption and rebellion. Between other undesirable creatives and a class pet old friend who can help him earn his keep. The harder he thrashes against a system designed to forsake him, the clearer his path seems. That is, until he meets Elly. Until someone believes in him.
This awakens an idea in Quincy long lost to the people of Strand's Tower. Choice.
When Strand closes its vice around everything he holds dear, will Quincy find his fate, or fight it?

An intriguing story of a seemingly mediocre young man coming-of-age in a post-apocalyptic/dystopian world.
Strand: The Silver Radio follows Quincy, a young adult who is burdened with an inability to fit in as society demands. He lives in The Strand, a massive three-tiered structure surviving above a dismal and struggling landscape. Because Quincy has no apparent skills to serve his population, upon graduation he will be cast down with the supposed dregs. Instead of accepting this blindly, he travels willingly to the Nether zones and unwittingly begins a rebellion against the powers that be.
The novel has a rather rough start, as there is not a lot of exposition into the world. Most of my understanding of the Strand came from the blurb and not the story. In the initial chapters, rather than being engrossed in Quincy's journey, I was confused as to why the Strand is so bad that Quincy would join with anarchists. We're also not told how he met these people and what would compel him to commit such a strong act. There's not a lot of backstory into Quincy himself – his romantic relationship and friendship with Leon are very flat.
Yet, the novel is endearing. I like nothing better than a journey through a new world, so it was fun to tag along with Quincy while he visited different places. I liked Quincy. I also enjoyed the pirate, Corman, though the minor characters in general required a bit more backstory. Often times a character will deny Quincy easily-imparted information for reasons that were unclear. There is an attempt to humanize and explain the motivations of the antagonists, but it's given far too late in the story.
The final few chapters though, including an introduction of a new character clearly intended for a sequel, were fantastic. The novel really picks up around the 75% mark, with an ending that I did not expect.
What the story has going most for it most of all is the message of how what we perceive as mediocrity or lack of drive in a teenager is often a mask for low self-worth. As Quincy grows to understand himself as a person, his skills and emotions broaden. In the end, because he understands his place in the world and himself, he comes into his own. It is a character-driven story, most definitely.
I will also note that the pictures at the start of each chapter were distracting in that they were created by different artists with varying styles and skill. I assumed Quincy was supposed to be the artist tracking his journey, but I wasn't sure why the pictures clearly weren't by the same person.
Book Reviewer – Tina
---
Purchase online from:
---
What did you think of Strand: The Silver Radio? Share your thoughts in the comment section below!
---
The above links are affiliate links. I receive a very small percentage from each item you purchase via these link, which is at no extra cost to you. If you are thinking about purchasing the book, please think about using one of the links. All money received goes back into the blog and helps to keep it running. Thank you.
Like us on Facebook – Tweet us on Twitter – Pin us on Pinterest