Trusting Blake by Estelle Maskame – Book Review
Trusting Blake by Estelle Maskame – Book Review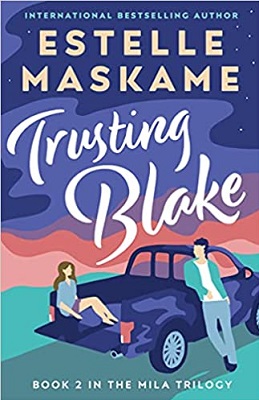 Trusting Blake
The Mila Trilogy
Author – Estelle Maskame
Publisher – Ink Road
Pages – 261
Released – 11th November 2021
ISBN-13 – 978-1785303630
Format – ebook, paperback, audio
Rating – 5 Stars
I received a free copy of this book.
This post contains affiliate links.


Synopsis
The electrifying sequel to Becoming Mila … following Blake and Mila through the heatfilled days of a tempestuous summer.
When an onslaught of revelations brings chaos to Mila's life, her A-list parents jet from LA to join her in Tennessee. But they bring marital conflicts with them, leaving Mila distraught, betrayed, trapped.
In the explosive fall-out, Mila can't help but question everything she ever knew about her family and herself. The one person she can trust is Blake – and so she turns to him for a summer of freedom and fun. Their flourishing relationship grows stronger, more intense, but Blake has crises of his own … featuring a guitar, a pushy mom and a clingy ex. Soon they both face extraordinary pressure – not least to take sides in the drama of ambition and bitterness unfolding between their families.
As life starts to unravel, can Mila and Blake keep it together or will it all fall apart?
Trusting Blake is the second book in The Mila Trilogy, with book one being 'Becoming Mila' which was released in June. The plot carries on from where book one ended. Teenager Mila, who is currently staying in Tennessee with her Aunt and Grandpa at their ranch because her film star father wanted her out of the way so she couldn't spoil his new movie with her outlandish behaviour, discovers that her father has been having an affair with a colleague.
Mila has been in Tennessee for a few months and has settled in, made some good friends, including Blake, when the news comes crashing around her. Her mother is angry and decides to stay at the ranch with her daughter, but it isn't long before her father turns up, along with his mouthpiece Rueben and sparks begin to fly, leaving Mila caught in the middle.
Mila turns to her new boyfriend Blake. Initially, he is supportive but he has his own issues to deal with and Mila is starting to feel the pressure of a new relationship. Can their relationship survive the outfall or is this the end for them?
I loved book one and couldn't wait to begin this book. Mila is a troubled young girl. Not only does she have to live in the spotlight because her father is an A-lister, but she also has his PA Rueben breathing down her neck, limiting her contact with the outside world, including her social media, and now her father is trying to ruin both his career and his family. Mila just wants to be a normal teenager, but can't. But whilst in Tennessee, she has learned to speak her mind and stand up for herself.
The plot is well thought out and contains handfuls of drama, from both family and Blake. It is realistic enough to make you feel emotionally involved. I was rooting for Mila and Blake until they took off to Memphis and Blakes attitude changed, it was as if his true colours were now showing and it wasn't pretty.
If you love YA romance novels then this is the series to read. Now I have to wait patiently for book three, which will be hard given the ending!!
Purchase Online From:
---
What did you think of 'Trusting Blake'? Share your thoughts in the comment section below!
---
The above links are affiliate links. I receive a very small percentage from each item you purchase via these links, which is at no extra cost to you. If you are thinking about purchasing the book, please think about using one of the links. All money received goes back into the blog and helps to keep it running. Thank you.
Like us on Facebook – Tweet us on Twitter – Pin us on Pinterest – Join us on Instagram