Burning Bright by Michele Kwasniewski – Book Review
Burning Bright by Michele Kwasniewski – Book Review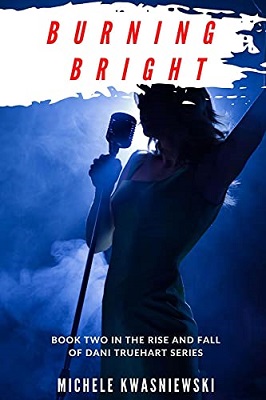 Burning Bright
The Rise and Fall of Dani Truehart Book Two
Author – Michele Kwasniewski
Publisher – Rand-Smith LLC
Release Date – 1st November 2021
Pages – 318
ISBN 13 – 978-1950544349
Format – ebook, paperback, audio
Star Rating – 4
I received a free copy of this book.
This post contains affiliate links.

Synopsis
YA FictionFresh off the debut of her EP, sixteen-year-old Dani Truehart is flying high on a string of number one hits. After locking down her first full-length album in record time and furiously preparing for her world tour, Dani is torn between leaving her loved ones behind and embracing her burgeoning stardom. Dani's fame and fortune explode as her tour moves across the globe.
Elated when two of Hollywood's hottest young actors, Kayla Spencer and Trey Connors, befriend her, Dani finds herself living life in the fast lane and recording her second album as she tours. Constantly dogged by the paparazzi, Dani basks in the adoration of The TrueHart Nation, her loyal super-fans who are ready to follow her around the world and go to war with anyone who dares dis their favorite pop star, whom they've dubbed "The Queen of Harts."
With her ego growing as fast has her fame and fortune, a string of platinum hits and her jealous mother desperate for a piece of her wealth, sixteen-year-old pop sensation Dani Truehart navigates the glamor and perils of stardom as scandal threatens to ruin her and everyone who helped make her a star.
Burning Bright is the sequel to the YA novel 'Rising Star' which was released in 2020 and followed the beginning of the music career of sixteen-year-old Dani Truehart.
In this sequel, Dani's first album has not long since dropped and she is topping the charts and in demand, including from the hottest young and cute actors in Hollywood, Kayla and Trey.
But having all that fame at sixteen is hard, especially when you have family and boyfriend issues and you are dealing with the world near enough on your own.
Can Dani hold it together or is she about to make some bad choices that could change her life forever?
I enjoyed the first book, Rising Star, and so I was looking forward to seeing what the future had in store for Dani Truehart. I found her likeable in book one but it felt like fame had gone to her head a little in book two and she didn't come across as pleasant, which hopefully will show just how much fame, fortune, and constantly being in the limelight can change a person.
The plot of this series is certainly different and I can see YA readers enjoying it. It is definitely the right storyline for the market, especially when a high percentage of teens would love to be famous. It shows them about the pop world, what constantly being in demand can do to a person, and that not everything is as glamorous as it first seems.
Burning Bright is a decent sequel and a must-read if you have read the first book – which you need to do to understand this one. It also ends on a cliff-hanger, meaning you 'need' to read the third book when it is released.
---
Purchase Online:
Michele Kwasniewski

After graduating from Loyola Marymount University with a BA in Technical Theater, Michele Kwasniewski spent over fifteen years in film and television production. She worked as a set production assistant on movies such as INDEPENDENCE DAY, FACE/OFF, PRIMAL FEAR, and EVITA and as a production manager on television shows including BIG BROTHER.
She is also a proud member of the Producers Guild of America. Michele's colorful experiences in the industry inspired her to write THE RISE AND FALL OF DANI TRUEHART series.
Michele lives in San Clemente, California with her husband, their son, and a disobedient dachshund. RISING STAR is her first novel.
Author Links:
---
The above links are affiliate links. I receive a very small percentage from each item you purchase via these links, which is at no extra cost to you. If you are thinking about purchasing the book, please think about using one of the links. All money received goes back into the blog and helps to keep it running. Thank you.