I Know When You're Going To Die by Michael J. Bowler – Book Review
I Know When You're Going To Die by Michael J. Bowler – Book Review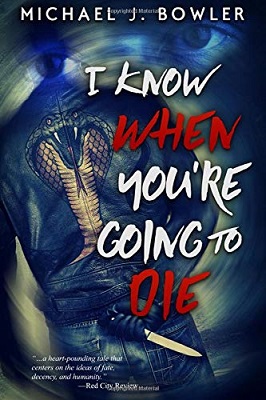 I Know When You're Going To Die
Author – Michael J. Bowler
Pages – 210
Released – 25th February 2020
ISBN-13 – 978-1733329002
Format – ebook, paperback, audio
Review by – Rishitha
Rating – 4 Stars
I received a free copy of this book.
This post contains affiliate links.


Leonardo Cantrell is a painfully shy sixteen-year-old who cannot look people in the eye. One night while he's volunteering at a homeless shelter, an old man forces eye contact and gives Leo the power to see Death.
His best, and only, friend—J.C. Rivera—thinks this new power is cool until Leo accidentally looks into J.C.'s eyes and "sees" his murder, a murder that will occur in less than two weeks. Stunned and shaken, the two boys sift through clues in Leo's "vision" in a desperate effort to find the killer and stop him before he can strike.
Aided by feisty new-girl-at-school, Laura, the boys uncover evidence suggesting the identity of the murderer. However, their plan to trap the would-be killer goes horribly awry and reveals a truth that could kill them all.

Among the ranks of superheroes, seeing the future has always carried more of a burden. In the book "I Know When You're Going to Die," this gift takes an even darker turn.
In his town, Leo, the main character, is known as "Shy Boy" or "Ninja Turtle." He's painfully shy, and among the ranks of his equally rich peers, Leo sticks out like a sore thumb. He isn't popular in the least, and prioritises using his privilege and wealth as a reminder to help others instead of using it to his benefit. Every week, Leo volunteers at a homeless shelter.
One night, as he's dying, an elderly man looks Leo in the eyes and passes on a gift that will challenge Leo and push him more than ever before, with all the odds stacked up against him. Leo doesn't look most people in the eye, too shy to do so, so Leo's new ability is tinged with irony. When he looks someone in the eye, he knows when they're going to die.
J.C is Leo's best friend. In many ways, he is just like the kids that Leo refuses to be like. He's rich, snarky, materialistic. But he's different, because he is Leo's friend. Leo's only friend. Instead of seeking popularity, he has Leo's back and Leo has his. When J.C finds out about Leo's new power, he thinks it's really cool. At least, until Leo looks into J.C's eyes and finds out that J.C will be murdered in two weeks time.
Enter Laura. She's the new girl at school, and she doesn't care about what anyone thinks. She's very genuine and true to herself, and calls out everyone when they aren't acting right, even her friends. Leo, J.C, and Laura band together, desperately trying to make meaning of Leo's vision to prevent a brutal end to J.C's life.
This is a wonderful suspense and mystery book, tinged with a bit of a supernatural element. The beginning starts off a little slow, but it's a natural progression to the rest of the action packed book. The author is able to weave in these amazingly subtle clues that blow up later and support a wrenching series of twists in the climax of the book. I'm usually able to see the hidden surprises coming in mystery books, but this book definitely took me for a ride.
My one critique of this book is that the characters seemed a little two-dimensional at times, and the writing could be a little repetitive. However, the character growth and the plot, as well as seeing the characters' dynamic develop, more than made up for this.
Another thing I really enjoyed about the book was the way it approached J.C and Leo's close friendship. In the media, most male friendships are either distant or unsupportive, and this book debunked all those stereotypes with J.C and Leo's open, healthy friendship, even though they face a lot of hate for it at times. I enjoyed seeing the diversity that was subtly and naturally worked into this book, and it successfully tackled issues like racism, and homophobia.
I Know When You're Going To Die is a book that you won't be able to put down, and a book that will make your mind reel with the absolute brilliance of all the plot twists. A clever, original, mystery with an interesting supernatural addition.
Book Reviewer – Rishitha
---
Purchase online from:
---
About the Author

Michael J. Bowler is an award-winning author who grew up in Northern California. He majored in English/Theatre at Santa Clara University, earned a master's in film production from Loyola Marymount University, a teaching credential in English from LMU, and a master's in Special Education from Cal State University Dominguez Hills.
Michael taught high school in Hawthorne, California for many years, both in general education and students with disabilities. When Michael is not writing you can find him volunteering as a youth mentor with the Big Brothers Big Sisters program, volunteering within the juvenile justice system in Los Angeles, or caring for his newly adopted son.
He is a passionate advocate for the fair treatment of children and teens in California, and hopes his books can show young people they are not alone in their struggles.



---
What did you think of I Know When You're Going To Die? Share your thoughts in the comment section below!
---
The above links are affiliate links. I receive a very small percentage from each item you purchase via these link, which is at no extra cost to you. If you are thinking about purchasing the book, please think about using one of the links. All money received goes back into the blog and helps to keep it running. Thank you.
Like us on Facebook – Tweet us on Twitter – Pin us on Pinterest