The Hand, the Eye and the Heart by Zoe Marriott – Book Review
The Hand, the Eye and the Heart by Zoe Marriott – Book Review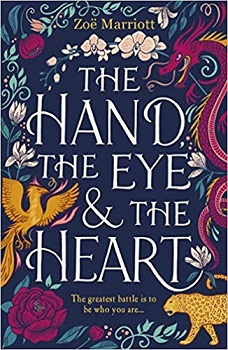 The Hand, the Eye and the Heart
Author – Zoe Marriott
Publisher – Walker Books
Pages – 448
Released – 4th April 2019
ISBN-13 – 978-1406383546
Format – ebook, paperback, audio
Review by – Stacey
Rating – 4 Stars
I received a free copy of this book.
This post contains affiliate links.
Zhilan was assigned female at birth. Despite a gift for illusions, they know they are destined to live out their life within the confines of the women's quarter. But when civil war sets the empire aflame, Zhilan is determined save their disabled father from the battlefield. By taking his place. Surviving brutal army training as a boy – Zhi – is only the first challenge.
In the glittering court of the Land of Dragons, love and betrayal are two sides of the same smile, and soon the fate of a nation rests on Zhi's shoulders. But to win, they must decide where their heart truly belongs…

From what I read about this book before reading it, people were talking about it being a retelling of Mulan – Fact is I've only seen snippets of the Disney film but not the entire thing and I know the partial story behind the film so I can see some similarities, I believe this is a story inspired by Mulan but not a retelling. This book is more than a young girl wanting to be a soldier and pretending to be male, this is about a young girl who feels that she has been born into the wrong gender.
As a young girl Zhilan saves her family from an attack by raising the alarm that soldiers were coming to kill her family. Her father is disabled after being injured in battle. When a civil war breaks Zhilan now seventeen takes his place as a male soldier Zhi and must become a warrior.
The world in which The Hand, the Eye and the Heart is set is magical and for anyone loving fantasy novels you will probably enjoy this aspect of it. It also features a main character who is trying to discover themselves and understand their sexuality. There is also a beautifully portrayed romance within the pages too.
The book was heavy going at times but I enjoyed Zhilan/Zhi and their story, they were an exceptionally likeable and strong character. The book flowed and I enjoyed the story more than I thought I would as I've been putting off reading the book for a while now as I'm not much of a historical lover so I wasn't sure how I would take to it.
This is a book that has lots happening the whole way through. From love, loss, war, death, battles, romance, adventure, magic, and a young person trying to understand who they truly are within and fighting to be that person on the outside.
Book Reviewer – Stacey
---
Purchase online from:
---
About the Author

I've known that I wanted to be a writer since I finished reading my first book; 'The Magic Faraway Tree' by Enid Blyton. I think I was about eight, but I've never changed my mind in all the years since then.
I got my first publishing contract when I was twenty-two, but had to wait until I was twenty-four to see that book published (it was The Swan Kingdom).
I live in a little house in a town by the sea, with my two rescued cats, one called Hero after a Shakespearian character and one Echo after a nymph from a Greek myth. I also have a working cocker spaniel called Ruskin, otherwise known as Demon Dog, Trash Puppy or Snaggletooth (I love him, but there's no secret he's a supervillain in training).





---
What did you think of The Hand, the Eye and the Heart? Share your thoughts in the comment section below!
---
The above links are affiliate links. I receive a very small percentage from each item you purchase via these link, which is at no extra cost to you. If you are thinking about purchasing the book, please think about using one of the links. All money received goes back into the blog and helps to keep it running. Thank you.