Cow Girl by Kirsty Eyre – Book Review
Cow Girl by Kirsty Eyre – Book Review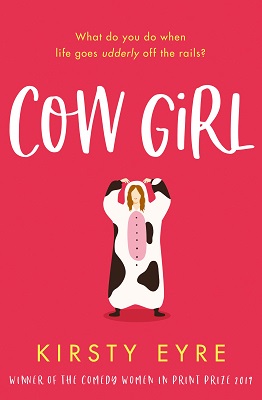 Cow Girl
Author – Kirsty Eyre
Publisher – HarperCollins
Pages – 400
Released – 25th June 2020
ISBN-13 – 978-0008382247
Format – ebook, paperback, audio
Review by – Stacey
Rating – 4.5 Stars
I received a free copy of this book.
This post contains affiliate links.


When her father falls ill, Billie returns home to the Yorkshire farm which she left behind for life in London. The transition back to country lass from city girl isn't easy, not least because leaving London means leaving her relationship with Joely Chevalier, just as it was heating up.
And when she gets to Yorkshire, Billie's shocked to discover the family dairy farm is in dire straits – the last thing Billie expected was a return to the life of a farmer but it isn't long before she's up at 5am with manure up to her wellies.
Battling misogyny, homophobia and some very unpredictable dairy cows, Billie must find a way to keep the cows happy, save the farm and save herself…

Can you imagine having to return to your family home in Yorkshire to work on a farm after living in London as a biochemist Grad Student and just starting a new relationship with someone you have idolised for quite a while, well that is what happens to Billie after her farmer father takes ill and she is needed to run the farm, a run-down farm that is?
The book is warm, funny, and brings family life to the forefront. Billie is quite the woman. She is tougher than she believes she is and very witty too. Her sexuality comes with some prejudices from those that are obviously still stuck in the dark ages, but she handles what people think about her with grit and grace. The secondary characters are all fun to read about too, especially her friends.
For a debut novelist, this is a real gem of a book by Kirtsy Eyre, I think she has found her calling in life. It is a beautiful read with plenty of laugh-out-loud moments surrounded by a story filled with love, life, and cows.
I enjoyed the writing and the pace, which never felt too fast or too slow. The chapters were a good length (I hate long chapters) and I love that they were each given a name instead of just a number. There were no real fillers to make the pages count up, which was nice to see and the story plausible, even the cows had personality!
Overall, this is a lovely book that I read in just a couple of sittings as I didn't want to put it down. I enjoyed spending my time in both London and Yorkshire, even if it has confirmed for me that farming would definitely never be for me, I like my lie-ins too much.
Book Reviewer – Stacey
---
Purchase online from:
---
About the Author

Kirsty Eyre is the winner of the inaugural Comedy Women in Print award (2019). Her debut novel, Cow Girl is out Summer 2020. She loves tea and hates her big toes.
She is threatening to wear a cow onesie in a bid to online launch Cow Girl, her debut novel during lockdown. She sends love and solidarity to everyone around the world. If you're having a bad day, drink tea and give yourself a break…
Her writing credits include several comedy stage plays receiving great acclaim at the Edinburgh Fringe Festival. Originally from Yorkshire, she now lives in South East London with her partner and two children.
She is currently writing a comic novel about three sisters with Goddesses of Barnsley as the working title.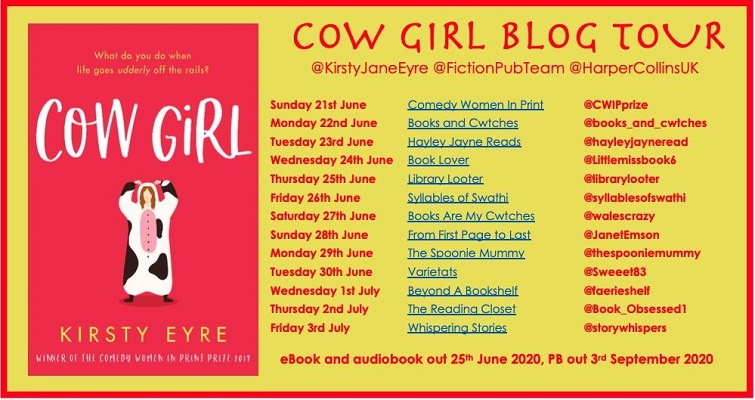 ---
What did you think of Cow Girl? Share your thoughts in the comment section below!
---
The above links are affiliate links. I receive a very small percentage from each item you purchase via these link, which is at no extra cost to you. If you are thinking about purchasing the book, please think about using one of the links. All money received goes back into the blog and helps to keep it running. Thank you.
Like us on Facebook – Tweet us on Twitter – Pin us on Pinterest