The Imperfect Art of Caring by Jessica Ryn – Book Review
The Imperfect Art of Caring by Jessica Ryn – Book Review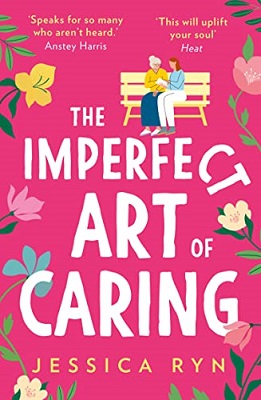 The Imperfect Art of Caring
Author – Jessica Ryn
Publisher – HQ
Release Date – 25th November 2021
Pages – 394
ISBN 13 – 978-0008364663
Format – ebook, paperback, hardcover, audio
Star Rating – 5
I received a free copy of this book.
This post contains affiliate links.

Synopsis
One small act can make a big difference
Violet Strong is strong by name but not by nature, or so she thinks. She listens but never talks about herself. She's friendly but doesn't have many real friends. She's become good at keeping people at a distance ever since she left home at eighteen and never looked back.
But when Violet is forced to return home to care for her estranged mother, Glenys, she quickly finds out that life as a carer isn't easy. Feeling overwhelmed, she's forced to turn to the other local carers, including childhood friend, Adam, for help.
Although returning home still feels like a mistake, maybe it will help Violet right some wrongs. After all, she can't keep running from her past forever, and in learning to look after others, perhaps Violet can start to finally love herself…
Violet Strong is needed back at her childhood home to look after her disabled mother when her sister, who has been their mum's career for years, emigrates.
Violet and her mother don't have the greatest relationship and it would seem neither want to be in this situation. Plus, Violet feels she doesn't know how to be a carer and she hates being back in her childhood home and village after an incident when she was a teenager.
However, with the help of some local carers Violet sets up a carers group and newspaper in the hope of helping all the local carers and their loved ones feel less alone and bringing a sense of community back to the village.
The Imperfect Art of Caring is a very sweet, charming book. I enjoyed every minute of it and Violet is a wonderful character, flawed, stubborn, scared, and yet willing to help others.
I adored that the book was told from two voices, Violets and Tammy, an autistic young woman whose mother has just died and she is all alone. It was beautiful to watch Violet and the others take Tammy under their wings and help her grow.
I can honestly say it was a far more enjoyable and entertaining read than I thought it was going to be. There is a lot of humour within the pages that made me smile and giggle often. Give The Imperfect Art of Caring a try, it is well worth the read.
---
Purchase Online:
Jessica Ryn

Jessica Ryn is a former midwife and homeless resettlement worker. She has recently completed her MA in Creative Writing at CCCU, and her stories have been shortlisted for the Kimberly Chambers' Kickstarter Award, Wordsmag and the Val Wood Prize for Creative Writing.
When she's not scribbling away, Jessica can be found meandering through the woods, reading stories that pull on the feel-strings and eating yoghurt-covered skittles. Jessica lives in Dover with her husband, two children and their high-spirited springer spaniel.
Author Links:
---
The above links are affiliate links. I receive a very small percentage from each item you purchase via these links, which is at no extra cost to you. If you are thinking about purchasing the book, please think about using one of the links. All money received goes back into the blog and helps to keep it running. Thank you.