Little Girls Sleeping by Jennifer Chase – Book Review
Little Girls Sleeping by Jennifer Chase – Book Review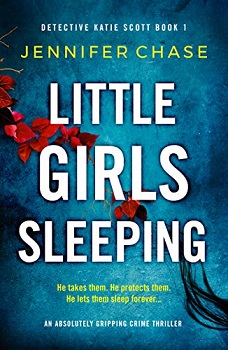 Little Girls Sleeping
Detective Katie Scott Book One
Author – Jennifer Chase
Publisher – Bookouture
Pages – 335
Released – 31st May 2019
ISBN-13 – 978-1786818300
Format – ebook, paperback
Reviewer – Stacey
Rating – 4.5 Stars
I received a free copy of this book.
This post contains affiliate links.
He looked down at the little girl, sleeping peacefully, her arms wrapped around a teddy bear. He knew he was the only one who could save her. He could let her sleep forever.
An eight-year-old girl, Chelsea Compton, is missing in Pine Valley, California and for Detective Katie Scott it's a cruel reminder of the friend who disappeared from summer camp twenty years ago. Unable to shake the memories, Katie vows she won't rest until she discovers what happened to Chelsea.
But as Katie starts to investigate, accompanied by her loyal ex-military dog, Cisco, the case reveals itself to be much bigger and more shocking than she feared. Hidden deep in the forest she unearths a makeshift cemetery: a row of graves, each with a brightly coloured teddy bear.
Katie links the graves to a stack of missing-persons cases involving young girls—finding a pattern no one else has managed to see. Someone in Pine Valley has been taking the town's daughters for years, and Katie is the only one who can stop them.
And then another little girl goes missing, snatched from the park near her home.
Katie's still haunted by the friend she failed to protect, and she'll do anything to stop the killer striking again—but can she find the little girl before it's too late?

Little Girls Sleeping is the first book in a new series by author and criminologist Jennifer Chase. The plot revolves around Katie Scott who has just arrived home in Pine Valley, California after leaving the Army after a tour of Afghanistan. She is suffering from anxiety and PTSD but is working through her problems with the help of her trusted service dog Cisco who has returned with her and her Uncle who is the local sheriff.
Her uncle offers her a job inputting data onto the police computer system whilst Katie decides what she wants to do next with her life. Whilst going through the files she comes across an old cold case of a young girl that went missing four years ago, eight-year-old Chelsea Compton.
Katie has an interest in the case as her best friend when she was at school was taken and murdered and so she knows what the girls family must be going through with no-one being brought to justice. She decides to take on the case herself, covertly, but people start to suspect her of meddling when she starts asking questions.
Can Katie find the answers Chelsea Compton's family are so desperately in need of and could she be just one of the victims of a serial killer that is choosing young girls as their victims?
My first thoughts about the book were how refreshing it was to have a character who doesn't always believe in herself and suffers from anxiety. Katie is a brave young woman who has been through a lot whilst serving in the Army. It was her and her service dog Cisco's job to make sure the paths/roads were clear of bombs and she saw too many of her fellow comrades killed in action.
Throughout the book, we see passages from Katie as she recalls the time spent with her friend who was murdered as a child and her last day with her. There are also chapters from the mind of the killer.
The book moves at a fast pace and there was plenty of action. I can't really say that I had any clue as to who the culprit was and never really suspected anyone until just before the killer was revealed. As the series title tells you, Katie eventually becomes a detective due to her help with the case and it was lovely to watch her get the recognition she deserved. It wasn't quite so nice to see her being bullied by officers who had been stationed at Pine Valley longer than her though for doing her job and being more efficient than them.
There is plenty of criminological and forensic language but what else would you expect from an expert criminologist turned author. I also like the twists and turns that were created to keep you on the edge of your seat along with a couple of red herrings thrown in for good measure too.
I am now intrigued to see what author Jennifer chase has for us in book two as I enjoyed spending my time with Katie and can't wait to see her detective skills again.
Book Reviewer – Stacey
---
Purchase online from:
---
About the Author

Jennifer Chase is a multi award-winning and best-selling crime fiction author, as well as a consulting criminologist. Jennifer holds a bachelor degree in police forensics and a master's degree in criminology & criminal justice. These academic pursuits developed out of her curiosity about the criminal mind as well as from her own experience with a violent psychopath, providing Jennifer with deep personal investment in every story she tells.
In addition, she holds certifications in serial crime and criminal profiling. She is an affiliate member of the International Association of Forensic Criminologists, and member of the International Thriller Writers.
Jennifer Chase was born and raised in California and still lives there with her husband, dogs and cats. In addition to writing and consulting, Jennifer enjoys spending time outdoors, both at the beach and hiking, and engaging in some amateur photography.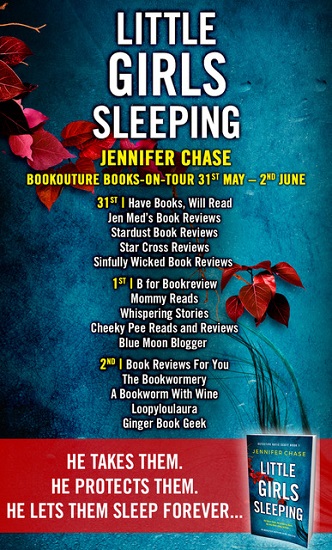 ---
What do you think of Little Girls Sleeping? Share your thoughts in the comment section below!
---
The above links are affiliate links. I receive a very small percentage from each item you purchase via these link, which is at no extra cost to you. If you are thinking about purchasing the book, please think about using one of the links. All money received goes back into the blog and helps to keep it running. Thank you.