Red Leicester Blues by Richard Cunliffe – Book Review
Red Leicester Blues by Richard Cunliffe – Book Review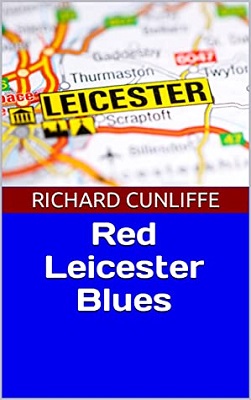 Red Leicester Blues
Author – Richard Cunliffe
Release Date – 14th December 2021
Pages – 349
ISBN 13 – 979-8784369963
Format – ebook, paperback
Star Rating – 4.5
I received a free copy of this book.
This post contains affiliate links.

Synopsis
It's the 1970s in Leicester, and New Parks kid Billy Prendergast is, at face value, a pretty regular five-year-old. He has a bullying elder brother, a pesky younger sister, and an interest in Doctor Who bordering on the obsessive. But other aspects of Billy's life aren't so commonplace. His keen and precocious interest in politics is totally unexpected from one so young, and his enthusiasm for Margaret Thatcher, in particular, appears very unlikely in a Labour-voting household.
Forty years later, Billy remains both a fan of Doctor Who and an advocate of right-wing politics. He also happens to have made a small fortune building a successful, Leicester-based advertising business. But cleverness and money aren't getting him a date with the woman he adores, and nor are they likely to help when Billy's brother Keith is released from prison with vengeance on his mind.
Red Leicester Blues is the story of William Prendergast—"Billy" as a boy, "Will" from university onward. The narrative alternates between two timelines. The "blue" timeline starts in 1975 with Billy at age five. He grows up in a working-class family in New Parks, dealing with an indifferent father, a precocious younger sister, and a potentially violent older brother. Yet from his mother he derives a love of words and language that serve him admirably in future years. The "red" timeline begins in 2016. By this time, Will is a partner in Hobbs Prendergast, a successful advertising agency, where his wizardry with words makes him a superior copy writer. The story is one of families, relationships, living with choices, and new beginnings.
At first, it seemed that the alternation between the blue and red timelines would unnecessarily complicate the story. But as I progressed through the book, I appreciated the author's skill at weaving the two threads together. Events in the earlier timeline reached their logical conclusion in the latter. By the end, this approach made total sense.
One interesting note is that British politics are a significant part of the story. It's not that the story is about politics (it isn't), but the characters argue and debate politics throughout. Labour versus Tories is one theme, the Brexit "Leavers" against the "Remainers" is another. Taking shots at various prime ministers and their policies as well as prime minister wannabes is de rigueur. As a Yank, I initially found this a bit confusing. But ultimately it gave me a serendipitous education in the English political system.
Will (and Billy) Prendergast is the kind of character one finds it easy to root for. Although he could have easily followed in his jailbird brother's footsteps, he doesn't. Instead, he's a decent man and a solid citizen. The supporting characters and the descriptions make it easy to visualize his life. While parts of the book are not pleasant and some are quite sad, the overall story is inspiring, nevertheless.
Despite a bit of cultural dissonance, I found Red Leicester Blues to be enjoyable and, for me, educational.
---
Purchase Online:
Richard Cunliffe

Richard Cunliffe was born in Whitworth, Lancashire, in January 1968. Exiled from the north west at the age of two, he grew up and went to school in Leamington Spa, and has since lived in various locations throughout the UK and Ireland, moving home many times due to work commitments. Nowadays, however, he is pretty settled in north-east Derbyshire.
An avid reader and keen writer, one of Richard's earliest (and favourite) writing memories is of winning a national competition for creating a Doctor Who adventure. He was around eight years old at the time (Richard, not the Doctor), and although it took another four decades for him to publish his debut novel, "All These Nearly Fights", he then published its sequel, "Fault on Both Sides", within the following few months. Both books have received widespread acclaim.
Richard's third book of fiction was published in November 2019, and was similarly well received. "They're Closing the Lamb and Musket" is a comedic drama concerning the impending closure of a much-loved pub, and the struggles of its customers to keep The Lamb open even as their personal lives descend into chaos. This novel was followed in December 2021 by another contemporary drama, "Red Leicester Blues", which is already picking up very favourable reviews.
Meanwhile, Richard's non-fiction work, "How to Buy a Car", is exactly that. It's a book about how to buy a car, and draws on his several years of experience as a car salesman, enabling readers not only to choose the right car for them, but also to negotiate a great deal.
Richard looks forward to you reading his work.
Author Links:
---
The above links are affiliate links. I receive a very small percentage from each item you purchase via these links, which is at no extra cost to you. If you are thinking about purchasing the book, please think about using one of the links. All money received goes back into the blog and helps to keep it running. Thank you.