The Mercury Travel Club by Helen Bridgett – Review
The Mercury Travel Club by Helen Bridgett – Book Review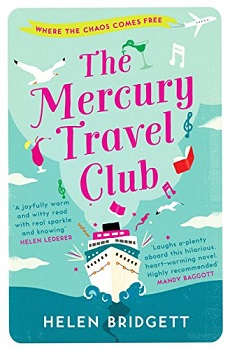 The Mercury Travel Club
Author – Helen Bridgett
Publisher – RedDoor Publishing
Pages – 304
Release Date – 16th March 2017
ISBN-13 – 978-1910453285
Format – ebook, paperback
Reviewer – Julie
I received a free copy of this book
Contains affiliate links

Meet Angie Shepherd who, after 24 years and 11 months of marriage, finds herself divorced and driven by friends and family to move on. From hangover to makeover, Angie steps firmly away from the sensible knitwear, and launches into every adventure on offer – from baking classes and book groups, to speed dating, and even 'The Granny-Okes', a 1980s tribute act and YouTube sensation.
But Angie needs more than a bar of galaxy and a night in with Murder She Wrote… what she dreams of is entrepreneurial success. Channelling her inner Richard Branson, the light bulb moment happens: it's time to take the plunge and invest her divorce settlement into The Mercury Travel Club, an exciting new business venture. But as the Travel Club gets going, things never go according to plan, and in this digital age a little chaos brings the fame she's been looking for.
Set in present-day Manchester, this classic mid-life journey features the 1980s soundtrack from Angie's youth, and sees her travel the world whilst coping with life after the Ex. Angie's journey is the catalyst her friends need to examine their own lives; as they start to find their true callings, will Angie find hers? Witty, entertaining and laugh-out-loud funny, this feel-good debut novel shows it's never too late for a second chance.

'The Mercury Travel Club' is the debut novel by British author Helen Bridgett. I'll come clean from the outset, I'm not normally a fan of chick-lit but I was looking to read and review something different and I certainly found it.
The cover design is eye catching and jaunty and I hoped the book would live up to my early expectations. I loved the idea of a fifty-something lady bouncing back from adversity.
I compliment the author on a great opening sentence to her synopsis; I was immediately drawn in. From the outset the book was tongue-in-cheek and very amusing. It is written in the first person and the present tense. It is anchored in the present day with contemporary references which gives the reader a sense of identity – the main character Angie, facing her bitter sweet journey, could be any one of us.
Angie is able to laugh at herself, which she does at times as a defence against the raw pain created by her husband's affair and the subsequent break up of their marriage. To the outside world, she's reinvented herself as a vibrant, career-orientated divorcee, having fun. Privately she admits, she's 'camouflaged the broken bits,' as we see her struggle with anger, jealousy and betrayal.
Angie is ably assisted by Patty, her old friend and single (widowed) sidekick, who has her back and is a willing accomplice as Angie dips her toes into life as a singleton once more.
This book flows well and is very easy to read; I think occasionally there is a little superfluous information but usually with a humorous tilt. There are some terrific one-liners and a couple of laugh out loud moments, so I congratulate the author on her upbeat and positive approach to a difficult subject.
Arguably, the plot becomes a little implausible as Angie did manage to pack an awful lot into a short space of time but it is entertaining and certainly held my interest. As this is her first book, I think we can expect good things from Helen Bridgett in the future and wish her every success.
If you're a fan of chick-lit, give The Mercury Travel Club a try – in fact even if you're not, it would definitely make a good light holiday read. I award 'The Mercury Travel Club' four-and-a-half well-deserved stars.
Book Reviewed by Julie
Purchase Links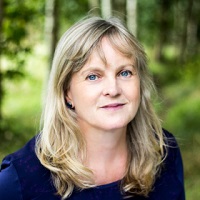 Helen has always loved books and always loved writing. One year she decided her New Year's resolution would be "Write a novel to give as a Christmas present". She spent the year writing and The Mercury Travel Club was born.
Helen hails from the North East but now lives in Manchester with her Husband and their Chocolate Labrador Angus. When not writing, Helen can usually be found walking or drinking wine – not usually at the same time.
Like many people, Helen believes that the music you grow up with as a teenager stays with you for the whole of your life. Being a child of 80's rock, when she hears the opening riff to Sweet Child of Mine, she cannot be held responsible for her actions!
Author Links
@Helen_Bridgett
Facebook
Goodreads
What did you think of The Mercury Travel Club? Share your thoughts in the comment section below!