Spies Never Lose by M. Taylor Christensen – Book Review
Spies Never Lose by M. Taylor Christensen – Book Review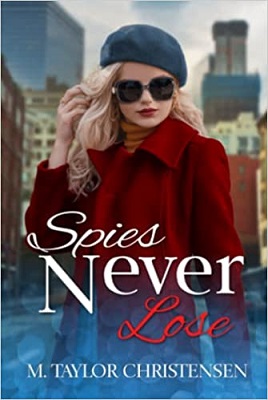 Spies Never Lose
Banana Girls Book Three
Author – M. Taylor Christensen
Publisher – Moon Zoom Press
Release Date – 9th November 2022
Pages – 300
ISBN 13 – 978-1951454111
Format – ebook, paperback, hardcover
Star Rating – 5
I received a free copy of this book.
This post contains affiliate links.

Synopsis
Hannah's new husband is driving her absolutely crazy.
Never having been married before, Hannah McCarthy doesn't know if what she's feeling is normal. Even though she has to pretend to be madly in love with her fake husband, she really just wants to wring his neck. But her annoyance and frustration would all be worth it if it means putting a stop to the illegal international adoptions they've discovered.
Can Hannah and her fellow agent set aside their differences and work together to track down the mastermind of the adoption operation? And, perhaps more importantly, is Hannah willing to let her incredibly condescending yet aggravatingly adorable pretend husband actually get his way?
If you enjoy kick-butt spy-girls and enemies-to-lovers, you'll love Spies Never Lose. This stand-alone novel is the third book in the Banana Girls series. As always, the romance is sweet and the suspense is cozy.
The Banana Girls' latest case has Hannah attempting to penetrate an adoption-for-profit ring. And what better way to investigate an adoption agency than to pretend to be a young couple looking to adopt a child? There's a hitch, though: cocky, arrogant Homeland Security
investigator Jason Briggs, who's to pose as Hannah's faux husband. Sparks fly from their first meeting, and Hannah does everything she can to escape this assignment. But she's stuck with the mission—and Jason.
Friction aside, Hannah works the case with her usual skill and finds that Jason is a proficient agent himself. They even set up a (mostly) friendly competition to see which one could score the most "points" for solid contributions to the investigation. As their mission progresses, Hannah discovers that Jason's arrogance masks his insecurity and social awkwardness. Despite her best intentions, she breaks the Banana Girls' Rule Number One: don't get romantically involved with a guy during a mission.
Like the first two books in this series, enjoying Spies Never Lose requires some suspension of disbelief. Four stunning college coeds living in a posh Atlanta penthouse interspersing calculus and chemistry with top-secret spy missions is more than a little far-fetched. But the Banana Girls' adventures are nothing if not entertaining, and one can easily overlook the improbability of it all. By the book's end, the possibility of a Club Banana strikes the reader as almost plausible. It's no more difficult to accept the reality of the Banana Girls than it is to believe that only the wrongly accused sought Perry Mason's services.
The investigation driving Spies Never Lose is the most realistic of the three books in the series. Buying babies overseas (China, in this case) and selling them for profit is altogether too believable. While such a scheme in real life would likely be more complex and involve more people, this book is entertainment, not an exposé.
My one complaint (a minor one) is that I foresaw Hannah and Jason falling in love from the beginning. Maybe Hannah's initial dislike of Jason was so over the top that it signaled their future attraction. Regardless, guessing sparks of friction would morph into those of romance did nothing to detract from my appreciation of the book.
I'll admit I'm a big fan of the Banana Girls. I loved Spies Never Lose as much as I did Spies Never Quit and Spies Never Swoon. If you like action, mystery, and a dash of romance, you'll love it, too.
---
Purchase Online:
M. Taylor Christensen

Myles Christensen writes cozy thriller/suspense with sweet romance under the pen name M. Taylor Christensen.
He loves to write exciting adventures because he loves to read exciting adventures. The hopeless romantic in him will usually sprinkle a teensy bit of romance into his stories. While writing, he listens to music that matches—and sometimes inspires—the storyline.
His mild-mannered alter ego is a product development engineer, university professor, and game inventor. He lives in Utah with his wife and children.
Author Links:
---
The above links are affiliate links. I receive a very small percentage from each item you purchase via these links, which is at no extra cost to you. If you are thinking about purchasing the book, please think about using one of the links. All money received goes back into the blog and helps to keep it running. Thank you.