The Ugly Teapot by Fred Holmes – Book Review
The Ugly Teapot by Fred Holmes – Book Review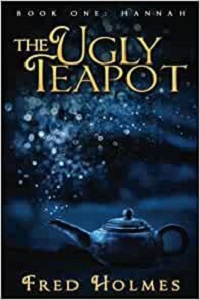 The Ugly Teapot
Book One: Hannah
Author – Fred Holmes
Publisher – Createspace
Pages – 250
Released – 25th March 2016
ISBN-13 – 978-1530743711
Format – ebook, paperback
Reviewer – Nia
I received a free copy of this book
Post contains affiliate links
Fourteen-year-old Hannah Bradbury loved her father so much that she worried about him constantly. After all, he was a photographer who traveled to the most dangerous places in the world. To allay her fears, each time he came home he brought her silly gifts, each one with supposed magical powers: the Seal of Solomon, the Ring of Gyges, even Aladdin's Lamp.
It was that lamp that Hannah found most unbelievable, for it looked like an ugly teapot. Nevertheless, her father assured her it was real, and made her promise to save her three wishes for something very special. Then . . . six months later . . . the unthinkable happened. Her father was killed while on assignment to Baghdad. And so on the day of his funeral Hannah did something she never thought she would ever do. She took out that teapot and gave it a rub . . .
The Ugly Teapot by Fred Holmes is a timeless tale, filled with magic and adventure. More importantly, it will make you believe in the overwhelming power of love.
Review
As I'm sure I've mentioned before, I'm not normally a fan of YA fiction but something about the synopsis of this book caught my eye. I do like a good fairy-tale retelling and this book featured Aladdin's lamp, as well as some more serious themes.
The writing in this book is truly lovely. Hannah, the main character, is a 14 year old girl who has recently lost her father and is understandably struggling to come to terms with her life without him. This book actually reminds me a lot of the book/film 'Bridge to Terabithia' in the way that reality and magic are merged so it's hard to keep track of what's real, but that's the beauty of it.
The action sequences are great fun and flow brilliantly, and the characters that Hannah meets along the way are interesting and not too stereotypical for the Aladdin connection.
The Ugly Teapot is very difficult to review because the synopsis gives so little away, so I'm trying to skirt around the plot – so what I would like to say is that despite being a book about a teenager losing a parent, I'm not entirely sure how helpful it would be for a teen going through a similar circumstance. It could be cathartic but personally I'd find it too sad! It's the story of a young girl coming to terms with her grief, but her methods aren't exactly ones that I'd recommend…
I'd recommend this book for ages 12+, it's a nice and easy read and has a little bit of something for everyone.
Reviewed by Nia

---
About the Author

I've spent most of my career writing scripts for television and film. But recently a friend of mine read one of those scripts and suggested I write novels as well. As an experiment, I took a screenplay that had been optioned several times but never produced, rewrote it as a novel, and found I absolutely loved the process.
Then another friend asked me to ghost write a nonfiction book for him, it was published by Thomas Nelson and did quite well, and I was off and running.





---