Sonar the Crashing by B.Truly – Book Review
Sonar the Crashing by B.Truly – Book Review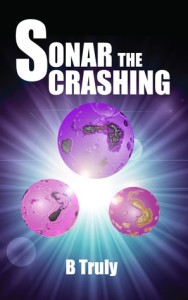 Sonar the Crashing
Author – B.Truly
Pages – 496
Release Date – 11th October 2013
Format – ebook, paperback
Reviewer – David
I received a free copy of this book
Contains affiliate links

Is it more than déjà vu? With the Romeland family it may be destined to be true.
Life on Earth is not the only place where devastation occurs and hard choices must be made. The Royal 4 of Kadan live in the Sonar galaxy three million light years from Earth. They travel to Earth to obtain the resources they need to give their world a fighting chance.
Their mission is compromised and they're faced with life changing events. They have amnesia and no memory of their past. Strange dreams start to occur. They wonder if it's more than a dream, or is it déjà vu?
The mind is a complex mystery. Amnesia is a secret unknown. The role it manifests in these characters' lives is a catastrophic cyclone.
Shiray is frantic when she is the first to find out about their true destiny and that the love of her life no longer remembers who she is. She must find a way to restore her family before all is lost. They must prevail because the fate of their planet lies in their hand.
What would you do if you had amnesia and fell in love, only to learn upon regaining your memory, that you are already married? Find out in this Electric thriller!

Shiray is from the planet Kadan. Falling in love with a prince wasn't part of her plan, but when handsome Prince Bryan, shows his interest, the two embark on a love affair, and soon after her seventeenth birthday, they are married.
Their planet is at war with their neighbouring planet, Polaris, and need resources from Earth to help them fight. Shiray, Bryan and his siblings Syria and Nile, are given the task of collecting these resources.
On the journey to Earth, the spacecraft that they are travelling in develops a malfunction and the next thing they know, the four of them awake with out any memory of who they are. Bryan and his siblings are together, but Shiray is alone, many miles away.
This is the first book in the Sonar Series, and I found the synopsis interesting and couldn't wait to get started.
The story is told from Shiray and Syira's point of view, regarding their life on Kadan, and then as 'humans' on Earth, with no knowledge of who or what they really are.
The two main characters stories intertwine, which I liked and enjoyed.
Shiray is a very complex character. She's quite a shy character at the start. We get to read her back story, about her life before Bryan, and how the two met and fell in love. It was sad to see them split up and not know about one another.
When her memory returns, you can't but help feel her emotions ranging from sadness to anger when she discovers she is married to a husband who doesn't know she exists, and is in love with someone else.
It certainly makes you think, how you would feel and react, if you suddenly became aware that you weren't the person you thought you were, and that you are married but your husband has no recollection of you, and is in love with someone else. How much pain Shiray must of gone through.
The plot is unique and absorbing, and the characters are easy to make connections with.
There are some flaws in the story, such as there is a very slight difference between Earth and Kadan, which as it's an 'alien' planet, I would have expected there to be some big, unusual differences, especially with the people, as they are just the same as humans but with some powers.
I understand that this was covered in the prologue, but to make real sense of why, I feel that it needed to be incorporated into the plot.
The other thing that dig bug me a bit, was how much narrative there was. People talk in books, but this one had numerous conversations on each page. I would have liked to have had more of an overall picture, than just what the people are saying to each other.
Despite these two negatives, the book had a lot of positives, and I did enjoy the complex nature of the story.
Book reviewed by David
Purchase Links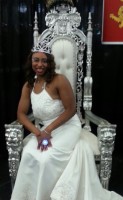 I have wanted to be an author since I was fifteen years old and grateful to have accomplished this dream.
I have three wonderful children and a husband who defines the person I am today. I work as an Ultrasound technologist in Sugarland, Texas and enjoy this field.
I have very vivid dreams and a wild imagination. I like to read and watch tons of television shows and movies. I'm addicted to romance and get a thrill out of suspense.
It was fun to explore different elements of Paranormal romance. I want to show my readers that paranormal romance can be fun, but also traumatic.
Author Links