Cane Warriors by Alex Wheatle – Book Review
Cane Warriors by Alex Wheatle – Book Review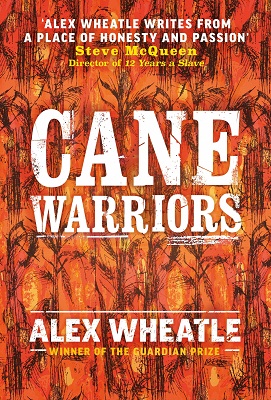 Cane Warriors
Author – Alex Wheatle
Publisher – Andersen Press
Pages – 192
Released – 1st October 2020
ISBN-13 – 978-1783449873
Format – ebook, paperback, hardcover, audio
Review by – Stacey
Rating – 4 Stars
I received a free copy of this book.
This post contains affiliate links.


Moa is fourteen. The only life he has ever known is toiling on the Frontier sugar cane plantation for endless hot days, fearing the vicious whips of the overseers. Then one night he learns of an uprising, led by the charismatic Tacky.
Moa is to be a cane warrior, and fight for the freedom of all the enslaved people in the nearby plantations. But before they can escape, Moa and his friend Keverton must face their first great task: to kill their overseer, Misser Donaldson. Time is ticking, and the day of the uprising approaches . . .
Irresistible, gripping and unforgettable, Cane Warriors follows the true story of Tacky's War in Jamaica, 1760.

Jamaica 1760 Fourteen-year-old Moa works with the other slaves on Misser Donaldson's sugar cane farm. The slaves work fourteen hours a day, growing, cutting, and sugar extracting. Moa works out in the fields whilst his mum and little sister work up at the big house cooking for the family and his dad who only has one arm works in the mill.
The work is hard, the slave's bodies are pushed to the limits and the white owners of the slaves are vile humans who treat the men and women disgracefully.
One night one of the men who works with Moa comes to him and explains that the slaves have had enough and on Easter Monday when there are not so many people around they are going to kill the white owners and leave this inhospitable life behind. Moa has been given the task of killing Misser Donaldson, but is he capable of such an act, and what will happen to him and his family when the owners are dead? How will they survive, will others come after them?
Cane Warriors is a short, 192 page YA book, it is also quite a small book. The book is written in the third person and our main character in the book is Moa who is a slave on a Sugar Cane Farm. He has never known any other life.
The book begins with Moa after a hard day in the field trying to get some sleep when he is approached by another of the workers who explains that in just a few days on Easter Monday the men are going to kill the slave owners. They are fed up with being treated badly and made to do all the work whilst the owners and their family sit in the big houses and have lavish lifestyles. They are also fed up with them using their women for sex.
I wasn't familiar with the slave rebellion in the Caribbean in the 1700s but one of the main characters in the book is a man called Tacky, and the rebellion is named after him. It was one of the most brutal rebellions in history, however, as this is a YA book the graphic details have not been shared.
The book is powerful, eye-opening, and educational too. I found the first few chapters hard going as the book is written in Jamaican dialect and it took some getting used to and working out what was being said. Within a few chapters, it just became second nature and I fully settled into the language and the plot.
The book is quite daunting at times, yet completely moving. I turned every page with trepidation wondering what was going to happen next to Moa and the others. What did these people think would happen if they enslaved thousands of men, women, and children. Beat them, forced them to work with sore bodies, hardly fed, clothed, and watered them. These slaves were human's too and I'm not surprised by the actions they took to rid themselves of the brutal life they had been forced into.
Book Reviewer – Stacey
---
Purchase online from:
---
About the Author

Born on the 3rd of January, 1963, I spent most of my childhood in the notorious Shirley Oaks children's home a few miles east of Croydon. I spent many lonely hours reading comics like The Beano, Whizzer and Chips and Shoot! On the odd chance I'd pick up a discarded football annual.
Growing up, my heroes were Pele, Muhammad Ali, Viv Richards and Bruce Lee. I am a massive fan of reggae. In my mid teens I was a founder member of the Crucial Rocker sound system where I wrote lyrics for performances in community halls, youth clubs, house parties and blues dances.
My favourite reggae artists are Dennis Brown, Sugar Minott, Gregory Isaacs, Johnny Osbourne, Barrington Levy, The Mighty Diamonds, The Chantells, Wailing Souls, Dennis Bovell, Brown Sugar and so many more.
My first novel, Brixton Rock, was published to critical acclaim by BlackAmber Books in 1999. Writers who have inspired me include CLR James, James Baldwin, Chester Himes, Richard Wright, Maya Angelou, Charles Dickens, Ralph Ellison, Toni Morrison, Iceberg Slim, Linton Kwesi Johnson, John Steinbeck, Raymond Chandler, Courttia Newland, Yvvette Edwards, Nadifa Mohammad and Irenosen Okojie.




---
What did you think of Cane Warriors? Share your thoughts in the comment section below!
---
The above links are affiliate links. I receive a very small percentage from each item you purchase via these link, which is at no extra cost to you. If you are thinking about purchasing the book, please think about using one of the links. All money received goes back into the blog and helps to keep it running. Thank you.
Like us on Facebook – Tweet us on Twitter – Pin us on Pinterest