Wing Jones by Katherine Webber – Book Review
Wing Jones by Katherine Webber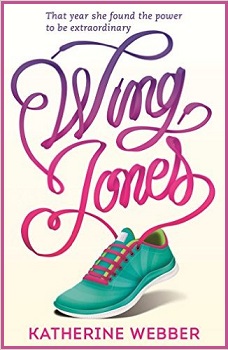 Wing Jones
Author – Katherine Webber
Publisher – Walker Books
Pages – 384
Release Date – 5th January 2017
ISBN-13 – 978-1406369090
Formats – ebook, paperback
Reviewer – Stacey
I received a free copy of this book
Post Contains Affiliate Links

For fans of David Levithan, Jandy Nelson and Rainbow Rowell: a sweeping story about love and family from an exceptional new voice in YA.
With a grandmother from China and another from Ghana, fifteen-year-old Wing Jones is often caught between worlds. But when tragedy strikes, she discovers a talent for running she never knew she had.
Her speed could bring her family everything it needs. It could also stop her getting the one thing she wants.

Sixteen years old, Wing Jones has never really felt comfortable in herself. Half-Chinese, half-Ghanaian, and living in Atlanta, USA has it's challenges. Never more so than at school and having to deal with the school bully, Heather, who finds Wing an easy target.
Wing is very family-orientated, especially after the death of her father. Since that day, her brother Marcus has been there for her, and keeps her under his protective wing.
Her life suddenly gets turned upside down when her brother is involved in a car crash, one that not only sees him being responsible for the deaths of two people, but one that leaves him in a coma for months.
With pressure now on the family, not only from people who hate them for what Marcus has done, but from mounting bills down to the medical costs, Wing is incredibly worried. She is worried about her brother, and worried about the rest of her family who are doing everything they can to pull together.
Spurred on by her imaginary dragon and lion, she steps out of her comfort zone and starts running. She finds herself worry-free whilst her legs are pounding on the track, unbeknown to her she is also exceptionally fast and talented, and that people are starting to notice.
Wing Jones is a spectacular YA book, one that I can see being a real hit this year. The book has that uplifting feel to it, and you will find yourself submerged into the lives of some extraordinary people.
Ms. Webber has portrayed characters that are so realistic. They are not superstars, they are everyday, normal people, people you would expect to see in your daily life. I personally love Wing's two grandmothers who live with the family, one from China, and one from Ghana. They fight like cat and dog, their upbringing and cultures are completely different, yet they clearly love and respect one another.
The story is very much about one young girl's need to grow up fast, thrown in at the deep end. She wants to help the family out, and not be treated like a child, kept in the dark about the problems they are going through. She also doesn't know how to handle that knowledge, and the stress that comes with it. By running, and creating these imaginary characters, she is releasing some of that stress in the only way she knows how.
You get to feel every ounce of pain that Wing feels, from hurt and betrayal, to heartbreak, as well as every joyous moment, including her first kiss, and winning that all important race.
This book will take your heart and soul and drag them deep into the core of the plot. It will make you feel like you are part of Wing's family, standing shoulder to shoulder with them, and praying for her to eventually find some sense of comfort in herself.
The book will also teach you that the actions of one person can have a domino effect on numerous other lives, whether for better or worse.
Wing Jones was a real delight to read. You certainly wouldn't think that this is the work of a debut novelist. I look forward to many more novels by Ms. Webber.
Book Reviewed by Stacey
Purchase Links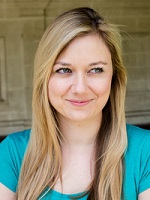 Katherine Webber was born in Southern California in 1987. She has lived in Hong Kong, Hawaii, and Atlanta. She currently lives in London with her husband, Kevin.
She loves an adventure, whether it is found in a book or in real life. She has travelled to over 45 countries. Travel, books, and eating out are her favourite indulgences.
Katherine studied Comparative Literature at the University of California, Davis and Chinese literature and language at the Chinese University of Hong Kong. She has worked at an international translation company, a technology startup, and, most recently, a London based reading charity.
Author Links