The Outlaws Scarlett and Browne by Jonathan Stroud – Book Review
The Outlaws Scarlett and Browne by Jonathan Stroud – Book Review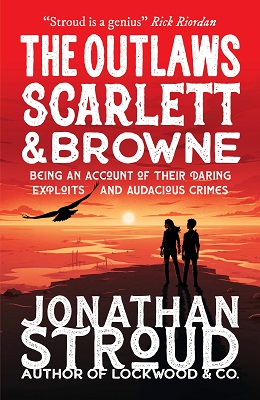 The Outlaws Scarlett and Browne
Author – Jonathan Stroud
Publisher – Walker Books
Pages – 400
Released – 1st April 2021
ISBN-13 – 978-1406394818
Format – ebook, paperback
Rating – 5 Stars
I received a free copy of this book.
This post contains affiliate links.


Synopsis
Set in a broken, future England, where gunfights and monsters collide, this is the exciting first title in a phenomenal fantasy teen series by the bestselling children's novelist.
England has been radically changed by a series of catastrophes – large cities have disappeared and London has been replaced by a lagoon. The surviving population exists in fortified towns where they cling to traditional ways, while strangely evolved beasts prowl the wilderness beyond. Conformity is rigidly enforced and those who fall foul of the rules are persecuted: some are killed, others are driven out into the wilds. Only a few fight back – and two of these outlaws, Scarlett McCain and Albert Browne, display an audacity and talent that makes them legends.
In author Jonathan Stroud's brand new YA fantasy series set in a future England, we meet brave and fearless teenager Scarlett McCain, wanderer, and outlaw. England has been ravished by a series of catastrophes that have crushed cities or flooded them. It has now been split into seven religious kingdoms where the remaining population live in towns that are well protected from the outside and try to live a normal life.
Beyond the walls are the wilds where beasts and 'The Tainted' roam and you don't want to be outside the walls at night-time as this is when they are most active and you will be their prey.
After robbing a bank Scarlett heads through the wilds to get away from her pursuers, knowing that they won't enter the forest and so she will be able to get a clean getaway. On her journey she comes across an upturned coach, the passengers eaten. Never one to miss an opportunity to find items of worth, money, or food, Scarlett climbs into the coach where she realises someone is locked in the toilet.
Mysterious Albert Browne has been hiding in the toilet for days, listening to the beasts come and tear his fellow passengers to death. Scarlett offers to help him get to the next village, but could that be her one mistake as it would seem Albert Browne is wanted too and his pursuers will not stop for anything or anyone to get him back, but what is so special about this seemingly ordinary boy?
This is my first Jonathan Stroud book, though I have now checked out his Lockwood & Co series and have added them to my TBR list. His writing is superb. The future England is very imaginative if a little scary with 'The Tainted' and large beasts roaming free waiting for you to make one wrong move and they will have you for their lunch. It is like a historical wild west land but set in the future, I was fixated on how England now looked, astonishing!
The characters are both likeable, they bounced off one another. Scarlett quite mouthy and opinionated whilst trying to find a way to survive in the harsh world. Browne having not seen the real outside world before was like a cat in the headlights, mesmerised and overwhelmed by everything and he needed Scarlett's help. He was also keeping a few big secrets about why he is wanted.
My only little criticism was that some pieces of the book felt like they were missing, but this is the first in a series so I hope that those answers come in later books. Overall, it is a riveting read and I can't wait for book two.
Purchase Online From:
---
What did you think of 'The Outlaws Scarlett and Browne'? Share your thoughts in the comment section below!
---
The above links are affiliate links. I receive a very small percentage from each item you purchase via these link, which is at no extra cost to you. If you are thinking about purchasing the book, please think about using one of the links. All money received goes back into the blog and helps to keep it running. Thank you.
Like us on Facebook – Tweet us on Twitter – Pin us on Pinterest