The Magician's Workshop by Christopher Hansen – Book Review
The Magician's Workshop by Christopher Hansen – Book Review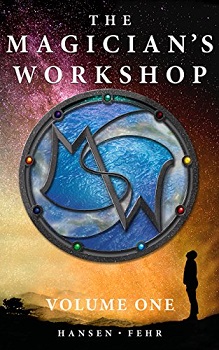 The Magician's Workshop
Volume One
Author – Christopher Hansen & J.R. Fehr
Publisher – Wondertale
Pages – 357
Released – 8th November 2016
ISBN-13 – 978-1945353017
Format – ebook, paperback
Reviewer – Nia
I received a free copy of this book
Post Contains Affiliate Links
Everyone in the islands of O'Ceea has a magical ability: whatever they imagine can be brought into existence. Whoever becomes a master over these powers is granted the title of magician and is given fame, power, riches, and glory. This volume of books follows the journey of a group of kids as they strive to rise to the top and become members of the Magician's Workshop.
Layauna desperately wants to create beautiful things with her magical powers, but all she can seem to do is make horrible, savage monsters. For years she has tried to hide her creations, but when her power is at last discovered by a great magician, she realizes that what she's tried to hide might actually be of tremendous value.
Kai just wants to use his powers to have fun and play with his friends. Unfortunately, nearly everyone on his island sees him as a bad influence, so he's forced to meet them in secret. When one of the creatures they create gets out of control and starts flinging fireballs at their town, Kai is tempted to believe that he is as nefarious as people say. However, his prospects change when two mysterious visitors arrive, praising his ability and making extraordinary promises about his future.
Review
Given that I'm not normally a fan of YA, I got on really well with this book.
The world building in this book is truly impressive; the world is made up of a series of islands inhabited by humans with the power of creating projections. There's a distinct hierarchy that determines whether or not people are allowed to use their abilities, the customs vary according to the island they live on but at a certain age, teenagers are expected to display their projections to see if they have Colour.
Teens with Colour then become magicians and are then ranked according to their abilities, those without are labelled 'Commoners' and aren't allowed to project any more.
This book is the first volume, so it feels very much like an introduction to the main characters, of which there are a few. All of the characters are complex and well written, though I did enjoy reading more about some than others – there's no overlap between the characters so it makes the world seem a lot bigger and also makes the book feel like several distinct stories.
The pacing of this book was rapid fire, alternating between characters after 3 chapters or so which made it easy to keep track of all the different storylines. There's so much going on in this book that I appreciated the layout otherwise I'd have been lost before I got halfway through!
After the full introductions to the characters are made and we know their backstories, the characters are ready to be tested for Colour…. and that's where the book ends. The beauty of it is that they haven't met each other yet, though that feels certain to happen, and we have no idea where the story is going at this point – it's just been characterisation at its finest.
I really enjoyed The Magician's Workshop and may have to grab volume Two while it's still fresh in my mind!
Reviewed by Nia

---
About the Author
Christopher Hansen

The first glimmering Chris Hansen had that there was far more to reality than he had ever imagined occurred six days after his ninth birthday.
"Christopher!" cried a wise, old sage. "Life is full of deep magic. Miraculous things happen all the time and all around us, if you know where to look for them."
Full of expectation and childlike optimism, Chris began searching for this magic, prepared to be surprised and amazed by it. And he was: he found Wonder! Now he's chosen to write stories about it.
---
J.R. Fehr

When J.R. Fehr popped out of the womb, he knew there was more to the world than the four boring hospital walls that he was seeing. "Zango!" his newborn mind exclaimed as he saw people appear and disappear through a mysterious portal in the wall.
As a child he found life wowtazzling, but as he grew older the cold water of reality hit him, and the magic he once knew vanished.
After spending some wet and shivering years lost in a joyless wasteland, he once again began to see magic in the world. He writes because the Wonder of true life is far grander than anything he ever thought possible.
---





---