The King's Daughter by Dai Pryce – Book Review
The King's Daughter by Dai Pryce – Book Review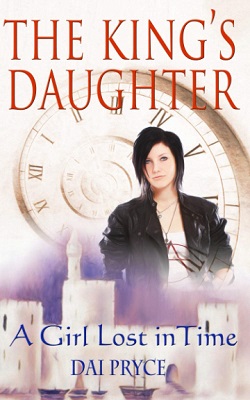 The King's Daughter
Girl Out of Time Book One
Author – Dai Pryce
Pages – 211
Released – 4th December 2018
ISBN-13 – 978-1790717170
Format – ebook, paperback
Review by – Stacey
Rating – 3 Stars
I received a free copy of this book.
This post contains affiliate links.


Wales 1294…A hated English king, a country in violent rebellion against him, and a sixteen-year old girl from Virginia Beach badly out of her depth.
Until recently, Megan Lynch was a high-school sophomore. At present, she is watching a man dangling from a rope as a crowd of thirteenth century Welsh rebels cheer on.
"Go stay with your grandmother in Wales, it'll keep you out of trouble," her mother had said. Oh, the irony.
In her mom's defense, she could never have predicted the events that unfolded in the ruins of Flint Castle that afternoon. She certainly wouldn't have known about the strange Welshman or the pendant he gave Megan. Even then, if it hadn't been for the encounter with a local bully, Megan might still be wandering around the ruins of a thirteenth century castle, instead of a fully functioning one.
Her striking similarity to the king's daughter is initially her saving grace, but her inability to speak Norman French arouses suspicions, and she knows her luck cannot last. Thankfully, help is at hand in the shape of Hugh, a handsome young knight's squire with a deadly secret . . .

Sixteen-year-old American Megan has been sent to Wales to live with her Grandmother after her military father was killed in battle and her mother thought she was going off the rails.
The kids at her new school aren't happy to have a new girl at school, let alone one that is a 'yank' as they call her. Megan is bullied by the head girl and things escalate when Megan's grandmother gets involved. Hoping that the bullies are far away, she heads to the local castle, a place her dad took her to last time they were in Wales together. Unfortunately, she is wrong and the bullies have followed her there.
After an altercation, Megan remembers falling and the next thing she is being dragged out of the moat, but the place is different. The castle is no longer crumbling and people are calling her Lady Mary as they seem to think she is King Edward the first daughter. However, one of the knights who has spent time with Lady Mary notices that she is not the girl knows and Megan has to explain what happened.
With the help of Hugh the Knight, Megan manages to get away from the castle, but how is she going to get home, and can her knowledge of the past help with the Welsh Uprising of 1294?
The King's Daughter is an interesting take on the time travel genre as I don't know of another YA book that takes the reader back to medieval Wales. I didn't know much about the uprising and the battle that took place in which the English won and ever since the heir to the throne has been called 'The Prince of Wales', so I found the book educational.
Megan is a feisty young girl who can hold her own, against one, but the school bullies come in packs and she can't defend herself against three or more of them. After her fall she quickly realises that she is in another time and does her best to fit in, all along knowing that if she is found out that she isn't the King's daughter punishment will come.
Hugh is a brave knight who wants to help Megan as well as use her knowledge of what is about to happen in battle.
The plot is quite drawn out and the action took a good few chapters to get going, then once we are transported to 1294, not a great deal happens except travelling, travelling, and more travelling for a long time. Personally, I feel the book was overly long and scenes either needed cutting or something exciting to happen in them as the plot did start to drag in places.
I also noticed there were words used by the characters in 1294 (not Megan), that weren't around back then or weren't used in the manner that the author meant them such as someone tells Megan she is the 'spitting image' of the king's daughter but the phrase wasn't coined until 1689 or they were asked about 'lurking' in the woods, again the word lurking wasn't used until the fourteenth century. I found quite a few words like these. Some might not know that these words didn't exist back in 1294 so won't care. Unfortunately, I do know and care.
Overall, I think the book missed the spot. The premise and the idea are certainly there but I don't feel it currently works as well as it could.
Book Reviewer – Stacey
---
Purchase online from:
---
About the Author

Born and bred in North Wales; after graduating from The University of Leeds with a Mining Engineering degree, I spent the next seven years living and working (often four km underground) in Southern Africa. During this time, I was fortunate enough to visit some of the most fabulous wild places on the planet; and indulge in another passion – wildlife photography.
This was followed by spells living in California and London.
I currently reside in the beautiful state of Colorado, but return to Wales as often as possible to visit family, soak up that indefinable magical atmosphere, and experience the sense of belonging I feel nowhere else – Hiraeth as we say in Welsh.
Proper fish and chips and CAMRA pubs serving real ale are the icing on the bara brith.



---
What did you think of The King's Daughter? Share your thoughts in the comment section below!
---
The above links are affiliate links. I receive a very small percentage from each item you purchase via these link, which is at no extra cost to you. If you are thinking about purchasing the book, please think about using one of the links. All money received goes back into the blog and helps to keep it running. Thank you.
Like us on Facebook – Tweet us on Twitter – Pin us on Pinterest