The Girl Behind The Wall by Bruce Wetterau – Book Review
The Girl Behind The Wall by Bruce Wetterau – Book Review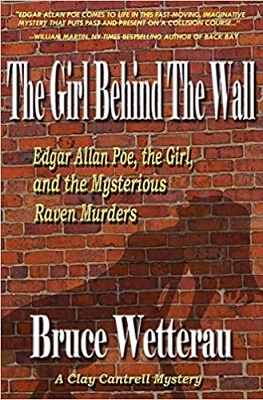 The Girl Behind The Wall
Edgar Allan Poe, the Girl, and the Mysterious Raven Murders
Author – Bruce Wetterau
Pages – 378
Released – 20th October 2020
ISBN-13 – 979-8646701313
Format – ebook, paperback
Review by – Ed
Rating – 4 Stars
I received a free copy of this book.
This post contains affiliate links.


Did Edgar Allan Poe know more about murder than he revealed in his bizarre stories of murder and mayhem? Was he in fact guilty of killing a girlfriend in a fit of rage many years before he became famous?
The year 1849 saw the real-life Poe dealing with his alcoholism, failing health, poverty, and painful memories of his recently deceased child-bride wife. His life had become a psychological pressure cooker, with severe anxiety attacks and bouts of strange hallucinations.
The Girl Behind the Wall opens in early 1849. Poe is being tormented by frightening visions about murdering Annabel Lee while he was a student at the University of Virginia. Afraid of the hangman's noose, Poe knows he can never tell anyone about the repressed memories haunting him. But a newspaper reporter named Sam Reynolds has overheard him talking erratically about Annabel while in a drunken stupor. That a man as famous as Poe could be a murderer would be the scoop of a lifetime and Reynolds will do anything to get it. Flash forward nearly two hundred years to the present.
The book's hero, Clay Cantrell, accidentally uncovers damning evidence–Annabel's skeleton and a locket from Poe–behind an old brick wall at the university. While the mystery of Annabel's murder and Poe's strange visions unfolds in flashbacks, Cantrell and friends launch a search of their own for the truth about Annabel's death. But another murder mystery much closer to home overtakes them when a cold-blooded serial killer named the Raven claims his first victim, a UVA coed. Obsessed with Poe, the Raven stages his murders with clever ties to Poe's works.
Clay tries to stop the murders and soon winds up in the Raven's cross hairs. Though this isn't the first vicious killer Clay–an ex-Army Ranger–has fought, he doesn't know the Raven has a diabolical plan to execute him. Will Poe finally reveal the truth about Annabel, or will he take the secret to his grave? Can Clay escape the Raven's plot, find what drives the Raven's murderous obsession with Poe, and at last answer the question, who killed Annabel Lee?

Bruce Wetterau's novel, The Girl Behind The Wall, starts with reporter Samuel Reynolds finding a drunk, middle-aged Edgar Allen Poe at midnight in a wet and cold alley in Manhattan. Poe was deliriously muttering the name Annabel. Samuel hires a horse and carriage to take the great poet and short-story author to the hospital.
The story moves from the 1800's to present day with Clay Cantrell and his partner, Mac Harper, driving to the University of Virginia (UVA) to do brickwork in a steam tunnel. In the tunnel, they found collapsing bricks and start removing them from a nineteenth century blocked off doorway. They find a skeleton of a woman leaning back in a chair with her face aimed up toward the ceiling. The woman had a locket around her neck that read "My beloved Annabel, your devoted Eddy. Oct. 1826". Professor Carlos Rivera, who teaches nineteenth century literature speculates that Eddy is Edgar Allen Poe since Poe was a student at UVA in 1826, and because "Annabel Lee" was one of Poe's famous poems.
The story moves on to a present day serial killer, who calls himself "The Raven" (from Poe's most famous poem that I tried to memorize as a teenager), framing Professor Rivera for the murder of a UVA coed. Clay and Mac start a quest to discover the identity of the Raven killer while also searching for clues to determine if Edgar Allen Poe murdered Annabel Lee.
The novel goes back and forth from present day to the time and life of Edgar Allen Poe. In at least one place the transition was only with a paragraph break which was a bit confusing. Other than that, the editing and grammar were almost impeccable, and the plot was easy to follow.
I've been a Poe fan since I was a teenager so I loved the Poe character and enjoyed learning more about his actual life. I relished the idea in the novel of Poe getting involved with mesmerizers—presently called hypnotists, and how it evolved in the present day plot. The plot was well contrived, the characters riveting, and the action suspenseful and believable. All and all, another excellent read from the Whispering Stories book review website.
Book Reviewer – Ed
---
Purchase online from:
---
About the Author

The Clay Cantrell mystery adventure series marked a new departure for me, what amounted to my third career. I spent over twenty years as a reference book author–eventually publishing eleven reference books. Since then I've spent another twenty years buying and renovating old houses in Virginia. With Lost Treasure: Clay Cantrell Mystery Adventure #1, published in 2012, I finally realized my dream of writing novels.
It's been one of those long, winding roads to here. Starting out on it many years ago, I was a young, would-be novelist looking for experience. Now, well into my seventies, I'm just looking for time enough to write my novels.
To date I have written three mystery-thriller novels for the Clay Cantrell series: Lost Treasure; Killer Fog–The Veil of Mist Shrouds a Deadly Conspiracy; and The Girl Behind the Wall–Edgar Allan Poe, the Girl, and the Mysterious Raven Murders. I am currently at work on a fourth, The Nine Lives of Harry Bellamy, Counterfeiter.
And, yes, I'm still renovating houses.


---
What did you think of The Girl Behind The Wall? Share your thoughts in the comment section below!
---
The above links are affiliate links. I receive a very small percentage from each item you purchase via these link, which is at no extra cost to you. If you are thinking about purchasing the book, please think about using one of the links. All money received goes back into the blog and helps to keep it running. Thank you.
Like us on Facebook – Tweet us on Twitter – Pin us on Pinterest