The Quiet at the End of the World by Lauren James – Book Review
The Quiet at the End of the World by Lauren James – Book Review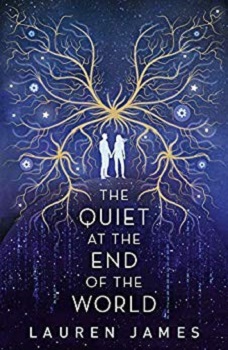 The Quiet at the End of the World
Author – Lauren James
Publisher – Walker Books
Pages – 352
Released – 7th March 2019
ISBN-13 – 978-1406375510
Format – ebook, paperback
Reviewer – Stacey
Rating – 4.5 Stars
I received a free copy of this book.
This post contains affiliate links.
How far would you go to save those you love? Lowrie and Shen are the youngest people on the planet after a virus caused global infertility. Closeted in a pocket of London and doted upon by a small, ageing community, the pair spend their days mudlarking and looking for treasure – until a secret is uncovered that threatens not only their family but humanity's entire existence.
Now Lowrie and Shen face an impossible choice: in the quiet at the end of the world, they must decide what to sacrifice to save the whole human race…

Teenagers Lowrie and Shen are the youngest humans left on earth. In February 2024 the population of the world was infected with a virus that made them all infertile. The only humans that were conceived after this date were from eggs frozen at fertility clinics.
Now in the year 2109 and with the population of the world so small the last people have all congregated in central London, UK, to form there own little family and to protect the last two humans there will ever be on the Earth.
Lowrie and Shen, now aged 16 and 17 are taught life skills as one day they will be the last two people and they will need one another and all the skills they have been taught to survive. They are as close as brother and sister but with a little spark between them that neither wants to admit.
As well as the last humans there are also robots that are working to protect the planet and the people, including lifeguard robot Mitch who walks up and down the banks of the river Thames ready to jump in should anyone get into difficulty. It is Mitch who saves the youngsters when a helicopter crashed near where they are searching for treasure. The pilot Alexei had some sort of seizure and crashed into Big Ben.
Over the next few days, others start to have seizures and Lowrie and Shen are kept in the dark about what is happening until all the people in London are unconscious except for themselves. They need to find a way to help them, but the more they search the more unusual and strange information they find out. Can the two work out what is going on and help the people or has the fact that they will be the last two humans suddenly become a reality?
The Quiet at the End of the World is the first book I have read by Lauren James. It is a mixture of a philosophical story and sci-fi interwoven and fitted together perfectly. Lowrie is a very headstrong teenager. She understands that she will be one of the last two on earth and it scares her. She is a deep thinker, although she often tries to push her thought to the back of her mind. She likes anything she can fix or make and is always carrying tools around with her.
Shen is more easier going. He has a big thing about aliens and would love to meet one. He understands what will happen in the future but takes most of it in his stride. He's also deaf in one ear, although Lowrie can never remember which.
The two have a love for treasure hunting. One day they come across an old tube train and discover a purse belonging to a Maya Waverley. Intrigued about the discovery Lowrie does some research looking at old social media sites and discovers who Maya was. Following her old posts, Lowrie learns all about the past, when the virus hit and its symptoms plus what happened to the world afterward and also Maya's personal life.
The story has been very cleverly written to make you think about what you would do in that situation but also about how the planet is being destroyed now by global warming and humans generally not looking after it. Whilst the premise of using infertility to wipe out humans isn't a new one, I love the way that Ms. James has used her plot to show you the ending of the world through the eyes of teenagers.
I also love the twists that she placed so carefully into her book, so just when you thought you understood everything you are again learning something new. Plus, she made a robot so likeable and adorable too.
It will make you think, it will make you laugh and it is quite simply amazing. This is definitely a book not to be missed.
Reviewed by Stacey
---
Purchase online from:
---
About the Author

Lauren James was born in 1992 and is the British Young Adult author of The Next Together series, The Loneliest Girl in the Universe and The Quiet at the End of the World. She graduated in 2014 from the University of Nottingham, UK, where she studied Chemistry and Physics.
She started writing during secondary school English classes, because she couldn't stop thinking about a couple who kept falling in love throughout history. She sold the rights to the novel when she was 21, whilst she was still at university.
Her books have sold over fifty thousand copies in the UK alone, and been translated into five languages worldwide. She has been described as 'Gripping romantic sci-fi' by the Wall Street Journal and 'A strange, witty, compulsively unpredictable read which blows most of its new YA-suspense brethren out of the water' by Entertainment Weekly.
Her other novels include The Last Beginning, the epic conclusion to The Next Together which was named one of the best LGBT-inclusive works for kids and young adults by the Independent.





---
The above links are affiliate links. I receive a very small percentage from each item you purchase via these link, which is at no extra cost to you. If you are thinking about purchasing the book, please think about using one of the links. All money received goes back into the blog and helps to keep it running. Thank you.