Because of You by Dawn French – Book Review
Because of You by Dawn French – Book Review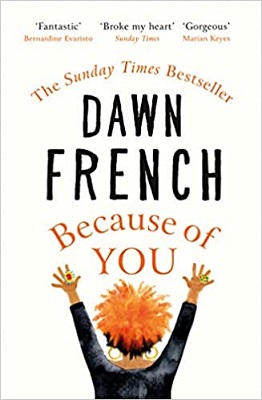 Because of You
Author – Dawn French
Publisher – Michael Joseph
Pages – 416
Released – 15th October 2020
ISBN-13 – 978-0718159313
Format – ebook, hardcover, audio
Review by – Stacey
Rating – 5 Stars
I received a free copy of this book.
This post contains affiliate links.


Tick-tock, tick-tock, tick-tock . . . midnight.
The old millennium turns into the new.
In the same hospital, two very different women give birth to two very similar daughters.
Hope leaves with a beautiful baby girl.
Anna leaves with empty arms.
Seventeen years later, the gods who keep watch over broken-hearted mothers wreak mighty revenge, and the truth starts rolling, terrible and deep, toward them all.
The power of mother-love will be tested to its limits.
Perhaps beyond . . .

On the 1st January 2000 two women, Hope and Anna, give birth to baby girls just a few delivery suites away. Both women have had long, drawn-out labours. One is there with her supportive partner whilst the other is with her husband who is a complete jerk.
Unfortunately, Hope's baby is stillborn whilst Anna has a beautiful baby girl she calls Florence. A few hours later as Hope is heading home she goes past Anna's room where both she and her partner are asleep and she sneaks a peek at the baby. Little Florence lifts her hand to Hope and at that moment she loses all sense of what is right and wrong and puts the baby in her night bag and carries her out to the car where her other half is waiting.
Florence isn't noticed as missing for some time with her parents asleep and the midwives leaving them to rest. When the news breaks the hospital presume Hope left way before Florence was taken and she isn't a suspect.
For eighteen years Hope kept the secret from everyone, not telling anyone her real daughter was stillborn and the daughter she has now, Minnie, isn't really hers. But as time goes on Hope realises what she did was wrong and she needs to come clean, but what will happen to her perfect family once the world finds out?
Because of You is a gloriously, beautiful book. I knew what Hope had done was so wrong and on many levels evil, but I also couldn't help feeling sorry for her. Grief is a strange and difficult emotion to control and I can understand the want to hold a baby and love a child like the one she had lost. At the same time, she causes so much grief to the other family by taking their daughter.
I think feeling sorry for Hope also came from knowing that Florence's dad was a self-loving idiot who would have ruined his daughter's life, just like he did his wife. I like the way that Dawn French kind of made him out to be the baddy in the book, and that he was an MP too.
The book is emotional. It isn't a funny book, it is heartfelt and tackles lots of subjects, including regret and forgiveness. It also makes you think. We follow Minnie's life from the day of her birth and are with her for each birthday. I did wonder how Hope managed to conceal her daughter from the authorities for so long, yes she moved area's but even if she didn't have to take her to the doctors, what about school?
I can't remember the last book of this size that I sat and read so quickly. It certainly is a page-turner. I was moved by the storyline and the plight of these three females.
Book Reviewer – Stacey
---
Purchase online from:
---
About the Author

Dawn French has been making people laugh for thirty years. On purpose.
As a writer, comedian and actor, she has appeared in some of the UK's most long running, cherished and celebrated shows, including French and Saunders, The Comic Strip Presents …, Murder Most Horrid, The Vicar of Dibley, Jam and Jerusalem, Lark Rise to Candleford, and more recently, Roger and Val Have Just Got In.


---
What did you think of Because of You? Share your thoughts in the comment section below!
---
The above links are affiliate links. I receive a very small percentage from each item you purchase via these link, which is at no extra cost to you. If you are thinking about purchasing the book, please think about using one of the links. All money received goes back into the blog and helps to keep it running. Thank you.
Like us on Facebook – Tweet us on Twitter – Pin us on Pinterest